Sports
Gwynn weighs in on weight
Fri., July 20, 2007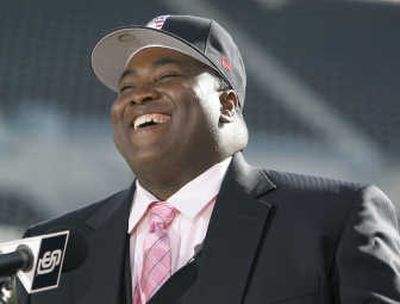 Tony Gwynn, who listened to fat jokes throughout his 20-year career, can't wait to finally have his say a week from Sunday in Cooperstown, N.Y.
"I've heard all of the wisecracks, all of the criticism and everything else," Gwynn says. "When you don't look like everybody else, when you're not 6-foot-3 and 195 pounds, you're going to hear it. My answer to all of that is check out the broadcast on July 29. That's where my weight got me: Cooperstown."
Gwynn, standing up for all of the great heavyweights in baseball, plans to tease himself during his Hall of Fame address but also scold those who mock players who happen to be, well, husky.
Gwynn, who enters the Hall with Cal Ripken Jr., says he has lost a few pounds since Jan. 8, when he was voted into the shrine.
"It took me a long time to gain this weight, so I'm not going to lose it overnight," Gwynn says. "But I feel so much better."
Carpenter sidelined
Cardinals ace Chris Carpenter will undergo additional elbow surgery that will end his season and potentially cause him to miss a significant portion of the 2008 season, club and industry sources told the St. Louis Post-Dispatch.
Sources said the procedure will involve ligament replacement or Tommy John surgery.
Clearing the bases
Detroit Tigers left fielder Marcus Thames was placed on the 15-day disabled list after he pulled his left hamstring during a diving catch in Wednesday's game. … Rangers reliever Akinori Otsuka was put on the 15-day disabled list after an MRI exam determined the right-hander has inflammation in his forearm that is causing pain in his elbow. … The Chicago Cubs traded backup shortstop Cesar Izturis and nearly $1.4 million to Pittsburgh in a deal that could free the Pirates to trade former All-Star Jack Wilson. … Julio Franco received a standing ovation at Turner Field, one day after the 48-year-old signed a contract with the Atlanta Braves that runs through 2007.
Local journalism is essential.
Give directly to The Spokesman-Review's Northwest Passages community forums series -- which helps to offset the costs of several reporter and editor positions at the newspaper -- by using the easy options below. Gifts processed in this system are not tax deductible, but are predominately used to help meet the local financial requirements needed to receive national matching-grant funds.
Subscribe to the sports newsletter
Get the day's top sports headlines and breaking news delivered to your inbox by subscribing here.
---