News > Spokane
Man who led police to girl's body denies rapes
Fri., July 20, 2007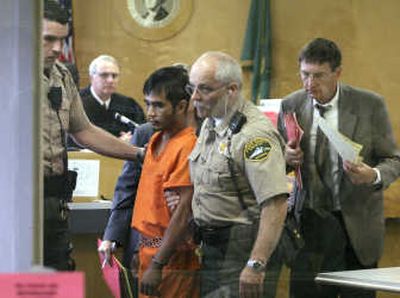 TACOMA – Terapon Adhahn, a handyman who police say directed them to the body of a 12-year-old Tacoma girl pleaded not guilty Thursday to charges he violently raped two other girls: one who was abducted on her way to school in 2000, and another who lived with him for three years as a teenager.
It was Adhahn's first court appearance since his arrest July 8, when detectives working the case of Zina Linnik, who was abducted during a neighborhood fireworks display July 4, tracked him down at a home in Parkland, south of Tacoma. Detectives say he provided information that led them to the girl's body in rural Pierce County, and that during the course of the investigation they discovered the other victims.
Adhahn, who was convicted of incest in 1990 after violently raping his then 16-year-old half-sister, appeared waif-thin and shackled in a loose-fitting orange jumpsuit as he entered the pleas to 12 charges in Pierce County Superior Court: one count of first-degree kidnapping; four counts of first-degree rape; three counts of second-degree rape; three counts of third-degree child rape; and one count of failing to register as a sex offender.
Deputy Prosecutor Ed Murphy said Thursday he expects to charge Adhahn next week in Linnik's abduction and death.
Bail was set at slightly more than $2 million on Thursday, and Adhahn was scheduled for trial Sept. 13.
Police in suburban Lakewood, meanwhile, have named Adhahn a person of interest in the late 2005 abduction and killing of Adre'Anna Jackson, a 10-year-old girl whose remains were found last year. Witnesses said they remembered seeing Adhahn in Jackson's neighborhood around the time she disappeared, police said.
Since his arrest, Adhahn had been held in federal custody on a potential immigration violation.
On Wednesday, Tacoma police booked him into the Pierce County Jail for investigation of dozens of charges – including 50 counts of child rape. The charges actually filed against him are representative of those counts and related to two victims other than Linnik or Jackson.
One is a 19-year-old woman who was abducted on her way to school in 2000, brutally attacked and left in a remote section of Fort Lewis.. Prosecutors filed charges in 2002 against a John Doe suspect based on DNA collected from the girl; Adhahn's DNA matched, prosecutors said.
The other is a 19-year-old Wichita, Kan., woman who estimated for investigators that she lived with Adhahn in Spanaway from ages 12-15. The girl said her mother was having some difficulties at the time, and she went to live with Adhahn because he was an acquaintance of her mother's boyfriend.
Local journalism is essential.
Give directly to The Spokesman-Review's Northwest Passages community forums series -- which helps to offset the costs of several reporter and editor positions at the newspaper -- by using the easy options below. Gifts processed in this system are not tax deductible, but are predominately used to help meet the local financial requirements needed to receive national matching-grant funds.
Subscribe now to get breaking news alerts in your email inbox
Get breaking news delivered to your inbox as it happens.
---