Sports
Time for accountability
Sat., July 21, 2007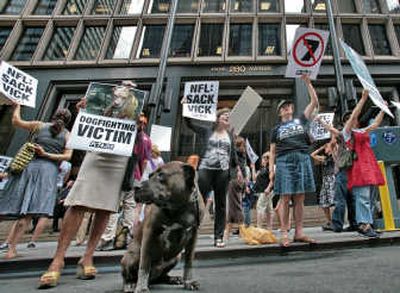 SACRAMENTO, Calif. – The two young men arrived at the local veterinarian's office late one night with two pit bull puppies, one of which was whimpering and bleeding profusely from its ears.
Merely curious at the time, I asked the receptionist about the dog's injury. She explained that the animal had undergone surgery to clip off the tips of its ears apparently for cosmetic purposes and developed an infection. "Some people like the way the dogs look without the ears pointing up," she said matter of factly while I sat clutching my own dog, who was merely suffering from an upset stomach. "It's very common."
My curiosity quickly gave way to suspicion. Suspicion succumbed to anger. Who would subject a pet to unnecessary surgery? To mutilation for the sake of appearance, or, as more realistically was going on, to deprive opponents of something to chew on during dog fights?
We should have known. Mike Tyson taught us about biting in the ring. Ron Artest reminded us that it takes a neighborhood to protect our pets. But those guys are total lightweights compared with this guy.
In an 18-page indictment filed Tuesday in a U.S. District Court in Virginia, Michael Vick exposes yet another of society's dirty little secrets: a billion-dollar dog-fighting industry that features sex, drugs, competition, gambling, torture and death. The allegations detail horrific instances of animals being hung and electrocuted, of being slammed to the ground, the extent of their agony almost unimaginable.
And while Vick enjoys the presumption of innocence, there were too many carcasses to justify any more weak-kneed pleas from any of us. (Guilty. I should have contacted the Society for the Prevention of Cruelty to Animals or Humane Society the day after my encounter with the ailing pit bull).
Even assuming that Vick was somehow unaware of the unlawful activity conducted on his property and this is a real stretch given the number of times his name is mentioned in the indictment at the very least, he remains an appropriate target of the public's wrath. By association, so is the all-powerful NFL.
So this is the time to fight the beast. Contact People for the Ethical Treatment of Animals. Protest at the NFL offices in New York. Boycott companies that retain Vick as a sponsor. Threaten to cancel season tickets. Pressure Falcons ownership to address the situation in a forthright manner, much as Kings basketball president Geoff Petrie and the Maloofs did by holding Artest accountable last February.
Speak up. Better yet, scream.
What was said when Artest's caretaker failed to feed his dogs during the Kings' road trip? That Artest should have known better? He deserved every one of the verbal swats that were administered nationwide. Yet according to Lesley Kirrene of the Sacramento SPCA, whose agency was enlisted after the incident in Placer County, the Kings forward merely behaved irresponsibly, not maliciously. He was an NBA player who made a mistake, not an NFL star allegedly intent on making a killing, in more ways than one.
"Artest was a busy person who didn't plan properly," said Kirrene, adding: "I hope he (Vick) is prosecuted to the fullest extent of the law. From what I'm reading and hearing, he has blood on his hands. And I want people to know this is going on right in their own back yards."
According to Eric Sakach, the Sacramento-based regional director for the Humane Society of the United States and a national expert on the issue, illegal animal fighting involves upwards of 40,000 participants, and though once more prevalent in the southeast, is expanding nationwide.
"It's here like it is in most cities of this size," said Sakach. "At the street level, we tend to see everything from pre-teens on up, frequently gang-affiliated. They might be walking their dogs, encounter another person doing the same, then retreat to a park. The more organized, serious fighting is happening here in Sac County as well. But statistically, even though it's a felony in California, we haven't done a very good job of enforcement."
Sakach said the number of injured pit bulls rescued by the various agencies though mostly anecdotal accounts for an exceptionally high percentage of the animals in shelters, with estimates ranging from 40 to 90 percent, depending upon the region.
"The popular excuse is that this is just another sport," he continued, "but these are very seedy affairs that should not be compared to any competition where people have a choice. Maybe this (Vick indictment) is raising awareness, giving people an idea of how really horrendous this is. But for the most part, it's a gambling activity. I'm convinced that if you threw people into a pit with knives, a certain segment would bet on it."
Local journalism is essential.
Give directly to The Spokesman-Review's Northwest Passages community forums series -- which helps to offset the costs of several reporter and editor positions at the newspaper -- by using the easy options below. Gifts processed in this system are not tax deductible, but are predominately used to help meet the local financial requirements needed to receive national matching-grant funds.
Subscribe to the sports newsletter
Get the day's top sports headlines and breaking news delivered to your inbox by subscribing here.
---