News > Spokane
Loss of Russell blood vials a shock
Sun., July 22, 2007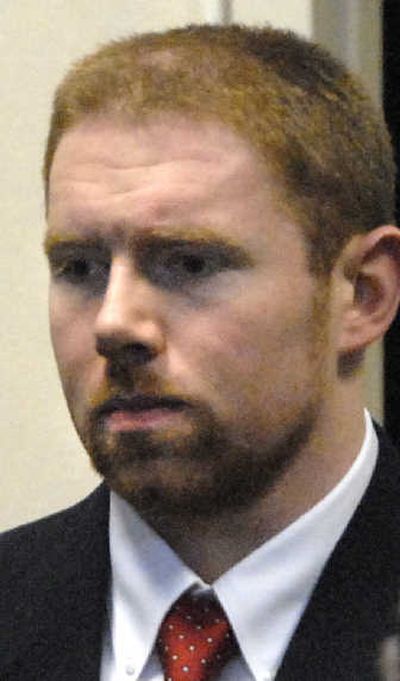 After Fred Russell fled the country – and before he was captured – Whitman County prosecutors twice asked the Washington state crime lab to preserve vials of his blood that they say prove Russell was drunk when he caused a crash that left three dead.
The lab manager assured them the samples would be saved.
So when the vials turned up missing in February 2005, it prompted a stunned response from Whitman County Prosecutor Denis Tracy.
"VERY MANY State, Federal and foreign agencies have spent a LARGE amount of resources on hunting (Russell) down," Tracy wrote in a letter to Washington State Patrol lab manager Ann Marie Gordon. "I am expecting that he will be apprehended and brought to trial. The destruction of his blood sample by the State will have an impact on that trial, and not for the better."
The exchange was included in court filings this week in the criminal case against Russell, who is charged with three counts each of vehicular homicide and vehicular assault in a four-car wreck on the Moscow-Pullman Highway in June 2001. Russell – who fled to Ireland before trial six years ago and was caught there in 2005 – will be back in court Monday as attorneys argue over a variety of procedural issues in advance of a trial scheduled for October.
He faces a maximum sentence of life in prison and a $50,000 penalty on each count of vehicular homicide and 10 years in prison and $20,000 on each assault charge.
Russell's defense attorney, Francisco Duarte, is asking a judge to throw out the results of a blood-alcohol test that showed Russell was drunk at the time of the accident, saying it's crucial to his defense to be able to double-check the blood test – which is now impossible.
Prosecutors argue that the test is backed up by a blood test done by the hospital that showed the same thing – a blood-alcohol content of 0.12 percent, over the legal limit of 0.08. They also argue that the legal standard for suppressing evidence that's been lost or destroyed is that it must be known to be likely to prove innocence; if it's only possible that it might be useful for a defendant, the defense must show that police acted in bad faith.
Though a fuller explanation of how the samples were destroyed is not included in the new court filings, the correspondence shows that prosecutors asked and were assured the samples would be preserved in 2004 and 2005, and that they repeatedly emphasized their importance to Gordon, the lab manager.
But prosecutors were told in February 2005 that the samples had been lost. That's when Tracy wrote to Gordon demanding an explanation.
Gordon responded, in part, "A search of our freezers today indicates that we no longer have the samples, and we have concluded that they were most likely destroyed on or about July 11, 2004, along with other outdated specimens."
Attempts to reach Tracy and Gordon were unsuccessful last week.
It's unclear exactly what impact the missing blood evidence might have on the case, if the judge rules in Russell's favor. The charge of vehicular homicide doesn't require that a driver be drunk – driving recklessly or showing a disregard for the safety of others can also be the basis for a conviction on that charge.
Dallas Cooney, a Spokane attorney who specializes in DUI cases, said that even if the blood evidence was thrown out, other evidence of intoxication can be introduced, such as the officer's observations or witness accounts of driving.
"The blood draw doesn't appear to me to be a make-or-break issue," he said. "I would say it was a big mistake (to lose it), but at the end of the day I don't think it's going to make or break the state's case."
Seattle attorney Stephen Hayne, who also defends DUI cases, said that while it's not uncommon for defense attorneys to challenge blood or breath tests on various grounds, it's "very rare" for a sample to be lost.
"In this case it's particularly troubling because this guy was a fugitive," he said. "When you have somebody who's on the lam, as the caretaker of that evidence you want to make sure you take care of it because he may be caught someday."
"The prosecutor's got a problem," he said. "No doubt. You have a right to retest that."
Though Duarte is formally asking only to have the evidence suppressed, he writes in his motion that if a defendant's right to a fair trial is compromised, "the only appropriate remedy is dismissal of the offense." He also claims prosecutors failed to notify him of the lost blood sample in a timely fashion and haven't responded to discovery requests, and in doing so they mismanaged the case.
Lana Weinmann, of the state attorney general's office, who's prosecuting the case, argues in court filings that her office has kept Russell's defense team informed. She also writes that in questions of lost or destroyed evidence, there are two standards – whether the evidence was "materially exculpatory" or simply "potentially useful" to the defense.
For a court to suppress evidence because it's materially exculpatory, it must have been known before the evidence was destroyed that it was likely to show a defendant's innocence, and there must be no other reasonable means for comparison. Weinmann argues that there's no reason to believe the blood samples in this case were exculpatory. and that the hospital blood test offers a comparison.
In the second scenario, if the evidence destroyed was only "potentially useful" for a defendant, a judge must find that police acted in bad faith for the evidence to be thrown out. Though Duarte suggests the possibility that the samples were destroyed on purpose, Weinmann argues the mistakes were inadvertent and not egregious enough to have compromised Russell's right to a fair trial.
In a variety of other motions, Duarte, a Seattle attorney specializing in DUI defense, has also challenged the police search in obtaining medical records and asked that the trial be moved to King County because of "inflammatory" news coverage.
In her response, Wienmann argues that media coverage of the case has been largely "noninflammatory factual reporting" and that a couple of examples cited by Duarte as reason to move the trial were reports from King County – where he's asking to have the trial.
"It is not enough to show that a majority of the jury pool remembers a case," she wrote. "It must be demonstrated that their opinions are fixed, and they cannot impartially judge a case."
Local journalism is essential.
Give directly to The Spokesman-Review's Northwest Passages community forums series -- which helps to offset the costs of several reporter and editor positions at the newspaper -- by using the easy options below. Gifts processed in this system are not tax deductible, but are predominately used to help meet the local financial requirements needed to receive national matching-grant funds.
Subscribe now to get breaking news alerts in your email inbox
Get breaking news delivered to your inbox as it happens.
---