News > Business
Opposition grows to public broadband
Mon., July 23, 2007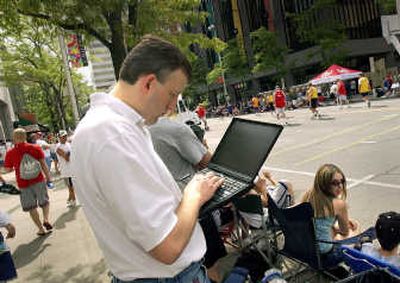 WILSON, N.C. — The possibilities excited Rusty Stephens as soon as he heard about the city of Wilson's plans to lay fiber-optic cable to every address in the city.
The president of Wilson Technical Community College envisioned automotive students manipulating a virtual ignition system in their homes miles away, their hand motions read by gloves full of sensors.
"As far as I'm concerned, it's the difference between a tricycle and a space shuttle," Stephens said of the broadband Internet service, which he said will be significantly faster than cable. "It's that dramatic."
Dissatisfied by private Internet providers' service or speed, cities from Lancaster, Pa., to Boulder, Colo., have sought to build their own networks to provide upgraded, and in some cases, free service to residents.
In turn, providers such as Time Warner and Comcast, among others, have complained to state lawmakers about unfair government competition.
"It's difficult to compete with your regulator and be regulated by a competitor," Time Warner spokesman Alex Dudley said.
Time Warner Cable declined Wilson's request to install a fiber-optic system, city spokesman Brian Bowman says.
This year, Wyoming became one of 11 states that restrict public broadband Internet, joining Colorado, Florida, Louisiana, Nebraska, Pennsylvania, South Carolina, Tennessee, Utah, Virginia and Wisconsin. Washington only restricts public utility districts from directly providing Internet service to customers. PUDs, however, can provide telecommunication services to other providers.
Legislation proposing restrictions in North Carolina is in the committee phase but has inspired opposition from cities, consumer advocates such as the North Carolina Public Interest Research Group and tech companies like Google.
That opposition seems to be more frequent on the East Coast than on the West Coast, said Garv Brakel, director of information services for the city of Spokane. Portland is among several large U.S. cities that are actively pushing forward with plans to develop a citywide municipal wireless network.
Spokane developed a downtown HotZone in 2004 and continues to offer free wireless in an area covering about 100 square blocks. The city also maintains a separate Wi-Fi network in that area exclusively for municipal service crews and law enforcement.
But efforts to push the HotZone wider and farther into city neighborhoods have stalled, said Brakel. He said there needs to be a leader or team of partners to push that expansion, he said, noting the city cannot take that role.
"I don't think we'd face much opposition from the other (Internet service) providers," said Brakel. Since the HotZone is wireless, it's not as reliable and robust as commercial-grade Internet broadband, he added.
"I don't think we'd see a fight from the Comcasts of the world. Most people won't give up their $39-per-month high-speed service for the (free Wi-Fi network)," Brakel said.
The national debate also has caught the attention of U.S. Rep. Rick Boucher, D-Va., who has drafted a bill to keep states from putting up barriers to public Internet. "Broadband is every bit as essential as electricity was when it was emerging 100 years ago," he said.
One of the state legislators Boucher wants to stop, Rep. Drew Saunders, also drew a comparison to the utilities of the past. The Democratic chairman of the North Carolina House Public Utilities Committee said the bill he introduced this year would apply 21st-century technology to the principle that municipalities shouldn't compete with industry.
His proposal would keep North Carolina cities from subsidizing a communication service with taxes or other money and require the service to turn a profit. "We're not saying they cannot compete," Saunders said. "We're saying that if you do, you've got to do some of the same things (as) private industry."
Other state officials remain concerned that cities wading into public broadband will find lower demand and higher expenses than they expect.
"The states are concerned about, 'Are they going to have to bail out cities?' " said Neal Osten, federal affairs counsel for the National Conference of State Legislatures.
Local journalism is essential.
Give directly to The Spokesman-Review's Northwest Passages community forums series -- which helps to offset the costs of several reporter and editor positions at the newspaper -- by using the easy options below. Gifts processed in this system are not tax deductible, but are predominately used to help meet the local financial requirements needed to receive national matching-grant funds.
Subscribe now to get breaking news alerts in your email inbox
Get breaking news delivered to your inbox as it happens.
---