News > Features
Rush to know if it's boy or girl
Mon., July 23, 2007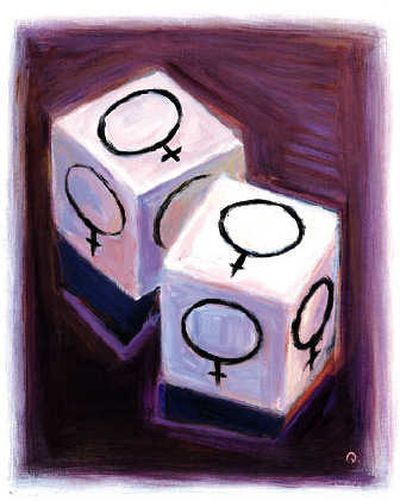 Jolene Sodano spent more than $200 to make herself crazy for a big chunk of her third pregnancy.
You see, she had two sons, 5 and 3, and desperately wanted a daughter.
She was so desperate that she didn't want to wait for a sonogram at 16 weeks to learn the sex of her third child. Instead, she ordered a test called Tell Me Pink or Blue. It promised her an answer just eight weeks into her pregnancy.
Sodano, 30, of Nazareth, Pa., pricked her finger, dripped a few drops of blood on a special paper strip and shipped it off to the manufacturer's California lab. In return, Sodano received a certificate, bordered in blue, that said: "Congratulations, you're having a boy."
Several companies market blood or urine tests that they claim can reveal a fetus' sex as early as five or six weeks after the mother's last menstrual period. But some scientists question the tests' accuracy, and ethicists worry that the results could lead women to terminate pregnancies if the fetus is the "wrong" sex. In addition, critics note, there is no government regulation of the tests.
"It's sort of a Wild West out there," says medical geneticist Diana Bianchi of the Tufts-New England Medical Center in Boston.
Bianchi has spent more than 20 years studying the movement of fetal cells and nucleic acids between the fetus and its mother. Fetal stem cells and white blood cells can remain in the mother's blood for decades, which means the fetal cells found in a pregnant woman's blood could be from a prior pregnancy, Bianchi says.
Plenty of ethical concerns
Bianchi and Kathy Hudson, director of the Genetics and Public Policy Center in Washington, D.C., note that no government agency regulates the tests, so there's no quality control.
"These tests sort of shine a spotlight on inadequacies across the whole area of genetic tests," Hudson says.
Even if the tests were highly accurate, she says, "the question is: How are people going to use that information? I think it would be troubling if people were selectively terminating pregnancies based on the gender."
When her test indicated she was having a third boy, Sodano says, "I came to terms with it … and I went out and bought maybe three or four boy outfits."
Even so, "I kind of suffered a little bit of gender disappointment," Sodano says, using a term found on Web sites like www.in-gender.com, where women discuss high- and low-tech ways of "swaying" the odds of having a boy or a girl.
Despite the test, despite buying new boy-baby clothes, Sodano says, "my gut was saying, 'No, this is definitely a girl.' "
Finally, she could stand it no longer. Eight weeks after getting her test result, she dropped in for an ultrasound at one of those fetal photo shops. She just wanted to get it over with, to have undeniable proof that the test was right and her gut was wrong. That ultrasound, and every one after it, showed that her gut, not the test, was right.
Lily Nguyen, product manager for Tell Me Pink or Blue at Consumer Genetics in Sunnyvale, Calif., says nearly 2,000 pregnant women have taken the test since its launch in May 2006.
About 30 – including Sodano – have received refunds for a wrong answer. Nguyen speculates that Sodano's result was incorrect because her blood sample was contaminated with her husband's or sons' DNA, although Sodano says she was careful to avoid that.
Disappointing news via e-mail
Carey Peacock, 31, prayed every day of her pregnancy that Baby Gender Mentor, the test she took, was wrong. Her firstborn, now 31/2, was a boy, and "I have always, always wanted a little girl, so I was hoping to find out early."
But less than a week after Peacock sent in her blood sample, she received an e-mail saying her fetus was male.
"It was just really stressful," she says. "I think I would have done a lot better not having taken it and just waited until my ultrasound." An ultrasound confirmed she was indeed carrying another son, who was born Nov. 1.
Local journalism is essential.
Give directly to The Spokesman-Review's Northwest Passages community forums series -- which helps to offset the costs of several reporter and editor positions at the newspaper -- by using the easy options below. Gifts processed in this system are not tax deductible, but are predominately used to help meet the local financial requirements needed to receive national matching-grant funds.
Subscribe now to get breaking news alerts in your email inbox
Get breaking news delivered to your inbox as it happens.
---