News > Business
Using new tools to solve the online music puzzle
Mon., July 23, 2007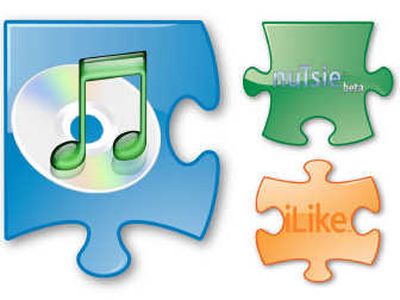 The move from radio or CDs to digital music players, such as the iPod, has changed the way most of us listen to and enjoy music. Though iTunes may be the most popular software used to manage music, it doesn't provide the social and education experience that people used to find while browsing in a record store. Programs like iTunes have features like "Listeners Also Bought" lists, but those are a poor substitute for the social interaction we once had.
Today, the Web 2.0 word for that social experience is "community." And we've found two Seattle companies providing online services that add back the missing puzzle pieces lost in the drive to digital music.
Both services require the use of iTunes in order to get the full experience.
The first is nuTsie, found at nuTsie.com from Melodeo based in Seattle. NuTsie allows you to take your music on the go via the Web or your cell phone. That cell phone does not have to be an iPhone. The nuTsie service doesn't work with all cell phones; see the Melodeo Web site for details on which are supported.
You do need a data plan for this service. NuTsie is compatible with AT&T (Cingular) and T-mobile.
To get started with nuTsie, you upload a profile of your music library list in a file to the nuTsie servers. This is not a transfer of your actual songs. Then nuTsie compares those songs in your iTunes library and playlists with all the music already stored on its servers.
When you log onto the nuTsie service, it gives you the choice of streaming iTunes playlists or your entire library in shuffled mode. The shuffle requirement is the way nuTsie stays out of legal trouble with the recording industry.
In return, nuTsie pays the artists and recording industry based on the listening frequency of its subscribers.
It even allows a payment system for any music you added to your iTunes library, legal or not, said Dave Dederer, a Melodeo executive and himself a recording artist. Dederer is a founding member of the rock group The Presidents of the United States of America.
"So unlike music someone may have in their iTunes illegally — which will never generate revenue for the rights-holder or artist – the music we stream to you, we're paying (some amount) for every play to the songwriter and the performer," Dederer said.
Two innovative nuTsie features are being able to share playlists with friends and the ability to listen to an iTunes library on any other Web-connected computer, even one that doesn't have iTunes.
NuTsie is free for now but will adopt a paid system in the future, said Dederer.
The second new online service that fills in a missing music piece is iLike, found at iLike.com.
"ILike is based on the concept that people love sharing and finding music with their friends," says Hadi Partovi, iLike's president.
It lets people discover new friends based on musical tastes. ILike also recommends new music from major artists based on your music choices, even offering short previews of those tunes.
Via its sister company GarageBand.com, iLike also gives you a huge choice of similar music by emerging artists, which in most cases you can download within the sidebar for free and add to your iTunes library.
Another strong iLike feature is the playlist builder. Enter any artist, and iLike will go through your iTunes collection and find similar artists and put similar music into a playlist, which you can put on your iPod.
In addition to using the iLike features you can download an iLike sidebar to run alongside iTunes. The iLike sidebar shows you related songs, what your friends are listening to and messages sent to you by your friends.
It also has an unusual "guilty pleasure" feature, explained iLike's Partovi.
"If you like an artist whom you don't want people to know, iLike will hide the fact from all," he said. "The most popular hidden artist chart has always been led by Britney Spears, with No. 2 being Michael Jackson," Partovi said.
For now, iLike is free and supported by Web ads on its site.
Both nuTsie and iLike understand the social nature of music. They help us extend our iTunes music by offering a community experience, much like the way we once browsed brick-and-mortar record shops instead of downloading music in isolation.
Local journalism is essential.
Give directly to The Spokesman-Review's Northwest Passages community forums series -- which helps to offset the costs of several reporter and editor positions at the newspaper -- by using the easy options below. Gifts processed in this system are not tax deductible, but are predominately used to help meet the local financial requirements needed to receive national matching-grant funds.
Subscribe now to get breaking news alerts in your email inbox
Get breaking news delivered to your inbox as it happens.
---