News > Nation/World
Afghanistan's last king dies at age 92
Tue., July 24, 2007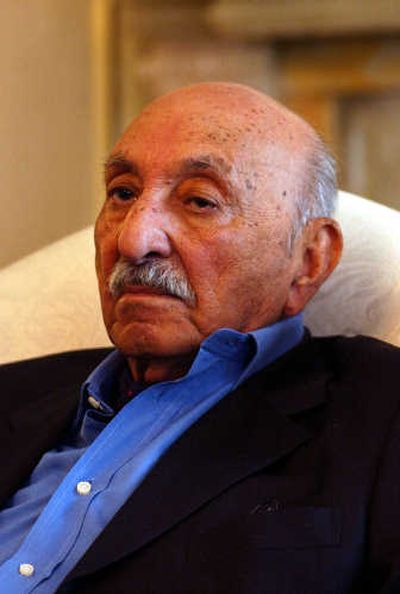 KABUL, Afghanistan – Afghanistan's last king, a symbol of unity who oversaw four decades of peace before a 1973 palace coup ousted him and war shattered his country, died Monday. He was 92.
Mohammad Zahir Shah's demise ended the last vestige of Afghanistan's monarchy and triggered three days of national mourning for a man still feted as the "Father of the Nation" since his return from exile after the 2001 ouster of the Taliban.
Though not always effective during his 40-year reign, Zahir Shah is remembered warmly by his conflict-weary countrymen for steering the country without bloodshed.
When the fall of the Taliban offered fresh hope for national reconciliation, many clamored for Zahir Shah's return – not only to his homeland but to the throne.
When he did come back from Italy in April 2002, he stood aside in favor of an anti-Taliban tribesman, now-President Hamid Karzai. A new constitution passed in January 2004 consigned the monarchy to history, with Zahir Shah named the ceremonial Father of the Nation, a position that dissolves with his death.
"The people are relying on you, and you should not forget them," the monarch told the loya jirga, or grand assembly, which ratified the landmark charter. "I hope you will try your best to maintain peace, stability and the unity of the Afghan people."
Subsequently, Zahir Shah left Afghanistan several times for medical treatment, and rumors of his death surfaced repeatedly this year.
Karzai, who announced the king's death during a news conference broadcast live nationwide, called him a "symbol of national unity" who brought development and education to the country. The king remained a leader in his final years, but one who didn't seek the power of a throne, he said.
"He was the servant of his people, the friend of his people," Karzai said. "He believed in the rule of the people and in human rights."
Karzai said Afghanistan would observe three days of mourning for the king, whose body will lie in state at a mosque in Kabul, then be taken by carriage to a hilltop tomb. His funeral was scheduled for today.
Born Oct. 15, 1914, Zahir Shah was proclaimed monarch in 1933 at age 19 within hours of the death of his father, King Muhammad Nadir Shah, who was assassinated before his eyes.
He was not a dynamic ruler, with uncles and cousins holding the real power during most of his reign. But his neutral foreign policy and limited liberalization of a deeply conservative society managed to keep the peace – a golden age in the eyes of many Afghans pained by the extremism and slaughter that followed.
"Nobody can fill the shoes of his majesty," Mustafa Zahir, the king's grandson, said last month. "But we can carry on the torch of hope, not to restore the monarchy but to continue with that message of hope, although it will never have the same intensity."
Local journalism is essential.
Give directly to The Spokesman-Review's Northwest Passages community forums series -- which helps to offset the costs of several reporter and editor positions at the newspaper -- by using the easy options below. Gifts processed in this system are not tax deductible, but are predominately used to help meet the local financial requirements needed to receive national matching-grant funds.
Subscribe now to get breaking news alerts in your email inbox
Get breaking news delivered to your inbox as it happens.
---