News > Business
Bleak picture at Netflix
Tue., July 24, 2007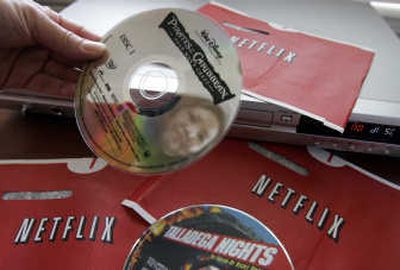 Netflix Inc. expects its profit to sag the rest of this year as the online DVD rental leader absorbs the cost of lowering its the most popular subscription plan to ward off an intensifying threat from rival Blockbuster Inc.
The bleak forecast overshadowed the Los Gatos-based company's second-quarter results, which also were released Monday after the stock market closed.
Netflix earned $26.6 million, or 37 cents per share, in the three months ended in June. That represented a 50 percent increase from net income of $17 million, or 25 cents per share at the same time last year.
Revenue totaled $303.7 million, a 27 percent improvement from $239.4 million last year.
If not for a $4.1 million payment from Blockbuster to settle a patent infringement lawsuit, Netflix said, it would have earned 31 cents per share. That was still well above the average earnings estimate of 23 cents per share among analysts surveyed by Thomson Financial.
But Netflix doesn't expect the earnings momentum to extend into the second half of this year, largely because the company is lowering its monthly fees by $1 on its two most widely used services.
The discounts were driven by Netflix's trouble signing up new subscribers since Dallas-based Blockbuster began giving its online subscribers the option of returning DVDs to one of its stores instead of relying on the mail.
Netflix ended June with 6.74 million subscribers, a decrease of 55,000 from April.
Netflix had foreshadowed the bad news Sunday when the company unveiled its price cuts. After plunging $2.36, or 12 percent, to end Monday's regular session at $17.27, Netflix shares shed another 25 cents in extended trading.
• Spokane-based Ambassadors Group Inc. said its second quarter per-share earnings rose to $1.05, a 22 percent increase over the 86 cents per share it earned in the same quarter of 2006.
Net income for the second quarter 2007 was $20.9 million, compared to $18.5 million for the second quarter 2006. Comparing the six months ended June 30, 2007 with the comparable time period in 2006, fully diluted per share earnings increased 13 percent to 79 cents this year, compared with 70 cents in 2006.
The company arranges and promotes student travel under the brand name People to People. It also offers tours and travel for professional groups.
Operating expenses were $12.9 million and $9.5 million in the second quarters of 2007 and 2006, respectively. CEO Jeff Thomas said the company spent $3.4 million more on expenses supporting a greater number of delegates traveling and for increased marketing expenses for the 2007 and 2008 travel programs.
•Halliburton Co.'s profit more than doubled in the second quarter, getting a $933 million lift from the separation of former subsidiary KBR Inc. But even without that gain, the results still beat the consensus Wall Street forecasts for the oilfield services contractor. Its shares rose more than 3 percent.
Earnings of $1.5 billion for the April-June period, which amounted to $1.62 per share, compared with income of $591 million, or 55 cents a share, in the year-ago period, Halliburton said Monday.
Revenue in the quarter rose 20 percent to $3.7 billion from $3.1 billion a year ago. The company said sales rose worldwide, particularly in the Eastern Hemisphere.
Excluding the gain from the KBR split, Halliburton said income from continuing operations in the quarter was $595 million, or 63 cents a share, up from $498 million, or 47 cents a share, in the second quarter of 2006.
•Pharmaceutical company Merck & Co. posted hefty jumps in second-quarter profit Monday and handily beat analysts' expectations.
Whitehouse Station, N.J.-based Merck & Co. reported its profit jumped 12 percent as revenues from six new medicines and strong growth of key older ones offset losses to generic competition and another charge for its massive Vioxx litigation.
Merck shares rose $3.31, or 6.8 percent, to $52.33.
Merck earned $1.68 billion, or 77 cents per share, compared with net income of $1.5 billion, or 69 cents per share, a year earlier.
Local journalism is essential.
Give directly to The Spokesman-Review's Northwest Passages community forums series -- which helps to offset the costs of several reporter and editor positions at the newspaper -- by using the easy options below. Gifts processed in this system are not tax deductible, but are predominately used to help meet the local financial requirements needed to receive national matching-grant funds.
Subscribe now to get breaking news alerts in your email inbox
Get breaking news delivered to your inbox as it happens.
---