News > Spokane
Russell judge opposes moving trial
Wed., July 25, 2007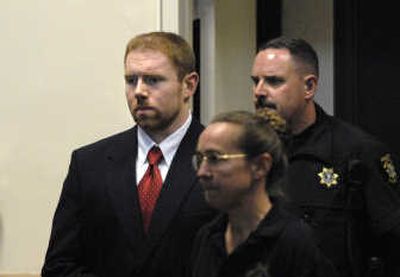 COLFAX – Fred Russell will likely be tried in Whitman County, a judge said Tuesday, even if that means bringing in jurors from an outside county and sequestering them.
Attorneys for Russell, accused of driving drunk and killing three people in a 2001 crash near Pullman, wanted the trial moved, arguing that intense, inflammatory news coverage over six years had left a majority of potential jurors with firm opinions about the case.
Judge David Frazier said Tuesday that he wasn't rejecting that proposal outright, but he would withhold judgment until an effort had been made to seat a jury in Whitman County. He said state law "specifically requires courts to attempt to seat a jury and requires the court to exercise care and great caution in trying to select that jury."
Frazier also said that while there's been extensive media coverage of the case, the bulk of it had been factual and not inflammatory. He said he had faith that Whitman County jurors, with careful selection and court oversight, could set aside their opinions and make a judgment on the evidence.
"I'm proud of Whitman County juries, and I have great faith in our county here and our jurors," said Frazier, who's been a judge here for 25 years.
Frazier acknowledged that jury selection in the case would be difficult and that he would order an unusually large pool of 60 potential jurors. If they couldn't get a jury out of that pool, he said, he would develop a "backup plan" to shift jury selection to another county. He said he's inclined to bring jurors to Whitman County rather than moving the trial.
The judge's decision came toward the end of two days of hearings in the case in Whitman County Superior Court. Russell faces three charges each of vehicular homicide and vehicular assault.
His attorney, Francisco Duarte, is also asking Frazier to throw out blood-test results showing Russell was drunk at the time of the crash because the state crime lab lost Russell's blood sample and his defense team now can't independently check it.
Lab officials say they inadvertently destroyed two vials of Russell's blood in 2004 – while Russell was a fugitive – though they were marked with red labels to be saved.
Attorneys spent hours in closed-chamber sessions with the judge Monday and Tuesday discussing unspecified developments related to the blood test. The record of those discussions will be sealed for now, Frazier ruled, because they deal in part with a personnel matter.
Though the details of the new information weren't discussed in open court, it apparently was introduced by prosecutors Monday morning. Duarte told the judge that in bringing the new information to light, prosecutors "dropped a bombshell on us."
Frazier has allowed for the possibility of further evidence and witnesses on the blood-test question.
On the motion to move the trial, Frazier said that he knows that the Russell case has been covered exhaustively, and he believes it's possible that could influence jurors.
But he said the legal way to decide that is through careful questioning and vetting during jury selection – known as "voir dire."
Like prosecutors, he said it's not enough to show that potential jurors are familiar with a case to move a trial; it must be shown that such jurors have such fixed opinions that they can't set them aside and make impartial judgments.
Duarte had argued that Whitman County residents do have such fixed opinions. He commissioned a survey of 400 county residents that showed more than 80 percent said they do not have an open mind about the case, and more than 90 percent believe Russell is guilty.
"How did that happen? We know how it happened. There is a court of public opinion that is being controlled by the media," Duarte said.
He also criticized the release of information about the case from police and prosecutors.
Prosecutor Melanie Tratnik, an assistant attorney general, argued that moving the trial would be an extreme step. She cited several sensational cases that were tried in the Washington counties where they occurred, including double murders and the kidnapping and murder of children.
She also challenged the defense team's survey, arguing it was inappropriate contact with potential jurors and questioning the credentials of the researcher who led it.
Frazier has been the judge on the case since 2001, and he drew harsh criticism at the time for setting Russell's bail at $5,000. Prosecutors had asked for $100,000.
He said that a lot of the news coverage of the case stemmed from the decisions Russell made.
"A large amount of the publicity that resulted in this case … came about as a result of the defendant's not appearing for trial, his fleeing the country and seeking refuge overseas," and his attempts to fight extradition from Ireland after he was found there in 2005, Frazier said.
Local journalism is essential.
Give directly to The Spokesman-Review's Northwest Passages community forums series -- which helps to offset the costs of several reporter and editor positions at the newspaper -- by using the easy options below. Gifts processed in this system are not tax deductible, but are predominately used to help meet the local financial requirements needed to receive national matching-grant funds.
Subscribe now to get breaking news alerts in your email inbox
Get breaking news delivered to your inbox as it happens.
---