News > Spokane
No snoozing at WSU sleep center
Fri., July 27, 2007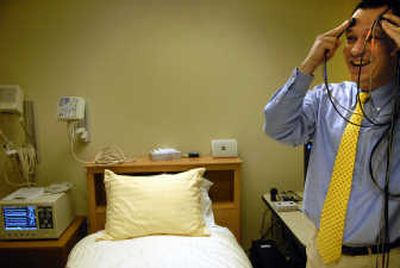 The people who check into the new sleep research center at Washington State University in Spokane stay in some pretty nice digs.
But the tradeoff is dramatic. They're kept awake for long stretches – 36 hours, 62 hours. No coffee or stimulating activity allowed. If they're watching a movie and they start to nod off, someone nudges them awake.
The result of the sleep deprivation is what interests WSU's Gregory Belenky and Hans Van Dongen – they're studying what happens when normal sleepers are not allowed to drift off. It's a subject that's particularly relevant for military, nursing and long-distance trucking jobs, for instance, but it also provides insight into the general nature of sleep.
For example, the first publication to emerge from the center since it opened in October overturned a common assumption among sleep experts. Researchers found that sleep traits appear to be hard-wired into an individual's biology. In other words, late sleepers – or deep sleepers or early risers – may be born, rather than made.
Sleep scientists have assumed that sleep was a consistent phenomenon and that differences among people arose from external factors like light, noise, timing or environment. Van Dongen said they assumed that when you put people in a controlled environment, their reactions to sleep deprivation would be similar.
They found, instead, that some people performed all right on a battery of cognitive tests, while others "fell off the cliff an hour after their bedtime," he said.
That indicates that sleep patterns are "trait-like," meaning there is some biological foundation for it. One possibility is genetics, and the idea that sleep patterns are controlled by genes is intriguing, given the expansion of knowledge about the manipulation of DNA.
But the WSU researchers emphasized that it's far too soon to conclude that.
"There's no proof of that," Van Dongen said. "It could be other things. It could be developmental. It could be something in the environment."
But genetics "is the obvious place to start to look next."
Theory and research
The sleep center represents a huge expansion of WSU's sleep research. In combination with longtime researchers in Pullman, the university brought in Belenky and Van Dongen from two of the top sleep research centers in the country – Walter Reed Medical Center and the University of Pennsylvania, respectively.
The WSU center, on the Riverpoint campus, is among few in the country that perform controlled sleep studies. Belenky said that researchers are working in three related areas – theory, lab research and field work.
Researcher Jim Krueger at Pullman, for example, has developed a theory that sleep is a "local, use-dependent phenomenon" – with "local" meaning that it's related to a particular part of the brain. In other words, sleep is tied to specific brain functions. If you perform one task repeatedly, you'll eventually tire and need sleep. But if you change tasks or take a break, you can feel refreshed – your brain is using another location.
In addition to lab research, the Spokane center is working on a variety of field studies related to that theory. It's in the midst of a study with Hollister-Stier Laboratories, comparing the length of shifts with performance, and it's working on a study at local hospitals comparing the performance of workers on night and day shifts. It's known that people don't sleep as well during the day as at night, Belenky said, so researchers are studying the effects of night-shift work on memory and learning.
Future field work may include industry-funded research with Continental Airlines and the American Trucking Association.
The center has attracted millions in grant funding, from a $4.5 million federal grant that got it started in Spokane to a $1.5 million award from the philanthropic W.M. Keck Foundation. Belenky said the annual budget for the 20-employee center is about $1.5 million. Less than 2 percent of the budget comes from state funds – the rest comes from grants and contracts.
"I think we've been very successful at raising money," said Belenky, the principal investigator and director of the center. "We are becoming successful at doing the experimental work."
Careful controls
The living quarters at the sleep center are like an apartment, with bare brick walls, new furniture – no couches – and four bedrooms off to the side. The bedrooms are equipped with a single bed, a small closet and a battery of equipment to measure sleepers' brain waves and other vital signs.
It's all monitored from a control room.
During research projects, people stay in the center constantly for a week or two, sleeping according to the project schedule. If they left, they'd be exposed to various things that could influence their sleep, from other people to changes in light and temperature that could create a "little drift in the biological clock," Van Dongen said.
A past study deprived people of sleep for 36 hours, and then tested basic cognitive skills. Right now, researchers are depriving four subjects of 62 hours of sleep at a time and testing higher-order decision-making, such as when to take a risk.
The study that produced the research on trait-like responses in sleep patterns suggests that there may be a way to eventually address individual sleep needs. It's known now that sleep deprivation generally hurts job performance, but the recent study showed that some people are affected much more than others.
More study may reveal ways to individualize knowledge about sleep. It would be valuable for a long-haul trucker or airline pilot to have a more specific understanding of their own tolerance for sleep deprivation, for example, and might help businesses and government prepare the safest workplaces.
Belenky and Van Dongen hope to expand the lab in the near future to add a facility that could simulate work environments – such as a police call – to measure the effects of sleep deprivation in situations that are more narrowly focused.
Meanwhile, researchers will keep denying sleep to test subjects at the center. There's little to do there, though there are some games and DVDs to help pass the time. Most popular among the selection of movies and TV shows is "Grey's Anatomy."
"Every group that comes here wants to see that," Van Dongen said.
Local journalism is essential.
Give directly to The Spokesman-Review's Northwest Passages community forums series -- which helps to offset the costs of several reporter and editor positions at the newspaper -- by using the easy options below. Gifts processed in this system are not tax deductible, but are predominately used to help meet the local financial requirements needed to receive national matching-grant funds.
Subscribe now to get breaking news alerts in your email inbox
Get breaking news delivered to your inbox as it happens.
---