Sports
Bears betting on Benson
Tue., July 31, 2007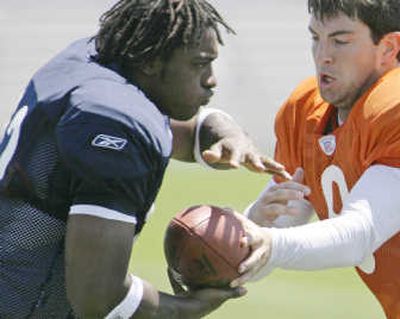 There are questions about his durability and doubts that he will ever live up to the hype that accompanied him to the NFL.
Cedric Benson welcomes it all.
The hard-charging running back can't wait to show that the Chicago Bears were right to put the ball in his hands when they traded the popular Thomas Jones to the New York Jets in March.
"If I still have got to prove some things, I'm sure I will," Benson said.
Benson has shown glimpses of his potential since the Bears took him with the fourth pick in the 2005 draft, but the defending NFC champions are banking on a running back who has seen his share of injuries and controversy since he arrived.
"Cedric could be the best back in the league because he's playing behind probably the best offensive line in the league," tight end Desmond Clark said. "He has those kind of skills. If he's able to stay healthy, he's going to get the carries that he needs to produce 1,800 yards this year."
Last year, Benson gained 647 yards during the regular season and averaged 4.1 yards per carry. But he convinced the Bears that he could carry the load. So they dealt Jones, who ran for 1,210 yards.
"He has great acceleration to the hole," offensive coordinator Ron Turner said. "He has a real good feel for being patient, setting up the blocks and then hitting it."
A lengthy contract negotiation caused him to miss his first training camp two years ago, and a knee injury suffered against San Francisco knocked him out of six games that season.
A year later, Benson sprained his shoulder during training camp and missed the preseason.
Still, Turner was quick to point out that Benson stayed healthy at Texas, where he ran for 5,540 yards and finished as the sixth-leading rusher in NCAA history.
"Adversity's fun, people who want to bet against you or say you can't do or won't do something," Benson said. "That stuff is awesome because it just makes you feel awesome when you do it."
Quinn still holding out
Cleveland Browns rookie quarterback Brady Quinn missed his fourth day of training camp in a contract holdout that shows no signs of ending anytime soon for the first-round draft pick.
Quinn has missed six practices so far.
Browns general manager Phil Savage has been in negotiations with Quinn's agent, Tom Condon.
Condon could be trying to get his client money in line with a top 10 selection, something the Browns already had to do to sign left tackle Joe Thomas, the No. 3 overall pick, who signed a five-year $42 million deal last week that included $23 million in guaranteed money.
Patriots' CB out for season
New England Patriots defensive back Chad Scott will miss the upcoming season because of a knee injury, the team announced, as cornerback Asante Samuel's holdout continued.
Scott, 32, was placed on the reserve/injured list. The news came just hours after coach Bill Belichick continued to describe Scott's injury as day to day.
Meanwhile, Samuel continues holding out for a multiyear agreement after rejecting a one-year, $7.79 million contract.
Redskins sign first-round pick
The Washington Redskins agreed to terms with No. 6 overall draft pick LaRon Landry, ending his brief holdout from training camp.
The safety from LSU was expected to take part in his first practice today after signing a five-year deal worth about $41.5 million.
Landry missed six practices over four days.
Lions' Stanton to have surgery
Lions rookie quarterback Drew Stanton will have arthroscopic surgery to clean cartilage from his right knee, and could be out as long as a month.
Stanton, a second-round draft pick out of Michigan State, tweaked the knee during training camp workouts Sunday and has not taken part in drills since. The team hopes to schedule a date for the procedure soon.
Colts' Sanders, O'Neil out
The Indianapolis Colts placed former Pro Bowl safety Bob Sanders and linebacker Keith O'Neil, a key special teams performer, on the physically unable to perform list.
Neither was expected to practice at the start of training camp after having off-season medical procedures. Sanders had shoulder surgery, while O'Neil underwent sports hernia surgery.
Rams' CB suspended
St. Louis Rams cornerback Fakhir Brown said he was suspended for violating the NFL's substance abuse policy because he accidentally missed a drug test and has decided to appeal the penalty.
Brown, who started 14 games last season, was suspended earlier this month for the first four games of the season.
Local journalism is essential.
Give directly to The Spokesman-Review's Northwest Passages community forums series -- which helps to offset the costs of several reporter and editor positions at the newspaper -- by using the easy options below. Gifts processed in this system are not tax deductible, but are predominately used to help meet the local financial requirements needed to receive national matching-grant funds.
Subscribe to the sports newsletter
Get the day's top sports headlines and breaking news delivered to your inbox by subscribing here.
---