Sports
Ichiro leads Seattle to big victory
Tue., July 31, 2007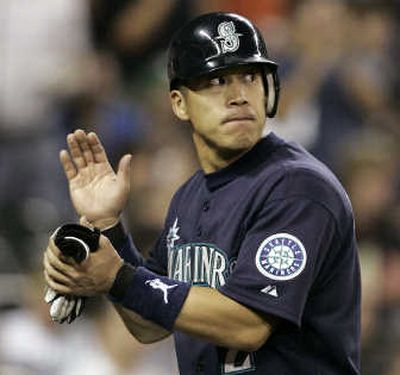 SEATTLE – On a night when the Seattle Mariners paid tribute to Japanese baseball, it was perfectly fitting that a player born in Japan scored the game's first run and drove in its only other one.
Mariners center fielder Ichiro Suzuki, who paved the way to the major leagues for a wave of other successful Japanese position players, tripled and scored in the third inning, then drove in a run in the seventh to lead Seattle to a 2-0 victory over the Los Angeles Angels of Anaheim. With a crowd of 31,232 on hand Monday, the M's got off to a good start in the opener of a pivotal three-game series against the American League West Division-leading Angels.
Suzuki was 3 for 4 during Seattle's Salute to Japanese Baseball Night, which featured Japanese drummers and dancers, and a ceremonial first pitch by Isao Uzaki, the Vice Mayor of Kobe, Japan.
Seattle catcher Kenji Johjima, also born in Japan, made a solid contribution, getting a single and scoring a run. But it was Suzuki's impact that had Mariners manager John McLaren searching for a new positive adjective.
"I'm running out of superlatives because the guy is a great ballplayer. I'm glad he's on our team," McLaren said.
In a matchup of the top two teams in the West, the second-place M's cut the Angels' lead to three games. Seattle (58-46) extended its win streak to four and stopped a four-game victory burst by Los Angeles (61-43).
Both starting pitchers were solid, but Miguel Batista (seven innings, no runs, four hits) earned the victory, improving his record to 11-7.
"He was throwing the ball extremely well," said McLaren, noting that he removed Batista from the game because the pitcher had some tightness in his biceps muscle, not because his pitch count of 104 was too high.
Using excellent control and getting help from his defense, Batista shut down an Angels offense that had scored 10 or more runs in three straight games. He struck out two and didn't walk any.
"I wanted to make sure we started the series on the right foot, and we did," said Batista, who had walked at least two hitters in each of his previous eight appearances.
The right-hander's formula for success was simple but effective.
"He had 'em off balance. He was throwing strikes," McLaren said of Batista, who tossed 71 strikes, which equated to a strike on 68.3 percent of his pitches.
M's reliever Brandon Morrow pitched a scoreless inning and J.J. Putz finished off the game with a 1-2-3 ninth inning that featured a crowd-pleasing strikeout of Angels star Vladimir Guerrero.
Kelvim Escobar (11-5) pitched well for Los Angeles, allowing two runs on eight hits in eight innings. But Escobar, who struck out seven and walked only one, didn't get any run support from an offense that had previously been on a rampage.
Through the first two innings the teams combined for just two hits, one single apiece. The Angels appeared ready to break through in the top of the third when Jeff Mathis and Reggie Willits started with back-to-back singles, but Batista got three straight outs and didn't give up a run. Raul Ibanez made the third putout on a stellar diving catch in left field. He charged a low, sinking line drive hit by Guerrero and plucked it out of the air just in time, saving at least one run.
Sparked by Suzuki's one-out triple, the M's took a 1-0 lead in the third. After Yuniesky Betancourt struck out on three pitches, Suzuki smashed a line drive off Escobar that bounced off the warning track in right-center field and caromed off the wall, resulting in his fifth triple of the season. Jose Vidro (2 for 4 with a double) followed it with a run-scoring single up the middle that easily scored Suzuki.
The M's scored their final run on Suzuki's two-out single in the seventh. It took a nasty hop that got past Los Angeles first baseman Casey Kotchman and drove in Johjima, adding to the Japanese-themed celebration.
Reitsma goes on DL
Although he kept quiet about it, Mariners reliever Chris Reitsma was hurting. So was his manager.
Reitsma was placed on the 15-day disabled list Monday. The right-hander has elbow tendonitis in his throwing arm.
The decision was necessary but difficult, M's manager John McLaren said.
"The guy tried to pitch with … pain and I respect him a lot for that. There's probably nobody in this dugout I respect more than him," McLaren said.
On June 4 Reitsma came back earlier than expected from a DL stint attributed to right elbow inflammation. Since then he made 10 appearances, compiling a 14.14 earned-run average in seven innings.
Reitsma is scheduled to have arthroscopic surgery Thursday.
Local journalism is essential.
Give directly to The Spokesman-Review's Northwest Passages community forums series -- which helps to offset the costs of several reporter and editor positions at the newspaper -- by using the easy options below. Gifts processed in this system are not tax deductible, but are predominately used to help meet the local financial requirements needed to receive national matching-grant funds.
Subscribe to the sports newsletter
Get the day's top sports headlines and breaking news delivered to your inbox by subscribing here.
---