News > Home
Smart pet owners can prevent parvo
Tue., July 31, 2007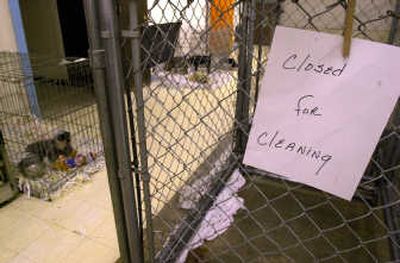 Of all the diseases for which we routinely vaccinate dogs, Parvovirus infection is the one we still see with alarming frequency.
The canine Parvovirus (CPV) is present worldwide in all environments. It is shed in the stool of infected or recovered dogs and can survive months in the environment, for example, in soil. Every dog will either be vaccinated and, thus, become immune to parvo, or will be exposed to it and become immune if they recover from the illness. It is not a disease that dogs can avoid.
This virus emerged in the late 1970s, possibly as a mutation from the feline "distemper" virus, which is also a Parvovirus.
CPV infects the rapidly dividing cells of the body, especially the cells lining the intestine. The virus kills the cell it infects, releasing more virus and infecting neighboring cells. This destruction of the intestinal lining causes bleeding into the intestine. Bacteria that normally live in the intestine can reach the dog's bloodstream and cause systemic infection.
Dogs come into the vet hospital with vomiting, lack of appetite, listlessness, and, soon after these signs, bloody diarrhea. If untreated, most will die from dehydration, sepsis, or other complications. A test of a small amount of the dog's stool can confirm the diagnosis. The vet will also check a white blood cell count, because CPV affects these cells too. A very low white count has been associated with a worse prognosis.
Treatment mainly consists of supporting the dog until the cells lining his GI tract can regenerate and his immune system can resist the virus. Giving intravenous fluids to correct dehydration, as well as antibiotics to ward off secondary infections are the cornerstones of therapy. Anti-vomiting medications and pain medications (dogs with parvo have painful erosions in their esophagus from vomiting) are usually needed too. Sometimes antiviral medications or drugs to help stimulate the immune system may be tried. If the infection is too severe, the dog may die despite aggressive treatment. However, most estimates say that with intensive support in the hospital, 80 to 90 percent of affected dogs will survive.
A typical hospital stay with parvo is four to five days. Some mildly affected dogs can recover with at-home care, but it is hard to predict which dogs will do well with this, so it is only recommended if hospitalization is financially impossible for the owner. This disease is expensive to treat. Fortunately, it is almost completely preventable with proper vaccination. Puppies should receive a series of vaccines starting when the antibodies they got from their mothers starts to decrease (6 to 8 weeks) until they are approximately 16 weeks old. Some breeds, such as Rottweilers, have an increased susceptibility to the disease, and so additional vaccinations may be recommended.
It is theoretically possible for a dog to be susceptible even with proper vaccination. All puppies receive antibodies against CPV from their mother's first milk or through the placenta while still in their mother's uterus. (This is assuming the mother is immune to parvo; that is, she has been vaccinated or has recovered from parvo.) If the maternal antibodies are still high on the day the pup gets vaccinated, the vaccine is blocked by those antibodies, so the pup's own immune system never gets exposed to the virus. If those same maternal antibodies then start to decrease, they might get so low that the pup is susceptible to the virus. However, his next vaccine isn't due for three weeks. This is why most vets recommend some degree of isolation for young pups, avoiding dog parks and the like. In reality, this scenario is extremely rare, and vaccination is reliably successful at preventing infection.
Parvo is a scary disease. Knowing more about it can help ease your worries for your dog. Prevent parvo by adhering to your pup's vaccination schedule. If your dog does contract the disease, the odds of survival are still in her favor, and there are generally no long lasting ill-effects in recovered dogs.
Local journalism is essential.
Give directly to The Spokesman-Review's Northwest Passages community forums series -- which helps to offset the costs of several reporter and editor positions at the newspaper -- by using the easy options below. Gifts processed in this system are not tax deductible, but are predominately used to help meet the local financial requirements needed to receive national matching-grant funds.
Subscribe now to get breaking news alerts in your email inbox
Get breaking news delivered to your inbox as it happens.
---