News > Spokane
Low-income tenants face evictions, uncertain futures
Sun., June 3, 2007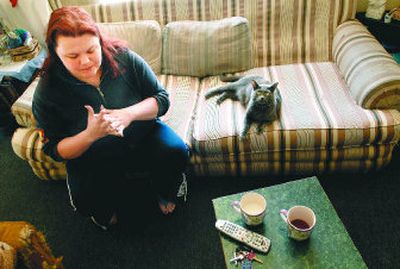 As many as 200 poor people who found refuge in downtown apartment buildings could be displaced before Labor Day as redevelopment transforms Spokane's city center, and housing advocates worry some residents may end up back on the streets.
RenCorp LLC recently told about 60 low-income tenants of the New Madison Apartments on First Avenue that they have weeks to move before the developer converts the aging structure into mixed-income apartments.
The developer also may buy and renovate the Otis Hotel across the street, potentially affecting dozens more residents, including supervised criminal offenders.
And Spokane's housing authority already is hustling to move 45 residents, many of them mentally or medically disabled or struggling with drug addictions, out of the Commercial Building adjacent to the Otis.
RenCorp principal owner Chris Batten sought help from local government and nonprofit agencies at a meeting last week, but the community appears to lack a concrete plan to relocate all the evicted residents.
"Even if we could help these people reduce their barriers to relocation, finding units is still going to be very challenging, so I'm thinking there probably will be some people who won't be able to find housing very quickly, and there will be some people on the streets," said Cindy Algeo, executive director of Spokane Low Income Housing Consortium. "That's going to affect our city police and other community services."
Desirée Rounds, 22, was homeless before moving into the New Madison more than a year ago. "If they kick everybody out of this building, there's going to be a lot of homeless people," she said.
Spokane City Council President Joe Shogan called the displacements a "crisis."
"I think it's a dire situation," Shogan said. "The city has to face the reality that renovation of these buildings is going to occur, and when it occurs the occupants are being displaced. And it's a tough situation, because a lot of them have special needs."
Batten, however, said the remodeling of century-old buildings across Spokane is inevitable. The structures are suffering from deferred maintenance and "certainly getting toward the end" of their useful lives, he said.
"At some point, these buildings just have to go through renovation," Batten said. "They're just not viable."
With the Fox Theater across the street from the Madison reopening this year, Batten said, the "dynamic of the neighborhood is going to change."
The impending evictions are prompting the city of Spokane to discuss policy changes to deal with similar situations in the future, said John Pilcher, chief operating officer. No specific actions are being considered right now.
Yet soon-to-be displaced tenants face immediate obstacles. Many are disabled, elderly or unemployed, and scraping together money for rental applications, first and last month's rent, and transportation poses challenges beyond those of the typical apartment-hunter.
If forced to move from the downtown area, tenants also could be separated from social and medical services that currently are within walking distance, advocates said.
That's assuming tenants can find a new apartment. The vacancy rate is only 2 percent in the 35 low-income housing facilities that are part of the consortium, Algeo said. Areawide, affordable housing has about a 5 percent vacancy rate, housing experts said.
New Madison
Development has slowly crept toward the First Avenue blocks containing the New Madison and the Otis – an area once infamous for prostitution, crime and skid-row housing.
The New Madison's owner, Spokane Partners LLC, decided to overhaul the building last fall, and RenCorp will do that work, Batten said. Keeping the structure occupied was costing the corporation $10,000- $15,000 a month, he said.
"That was a conscious decision, and the owners have carried that cost through the winter," Batten said. Although transforming the five-story building into condominiums would generate more money, plans call for creating 67 new apartments, with 20 set aside for low- to moderate-income individuals, Batten said. Remodeling will cost about $6 million and take nine months.
Batten defined low- to moderate-income as at or below 50 percent of the area's median income.
"We think it's the first of its kind in Spokane," Batten said of the mixed-use project. "Certainly it's done elsewhere."
RenCorp received a $225,000 low-interest loan from Spokane County to encourage it to keep those lower-cost units, he said.The 102-year-old structure contains 107 one-bedroom units, most of them uninhabitable, Batten said. Paint peels from the walls of the dim interior, and holes riddle the faded carpet in the lobby. The building's heating system, windows, roof and insulation need updating, Batten said.
"The plumbing is falling apart, the systems are just no longer able to be maintained," Batten said. "It costs more to renovate a unit these days or go back and make it habitable than to even be viable at that price point for those tenants."
New Madison apartments cost about $300 a month, Batten said. Condos at RenCorp's Railside Center next door sell for $187,000 to roughly $500,000.
Residents have until July 15 to move, and RenCorp will not collect July rent, he said.
Rounds, the tenant, said she broke down in tears when she received her eviction letter Thursday. Since moving in, Rounds said, she has earned a general education degree, and she is attending community college with the goal of becoming a veterinarian.
She receives a monthly Social Security check, and her fiancé has a job. While the couple has found a new apartment, they have to come up with money for moving expenses.
"I'm low-income, and I don't have any credit," she said. "They're expecting people to be able to pick up with their lives and act like there's nothing wrong with it."
Rounds said Spokane needs to better plan for its poor residents.
A tenants' meeting will be held in the "near future" to provide more information, according to the letter Rounds received.
Otis Hotel
Batten was more tight-lipped about RenCorp's plans for the Otis.
"We do have it under contract with a purchase and sales agreement, with the anticipation to close by the end of July," Batten said. RenCorp is still looking at a long-term plan for the building, he said.
At the meeting last week between RenCorp, nonprofit agencies and government officials, Batten mentioned giving Otis tenants notice Aug. 1 to vacate within 30 days, Algeo said. Batten wouldn't confirm that timeline.
Batten also talked about delaying Otis renovation plans a year to allow displaced low-income residents to live there.
But the Otis, built in 1911, is far from an ideal new home, Algeo said.
"Pretty much the building and the units are in substandard condition, and there currently is no management plan for the Otis," Algeo said. "There would have to be better management there as far as the nonprofit community is concerned."
The Otis and the Commercial offer single-room units, and tenants share kitchens, bathrooms and living areas.
Cervantes said the housing authority issued about 40 federal housing vouchers to Commercial Building residents at a meeting Friday. The U.S. Department of Housing and Urban Development recently agreed to provide the vouchers, which are good for one-bedroom apartments anywhere in the United States. The Commercial's units were federally subsidized on a renewable basis, but the vouchers stick with tenants.
A few tenants already have a new apartment in mind, Cervantes said.
BlueRay Technologies Inc. of Valencia, Calif., now owns the Commercial and plans to refashion it into a Blu-ray disc manufacturing plant starting this month.
Released criminals
Relocation could be even harder for another group of tenants living in poverty: released criminals.
Renovation of downtown buildings may lead to more homelessness among that group, said Todd Wiggs, a community corrections supervisor for the Washington Department of Corrections. The department places criminals, including sex offenders, in buildings on First Avenue and elsewhere downtown, and housing is the No. 1 priority for successfully transitioning offenders back into the community, Wiggs said. The Department of Corrections supervises released offenders and it's hard to keep track of them when they're homeless, he said.
"Having that affordable housing for them is a benefit to all of us," he said. "When we have more transient offenders, the risk that they pose to all of us is increased."
The department will soon lose places for 17 sex offenders in the Helen Apartments on Adams Street downtown because family housing will be opening next door, Wiggs said. Steve Cervantes, executive director of Northeast Washington Housing Solutions, said his organization is interested in buying that structure to preserve it as low-income housing.Wiggs said that while the department still has a few buildings to house offenders, they will soon be filled, and state institutions will continue to release people here.
"I know there's a big push to, you know, decrease the homeless population, but if you eliminate that low-income housing that these guys desperately need, then I see the homeless population increasing," Wiggs said.
Finding solutions
City officials and representatives of social services agencies will reconvene Tuesday to discuss New Madison and Otis relocation efforts. But formulating a longer-term solution to affordable housing, and preventing homelessness caused by dislocation, may be complex.
"More than likely, (property values) of land and housing will keep on going up, and we need to find more capacity and build more capacity in this city," Cervantes said.
Policy changes will involve a balancing act between economic growth caused by development and the toll of transformation on residents.
"Downtown has been going through redevelopment and this renaissance for 10 years, and I think that everybody is pleased with the renaissance and how it is being redeveloped, but some of the more difficult issues have come probably upon us more quickly then we had anticipated," said Marty Dickinson, president of Downtown Spokane Partnership.
At the Commercial Building, for example, BlueRay may create as many as 150 good-paying jobs, Dickinson said.
"Our hand is being forced," Dickinson said. "I don't believe that's a bad thing, because you have a plethora of social service agencies that are willing to help define some tools and some ways to make this kind of a win-win."
But nonprofit agencies, such as the Coalition of Responsible Disabled, are already stretched thin, said the group's independent living adviser, Nan Kelly.
"We're already drowned in poor people and don't have the funds to help the ones who are out there," she said.
Batten said displacement is a "community issue" instead of the responsibility of individual building owners or developers. That's why RenCorp convened last week's meeting with government agencies and nonprofits, he said. "We did reach out to see if there were other resources that could be utilized to help facilitate this and were told that there weren't," prompting the meeting, Batten said.
Cervantes pointed out that some new options are emerging. Housing Solutions' new 50-unit project on North Adams Street, for example, will offer affordable apartments for working-class residents and is expected to be occupied by February.
City and county officials are investigating whether they could use hundreds of thousands of dollars generated by county real estate recording fees to help with relocation. Housing advocates also have discussed looking to larger cities, such as Seattle and Portland, for models.
Long-term, Algeo said, advocates could work with the city to define policies for developers who want to displace tenants, such as mandating longer notice for evictions.
"We need to plan better for the future," Algeo said. "We don't want to be caught off guard as a community again."
Local journalism is essential.
Give directly to The Spokesman-Review's Northwest Passages community forums series -- which helps to offset the costs of several reporter and editor positions at the newspaper -- by using the easy options below. Gifts processed in this system are not tax deductible, but are predominately used to help meet the local financial requirements needed to receive national matching-grant funds.
Subscribe now to get breaking news alerts in your email inbox
Get breaking news delivered to your inbox as it happens.
---