News > Business
CdA Casino to add 80 workers, video blackjack, poker machines
Sat., June 9, 2007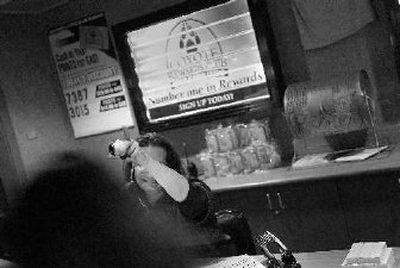 WORLEY, Idaho – The Coeur d'Alene Casino Resort Hotel is gearing up to hire 80 new employees, most of whom will run video versions of blackjack or poker.
"These machines are manned with a dealer," said Scott Kramer, the casino's chief financial officer. "You'll still play a machine, with the difference of having a dealer that is actually running the game."
The machines are new to the casino, which is owned by the Coeur d'Alene Tribe. An installation date is dependent on final approval from state regulators. Game hosts, who are expected to earn $15 or more per hour with tips, will account for about 60 of the new hires at the casino. The casino is adding another 20 people in various departments to keep up with growth, Kramer said.
The hiring is one of the largest in recent years for the 14-year-old casino, which began as a small bingo hall on the side of U.S. Highway 95, said Bob Bostwick, the casino's director of public relations. After the hiring is complete in mid-summer, the casino-hotel-golf course complex will employ about 950 people.
The hiring push comes amid record low unemployment in Kootenai County. Last month, less than 3 percent of the county's workforce was actively seeking a new job, according to state figures.
The tight labor market contributed to recent pay hikes at the casino, which has upped its entry-level wage for non-tipped positions from $6.50 per hour to $8.50 per hour. The pay raises are also an acknowledgement that the Coeur d'Alene Casino competes with Spokane companies for workers, who pay Washington's minimum wage of $7.93 per hour, Kramer said.
"Obviously, our labor pool is Northern Idaho and Eastern Washington," he said. "If you want quality workers, you have to keep the wages in line."
Local journalism is essential.
Give directly to The Spokesman-Review's Northwest Passages community forums series -- which helps to offset the costs of several reporter and editor positions at the newspaper -- by using the easy options below. Gifts processed in this system are not tax deductible, but are predominately used to help meet the local financial requirements needed to receive national matching-grant funds.
Subscribe to the Coronavirus newsletter
Get the day's latest Coronavirus news delivered to your inbox by subscribing to our newsletter.
---