News > Idaho
Woman has passion for Eskrima
Sat., June 30, 2007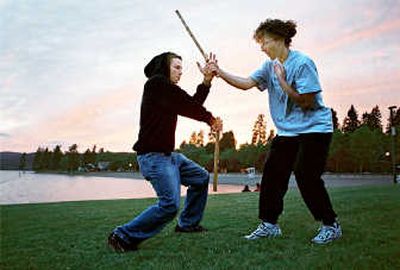 Kristine Strasburger concentrated as the young man in front of her reared back with a two-foot long stick and aimed a blow at her temple. Bending her knees and twisting her shoulders, Strasburger deflected the blow with her hand before knocking aside her assailant's weapon with her own stick, and then striking his wrist, arm and ribs in quick succession. The clatter of wood on wood echoed across Independence Point, drawing curious glances from people enjoying a brilliant sunset by the lake.
The simulated attack June 13 demonstrated the effectiveness of Eskrima, a Filipino martial art that emphasizes the use of weapons such as rattan sticks, knives and swords in self-defense. Strasburger, 42, of Spirit Lake is one of only a handful of women in the world qualified to teach the art.
"It's a passion for my life," Strasburger said. "It's not very physically demanding, but it's very complex – it's very mentally challenging."
Eskrima, also known as Kali, Arnis and the abbreviation FMA, comes from a variety of systems developed in the Philippine Islands as a way for villagers to defend against raids from other tribes and, later, from the colonial armies of Spain and the United States. It uses few of the kicks and bare-handed strikes common in other martial arts such as Karate or kick boxing, instead focusing on knives and short swords. For safety during training, rattan sticks (made of a type of vine that shreds rather than splinters when broken) stand in for the blades.
"It is a very combat-oriented martial art used to protect the family," Strasburger said.
Strasburger began learning Eskrima at 17 as a way to channel her grief over the death of a loved one. She was living in Los Gatos, Calif., and studied the Inayan System founded by Michael G. Inay. She studied for 6 1/2 years before joining the Army in 1988. She served as a combat medic in the 93rd Evacuation Hospital for more than three years, including a five-month deployment during the first Gulf War. She met her husband, Keith, a combat engineer, there and the two were married after she left the Army.
Strasburger earned a Bachelor's degree in Bible and Theology from the Moody Bible Institute in Chicago and, after the two rattled around the country for several years, they settled in the Panhandle in 2003.
Now she's looking to share her passion with others and expanding the knowledge of those who may have learned a technique or two. According to Strasburger, because Eskrima has not been as formalized as other martial arts, many people have learned only bits and pieces.
"Most people that know Eskrima only know it from a seminar or a videotape," she said. "So, not many people realize it's a very complex, separate art."
Strasburger conducts personal lessons at her home in Spirit Lake through the Heartland Eskrima School, which she owns. This summer she is offering free informal classes on Wednesday and Friday nights at the Coeur d'Alene City Park. The sessions will focus on sharing knowledge rather than formal instruction and are open to anyone.
"My main goal for that is to pull people out of the woodwork," she said. "I would love to meet some Filipinos that know Eskrima. The idea is to network and make more friendships."
Strasburger said she would like to get more women, who might not normally be interested in a "hard" martial art, into Eskrima or learning self-defense.
"I especially enjoy working with women," she said. "Most of the time it's a male instructor, so women feel intimidated. I really enjoy giving that opportunity to women in martial arts in general and Eskrima in particular."
In addition to teaching, Strasburger home schools her sons, Tim, 13, and Ben, 9. She runs two marathons a year and wants to complete 100 in her lifetime.
Local journalism is essential.
Give directly to The Spokesman-Review's Northwest Passages community forums series -- which helps to offset the costs of several reporter and editor positions at the newspaper -- by using the easy options below. Gifts processed in this system are not tax deductible, but are predominately used to help meet the local financial requirements needed to receive national matching-grant funds.
Subscribe now to get breaking news alerts in your email inbox
Get breaking news delivered to your inbox as it happens.
---