News > Nation/World
FEMA selling thousands of unused trailer homes
Thu., March 8, 2007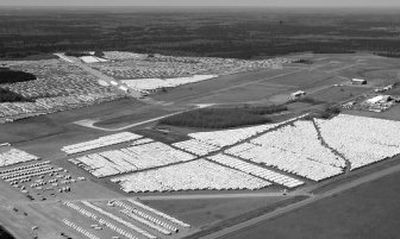 WASHINGTON – Stored in such places as the vacant land near an airfield in Hope, Ark., an industrial park in Cumberland, Md., and a warehouse in Edison, N.J., are the results of one of the federal government's costliest stumbles in the aftermath of Hurricane Katrina: tens of thousands of empty trailers.
The Federal Emergency Management Agency hurriedly bought 145,000 trailers and mobile homes just before and after Katrina hit, spending $2.7 billion largely through no-bid contracts. Now, it is selling off as many as 41,000 of the homes, netting, so far, about 40 cents on each dollar spent by taxpayers.
Thousands more – critics say more than 8,000 – have never been used and cannot be sold immediately, even though scores of people in the South have been made homeless by recent storms.
"While FEMA has 8,420 brand-new, fully furnished, never-used mobile homes in a cow pasture in Hope, Ark., they refuse to provide the people from Desha, Back Gate and Dumas counties with help. This is crazy," said Rep. Mike Ross, D-Ark.
FEMA cannot sell unused mobile homes directly to the public because of legislation passed by Congress in October at the industry's urging. Instead, the agency must now go through a time-consuming process of trying to donate them first to federal, state and local agencies and public service groups, according to the Manufactured Housing Institute's Web site.
But FEMA has refused Ross' request to release 150 mobile homes to shelter people in his state displaced on Feb. 24 by two tornadoes because President Bush has not declared the counties a federal disaster area.
Still, the number of homes the agency can sell is prompting fears of a market glut. FEMA's potential for-sale inventory is nearly equivalent to 30 percent of the recreational-vehicle industry's U.S. sales in 2006.
"As you can imagine, a public auction of so many vehicles could devastate the market for travel trailers," Michael Molino, president of the 2,700-member Recreational Vehicle Dealers Association, said in a letter Friday to FEMA Director R. David Paulison.
Molino's group and the National Association of RV Parks & Campgrounds last week asked that the trailers be sold in lots of five or more so they can be bought and resold by dealers.
FEMA is working with the General Services Administration, the federal government's real estate arm, to auction trailers in batches of about 300 at a time, FEMA spokeswoman Deborah Wing said.
Beyond the issue of costs, critics have raised health concerns about the trailers. Sierra Club of Mississippi spokeswoman Becky Gillette warned that woods and glues in new trailers have released formaldehyde gas at levels that have irritated occupants' eyes and lungs.
Local journalism is essential.
Give directly to The Spokesman-Review's Northwest Passages community forums series -- which helps to offset the costs of several reporter and editor positions at the newspaper -- by using the easy options below. Gifts processed in this system are not tax deductible, but are predominately used to help meet the local financial requirements needed to receive national matching-grant funds.
Subscribe now to get breaking news alerts in your email inbox
Get breaking news delivered to your inbox as it happens.
---