Sisters return business to their roots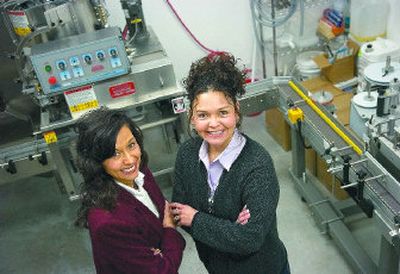 If there is anything that rivals the bond between Spokane tribal members Marina TurningRobe and Monica Simeon, it is their ties to their homeland.
The sisters have built a business partnership on the solid foundation of both relationships.
The manufacturers of hotel room amenities have moved their operations out of Spokane and onto the Spokane Indian Reservation just as the partnership they call Sister Sky begins to take flight.
Founded in 1999, the business mixes and distributes shampoo, conditioner, lotion and soap "infused with indigenous botanicals" in the little bottles hotel guests find in their rooms. Last year, Sister Sky sold 500,000 1-ounce bottles, mostly to its target market – Indian casino resorts.
"Indian gaming is creating the opportunity to diversify," Simeon said. "This is a business that is seizing that opportunity."
From the Miccosukee Resort in Miami to the Little Creek Casino Resort in Shelton, Wash., Sister Sky products are finding their way into Indian-owned hotels across the country that have decided to "buy Native."
When the Clearwater River Casino Hotel opens in Lewiston this spring, it too will be stocked with Sister Sky amenities.
If guests like the smell of sweetgrass, sage and cedar they find in their rooms, they can purchase 8-ounce versions in hotel gift shops or on the company's Web site, TurningRobe said.
"Some places are looking for unique products that have authenticity," she said. "We know we can feed this demand for Native products in a way that does not compromise our Native American traditions."
Years of attending trade shows to get the word out about their product began to pay off when the sisters changed their strategy to target the burgeoning Indian gaming industry. That strategy includes advertising in trade journals such as Indian Gaming magazine.
With the help of family members, TurningRobe, 40, and Simeon, 39, mix and label their products at a facility on reservation land owned by their father, former Spokane Tribal Business Council member Ronald "Buzz" Gutierrez.
"It's a good fit," said Simeon, "a Native American product made in Native America."
With the help of a Bureau of Indian Affairs loan guarantee and US Bank, TurningRobe and Simeon have purchased manufacturing equipment to do the job they once did on a much smaller scale in their Spokane homes.
The company is now capable of producing 30 1-ounce units a minute in an FDA-approved "clean room" that includes a 600-gallon production tank.
Though they employ no one other than family members, TurningRobe and Simeon hope to one day build a large manufacturing facility on a 76-acre site once allotted to their great-great-grandfather near Ford, Wash. When that day comes, it will fulfill their dream of bringing jobs and economic development to a reservation that has unemployment as high as 50 percent.
"We hold very dear to our hearts our vision to build a substantial and successful business, while bringing economic development to the reservation," said Simeon, who, like her sister, once left the reservation to pursue a career.
"I don't think we should have to leave to find work," Simeon said. "If we don't invest and change that pattern, we will always have to leave to find work."
But while the sisters' hearts belong to the reservation, their ambitions have no such ties.
"We're concentrating on Indian Country now, but our larger vision is national and international," TurningRobe said.
Recently, the company applied for Small Business Administration 8(a) certification, making them eligible for government contracts to small disadvantaged businesses.
"We want to increase the Indian gross national product," Simeon said.
---