Sports
Everett slips past Spokane in OT
Sun., March 25, 2007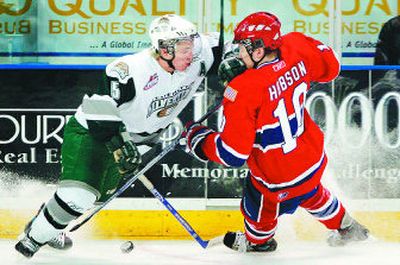 EVERETT – Well, it's a series.
The Spokane Chiefs fell to the Everett Silvertips 3-2 on Zach Hamill's goal 7 minutes, 6 seconds into overtime on Saturday in the second game of their best-of-7 opening-round series.
The win gave Everett, the Western Hockey League's best team, a 2-0 series lead over Spokane. But it didn't end there.
As Everett celebrated its win on the ice in front of the Chiefs, things got out of hand and the teams engaged in a bench-clearing brawl. The consequences of the fight are not yet known.
The teams come to Spokane for the next two games on Tuesday and Wednesday nights, but the bad blood is flowing.
Captain Adam Hobson sent the game into overtime with just 1:08 remaining in regulation.
In the end, though, this one was like a lot of the rebound chances and passes of the Chiefs – just out of their grasp.
"Our guys are holding their heads up," said Peters. "They feel like they probably deserved better, just looking at the fact we came on the road and battled hard.
"They won their two games here … now we need to win both in 'Spoke' and get ready to come back here next Friday."
Everett got stellar goaltending from Leland Irving, as he outdueled Spokane's Dustin Tokarski, who was also outstanding.
Hobson's game-tying goal came just 4 seconds after coach Bill Peters pulled Tokarski for an extra skater with 1:12 left.
Hobson's score came after the Chiefs won a face-off and the puck ended up with defenseman Sean Zimmerman, who put a shot on net. Derek Ryan missed on a rebound attempt before Hobson banged it home.
Hamill ended the game by racing up ice on a 2-on-1 and whizzing a wrister past Tokarski.
The Chiefs came out strong to start the game, carrying over the confidence they had gained from their third-period effort on Friday night.
David Rutherford put Spokane on the board first. He came in on a 2-on-1 with Judd Blackwater and put a wrister on net from the right circle which grazed the pad of Irving on its way into the net.
Everett got back on its game near the midway mark of the period and Lukas Vartovnik tied the game at 1 with a rebound shot from the right slot at 15:09.
Vartovnik would also be involved in the Silvertips' second goal, at the 4:46 mark of the second. He put a shot on net during a furious power-play effort which generated a rebound for teammate Shane Harper. Harper, alone at the post, put it past Tokarski to make it 2-1.
Spokane was given a couple of chances to tie the game before the end of the period when the Silvertips committed two penalties in the final 1:38 that resulted in a prolonged 5-on-3 chance.
Spokane did its job, generating three quality scoring chances, but Irving was too much. Everett led 2-1 at the end of the second, but Spokane still had 22 seconds of 5-on-3 and 1:08 with a man-advantage to start the third.
The Chiefs couldn't convert, but did hang on until Hobson's goal. In overtime, Spokane hit a crossbar and failed to convert on another 5-on-3.
Soon after that, Hamill scored.
Silvertips 3, Chiefs 2 (OT)
| | | | | | | |
| --- | --- | --- | --- | --- | --- | --- |
| Spokane | 1 | 0 | 1 | 0 | — | 2 |
| Everett | 1 | 1 | 0 | 1 | — | 3 |
First Period—1, Spo, Rutherford 1 4:59; 2, Evt, Vartovnik 1 (Campos, Harper) 15:09. Second Period—3, Evt, Harper 1 (Vartovnik, Gendur) 4:46 (pp). Third Period—4, Spo, Hobson 2 (Zimmerman, Ryan) 18:52. Overtime—5, Evt., Hamill 2 (Crowley).
Power-play Opp.—Spokane 0 of 6; Everett 1 of 6. Saves—Spokane, Tokarski (L, 0-2) 8-10-8-1—27. Everett, Irving (W, 2-0) 7-11-8-7—33. A—7,194.
Local journalism is essential.
Give directly to The Spokesman-Review's Northwest Passages community forums series -- which helps to offset the costs of several reporter and editor positions at the newspaper -- by using the easy options below. Gifts processed in this system are not tax deductible, but are predominately used to help meet the local financial requirements needed to receive national matching-grant funds.
Subscribe to the sports newsletter
Get the day's top sports headlines and breaking news delivered to your inbox by subscribing here.
---