News > Voices
Odd first impressions didn't stop this couple
Thu., March 29, 2007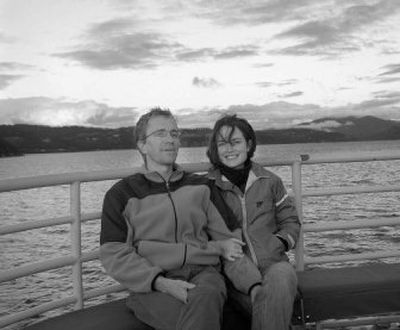 Into every relationship a perfect storm must brew. But North Side residents Jessica Allen and Kirk Besmer have lulled these stormy waters with finesse.
Four years ago, Allen, a willowy, dark-haired Gonzaga University law student, was in her senior year at Florida Atlantic University and working as a secretary. Besmer worked in the same office doing postgraduate work in phenomenology, "a form of continental philosophy," Allen said. She mistakenly thought Besmer was a secretary to a professor.
"I was looking at his T-shirt, and it said 'Beer Nuts,' " she said, "and he was wearing super-nerdy 1960s-type Army-issued glasses – they're nicknamed 'birth-control glasses.' "
Allen's mind drifted to the day they first talked, and a smile stretched across her freckled face.
"He said, 'I just taught my first class in the fall.' He was a teacher. I looked at him thinking, a 'Beer Nuts' T-shirt, ugly glasses, tennis shoes … how could I not like someone like that!"
Besmer's "nerdy" glasses proved more appealing than Allen thought possible, erasing the 14-year difference in their ages. "I didn't even notice it," she said. "I mean … anyone who wears a 'Beer Nuts' T-shirt!"
A lunch date was set. "We stood each other up three times," she said. "We finally had lunch, and it was just so easy to talk to him."
That ease intertwined with mutual respect and compatibility as their relationship deepened.
Besmer began looking for another teaching job and applied to Gonzaga, not thinking he would be hired.
"I was sitting on the couch." Allen said, when he said, 'I got the job at Gonzaga.' I thought, 'This is horrible!' Then he said, 'Do you want to come with me?' "
Her face became animated. "I said, 'Yes, I do!' but I had another semester to go."
Besmer taught at Gonzaga and Allen finished the semester in Florida.
During his winter break, they drove to Spokane. "I didn't own socks or long underwear. I lived in Florida where you wear flip-flops. So we invested in a hat and boots in South Dakota," she said.
In Spokane, Besmer began teaching again and Allen "temped" as a secretary. "That reinforced that I wanted to go back to school," she said.
The law bug nipped fiercely when Allen, who has an undergraduate degree in music, attended a class on legal issues for musicians. "I found it fascinating," she said. "I applied to Gonzaga on a whim, got in and was given a small scholarship."
True to her can-do spirit, she'll graduate in May and plans to take the bar exam in July.
But it was a March 2006 North Idaho ski weekend at Silver Mountain that catapulted the couple into the matrimonial ocean.
"I'm not a very good skier, but we were at the top and it was foggy and misty and very beautiful.
"The next thing I knew, Kirk had a ring in his hand and he said, 'Will you marry me?' I think I said yes. … I was so shocked and very happy, and the next thing I knew, we went flying down the mountain like crazy people doing Olympic mogul skiing. It was wonderful.
"The next day, we went back to the same run. It was less foggy, so I could see the mountain. I was absolutely terrified. I must have been really thrilled to have zipped down the mountain like that."
Elated, the couple opted to do what most newly engaged couples do. "We kept skiing. On the lifts, we talked about the wedding. Then we had pizza that night. Our parents were very happy when we called."
A "destination wedding" at a bed and breakfast in Friday Harbor, Wash., was planned last month.
As many brides know, months are spent committing financial ruin when choosing the perfect wedding dress. Allen was no exception.
"I found my dress at Goodwill in Virginia for $40. What a deal!"
There's no doubt this couple knows how to calm the turbulent stormy waters of wedlock, particularly during the first year of marriage.
"I'll be at the University of Florida for a year studying tax law," Allen said. "I know how to have fun, don't I?"
The couple also conquered decision-making with ease. When asked what was the most important decision they've made as a couple, without hesitation Allen said it was when they adopted their miniature Australian shepherd, Cassis.
"Signing our marriage license felt so natural. I didn't think twice about it," she said. "But when we adopted Cassis, we were filling out the paperwork and I thought, 'She's going to live a long time,' and I was prepared to be with her because I wasn't going to leave my dog."
And then there were three.
"The one thing that's wonderful about Kirk is that he takes Cassis out. I mean, I like him for a lot of reasons, obviously, but he takes Cassis out every morning regardless of rain or sleet or snow. That type of commitment is really nice."
After completing the tax program, Allen will return to Spokane, where Besmer is on a tenure track at Gonzaga teaching critical thinking to first-year students, and philosophy.
Allen and Besmer have successfully calmed the churning waters of a relationship, but one question remains: Can a concrete-thinking lawyer and an abstract-thinking philosopher make it work?
"Oh, most definitely!" Allen said with a smile. "We have the perfect storm."
Local journalism is essential.
Give directly to The Spokesman-Review's Northwest Passages community forums series -- which helps to offset the costs of several reporter and editor positions at the newspaper -- by using the easy options below. Gifts processed in this system are not tax deductible, but are predominately used to help meet the local financial requirements needed to receive national matching-grant funds.
Subscribe now to get breaking news alerts in your email inbox
Get breaking news delivered to your inbox as it happens.
---