Sports
Street Sense his own 'man'
Tue., May 1, 2007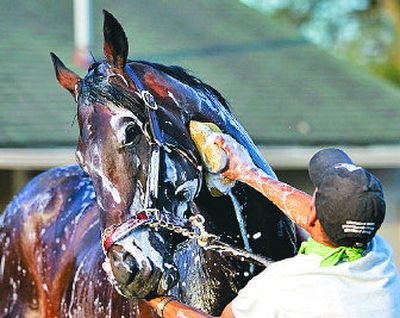 LOUISVILLE, Ky. – The Churchill Downs stable area was abuzz with activity as final preparations began for Saturday's Kentucky Derby, and top contender Street Sense was one curious 3-year-old.
The colt walked a few steps toward the track for his morning gallop Monday, then abruptly stopped to gawk at other horses passing by and the television cameras and reporters that recorded their every move. He advanced a bit more, then paused again. A few more steps. Another stop.
Carl Nafzger stayed patient through it all. It was almost as if the Breeders' Cup Juvenile champion was making a point about his trainer's philosophy of letting each horse dictate his wants and needs, not the other way around.
As Nafzger said later of Street Sense becoming the first of 23 Juvenile champions to win the Derby: "The horse got us here. We're going to let the horse take us there."
He believed that when he oversaw the career of 1990 Derby champion Unbridled. If anything, that philosophy is more deeply ingrained now in his bid to end the so-called "Juvenile jinx."
"You can get too much human involvement," Nafzger says.
The long list of Juvenile failures is daunting. Nafzger associate Ian Wilkes notes, however, that many of those horses prevailed on Breeders' Cup day because they were precocious but did not continue to mature and develop much after that.
That is not the case with Street Sense, who looks much more imposing now than he did while working his way back to competition at Palm Meadows Training Center in Florida in early February.
"This horse has grown bigger and gotten stronger," Wilkes says. "He was able to win the Juvenile and progress a ton over the winter."
Nafzger, in the twilight of his 38-year training career, appears to be enjoying the scene, much the way Street Sense is. His name is already on the list of Derby-winning trainers thanks to Unbridled.
"It's like frosting on the cake," he says. "It's a great cake, but you put a little frosting on it, it's even better."
Local journalism is essential.
Give directly to The Spokesman-Review's Northwest Passages community forums series -- which helps to offset the costs of several reporter and editor positions at the newspaper -- by using the easy options below. Gifts processed in this system are not tax deductible, but are predominately used to help meet the local financial requirements needed to receive national matching-grant funds.
Subscribe to the sports newsletter
Get the day's top sports headlines and breaking news delivered to your inbox by subscribing here.
---