News > Home
A mother's memories are rarely outgrown
Tue., May 8, 2007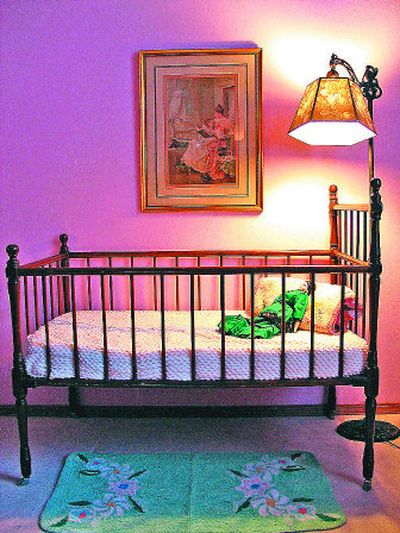 Sometimes, it's hard to remember that I once lived in a space inhabited by little ones.
Gone are the rattles and blankies and alphabet blocks.
No more Legos or Barbie dolls and Hot Wheels cars.
Now, with three grown children in and out of the house, and one 11-year-old following close on their heels, there aren't so many toys around the place.
But all around me are reminders.
Hanging in the garage is the little bed that was the first place each child slept when they were brought home from the hospital. The crib is a family heirloom that cradled a great-grandmother in 1885. Exactly 100 years from the day in 1985 I gently laid my first child in it.
I rescued the bed – in pieces - from the basement of my mother-in-law's home and had it restored. After the children outgrew it, the crib was where dolls and stuffed animals were kept.
Now, it is dormant once more. Waiting to be put back to use with another generation.
Every house has such treasures; a framed crayon drawing on the wall. A tiny child's pillow tossed on the bed. A silver cup in the china cabinet.
In a house – or a family – that has sheltered a child, the toys may be gone, but there are clues everywhere.
Big dirty sneakers are piled by the front door but – if you listen - the rooms still echo with the sound of little feet.
Every night I walk in and step over a mound of shoes. At dinner, when we manage to get together, we talk about grownup things like work and cars and school.
Now, I have to look up to look into my children's eyes when I tell them goodbye or good night. They're hard to catch, so I wrap my arms around them whenever I can.
But in the morning, when I get into my car, I see that little bed hanging on the wall of the garage.
And every day is Mother's Day.
Local journalism is essential.
Give directly to The Spokesman-Review's Northwest Passages community forums series -- which helps to offset the costs of several reporter and editor positions at the newspaper -- by using the easy options below. Gifts processed in this system are not tax deductible, but are predominately used to help meet the local financial requirements needed to receive national matching-grant funds.
Subscribe to the Coronavirus newsletter
Get the day's latest Coronavirus news delivered to your inbox by subscribing to our newsletter.
---
Subscribe and log in to the Spokesman-Review to read and comment on this story