News > Home
Treat mom to Garden Expo
Tue., May 8, 2007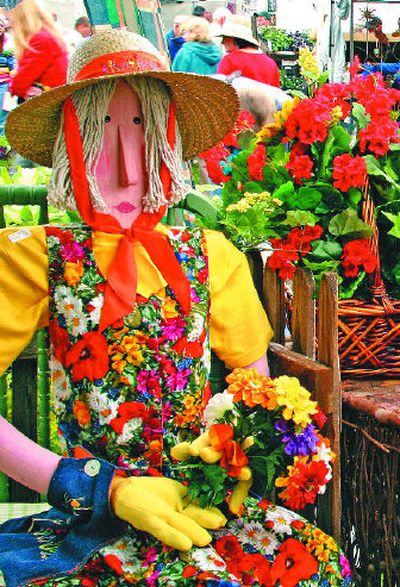 Still trying to find a special gift for a mother in your life? If she is a gardener, relax, you don't have to worry. Just take her to the annual Garden Expo on Saturday at Spokane Community College. She will find her own gift, and you will look like a hero.
Get a plan
Start the day early; the expo opens at 9 a.m. Make sure you pack the car (think about a truck if she is a serious gardener) with some boxes for plants, a cart to haul things, and a jug or two of water (for the plants). Good walking shoes are a must as are charged up cell phones so you can scout out things for her or find her if she disappears.
Pick up a program from the information booth at the entrance to the show and have her mark any specific booths she wants to go to. It's best to hit these early, as the best art and plants always go fast. Be forewarned; there are over 175 garden-related vendors from all over the Northwest scheduled to be at the event.
Plant vendors of every type will be there. Need annual plants and decorative containers? How about perennials and hardy roses? How about shade plants like ferns and hostas? The Spokane Lilac Society will even have the new "Spokane" lilac available. Over at the SCC Greenery, the greenhouses are full of lots of great plants grown by the horticulture students.
All about art
If garden art is on her list for this year, this show will have some of the best and most creative regional artists. Sculpture, iron and metal art, pottery, woodcraft and jewelry are all represented; anything with a garden theme is likely to be somewhere in the colorful displays.
Listen and learn
If she gets tired of shopping, take in some of the demonstrations and seminars being held throughout the day. Learn about compost making, growing blueberries, making paper flowers, bonsai and beekeeping. What woman wouldn't want to learn how to care for her hands after a day of digging?
Seminars on the schedule this year include growing and using lavender (10 a.m.), garden photography (11a.m.), bringing water into the garden (1 p.m.).
The big show
Headlining the seminars in the Liar Auditorium this year will be Phyllis Stephens, KXLY-TV and radio gardening diva, who shares her secrets.
Phyllis is scheduled for 2:30 p.m.
Feed the need
When hunger pangs set in, there will be good eats scattered around the grounds, or you can take her to the Big Foot Café for breakfast or lunch. There will even be a coffee wagon or two around for a caffeine jolt if eating takes too much time away from shopping.
Local journalism is essential.
Give directly to The Spokesman-Review's Northwest Passages community forums series -- which helps to offset the costs of several reporter and editor positions at the newspaper -- by using the easy options below. Gifts processed in this system are not tax deductible, but are predominately used to help meet the local financial requirements needed to receive national matching-grant funds.
Subscribe to the Coronavirus newsletter
Get the day's latest Coronavirus news delivered to your inbox by subscribing to our newsletter.
---
Subscribe and log in to the Spokesman-Review to read and comment on this story