Healing goes beyond medicine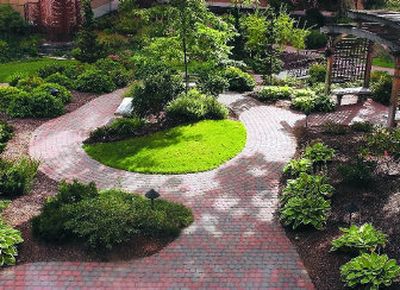 Healing gardens should be a part of every health care facility.
That's the word from Ann Hanenburg, ASLA, a landscape designer for Sherry Platt Van Voorhis Landscape Architects in Spokane.
In a previous life as a healthcare professional, Hanenburg used the garden to help her wind down from a hectic day and had seen the positive impact on patients who had access to gardens during their treatments and healing. Her passionate belief took her from the health care field into landscape architecture where she now designs all kinds of healing gardens. She will share her experiences and some of the fundamentals of designing outdoor spaces that facilitate healing this Thursday evening at an event sponsored by the WSU Spokane County Master Gardeners.
Healing gardens have been around for centuries in the form of Japanese Zen and monastery cloister gardens. In the past two decades however, they have again emerged as an important tool in improving the quality of life and healing of not only patients but their families, as well as the staff of the facilities.
According to Hanenburg, in people with age-related dementia or memory problems, access to even a view of a garden helps calm patients, reduces incidents of wandering and stimulates better appetites. In other types of patients, access to a garden or a view of one can lower blood pressure, reduce the level of stress hormones and help healing.
"If we can get the stress levels down (with access to gardens.)" Hanenburg said, "why aren't we doing it? The garden becomes a mechanism in the whole realm of healing."
In the area of physical therapy, gardens are being used as the setting for therapy and – by using gardening activities like substituting lifting a watering can for mundane weights – the actual therapy itself.
Healthcare facilities have found that when staff have access to gardens and garden views from their workstations, they are less likely to leave their jobs. Considering that it can cost $160,000 to train a critical care nurse, that makes gardens an important financial factor in staffing healthcare facilities.
The design of a healing garden is unique. Patients with different conditions require different elements in the garden. Walking surfaces need to allow comfortable, safe movement. By using different types and textures of the surfaces they can be used to retrain walking and balance skills. Plants selected for their fragrance, texture or bright colors can stimulate memories and the senses. Spaces can be designed to make a patient who is easily agitated feel safe and relaxed.
Hanenburg's talk will begin by explaining just what a healing garden is and the history of such spaces. She will discuss the different types of healing gardens such as therapeutic gardens, enabling gardens that allow people with physical limitations to have access to gardening and restorative or meditative gardens that provide a respite for everyone who finds their way into them.
A great local example of this last garden is the Serenity Garden at Sacred Heart Medical Center. It is located near the emergency room entrance within easy reach of patients, their families and staff.
---