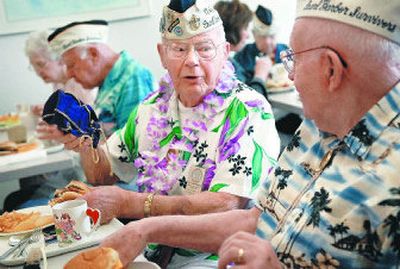 On the second Saturday of every month, a group gathers in a small room just off the cafeteria at the Shriners Hospital in Spokane.
Hawaiian print shirts and sharply creased military caps identify them as an elite and dwindling group. They are the Lilac City Chapter of Pearl Harbor Survivors.
Eight survivors plus spouses, family members and widows of survivors ate lunch together at the recent meeting, enjoying their unique bond.
As Memorial Day approaches they reflected on their wartime experiences and on what the day means to them.
Denis Mikkelsen had just gotten off duty on December 7, 1941.
"I was sleeping aboard the USS West Virginia," he said. "An officer on deck spotted smoke and the call came over the loudspeakers to report to general quarters."
He said he hurriedly closed portholes as the water came pouring in. Mikkelsen was only 19. He described the feeling of the day in just one word: terror.
When the order came to abandon ship, he leapt off the deck wearing only shorts and a T-shirt and swam to Ford Island.
His wife, Vina, sat next to him and said she believes it's good for the men to get together and talk about the war.
"They don't talk about it at home," she said.
Fellow survivor John (Sid) Kennedy was at the Naval Air Station Kaneohe.
"Charlie and I were there together," he said, pointing across the table to Charlie Boyer.
Kennedy was working in the transportation department and had just delivered a vanload of people to church. He was on his way back when he saw aircraft making a run across the bay.
"I said, 'Look at the show the Army's putting on,'" he recalled. "Then I saw the big ol' red meatballs on the wings of the plane. I said, 'Army, hell!' "
Group president Ray Daves described himself as a "scared little boy" that day, but added, "I sure grew up in a hurry." He was on his way to breakfast when he saw the first bomb drop on Ford Island.
His eyes filled with tears as he recalled that moment.
"I prayed, 'God, don't let it get my friend, Jim,' " gesturing to Jim Sinnot seated nearby. "I knew he was on Ford Island."
When 90-year-old Bob Ohnemus thinks about that day, he thinks of laundry.
"I was stringing up a clothesline when I heard a boom," he said, shaking his head. "I thought some dummy was out shooting off ammunition."
He's watched the Pearl Harbor Survivors group dwindle with each passing year.
"It's sad," he said. "We've lost a lot of memories with the passing of our members."
The group agreed that Memorial Day has changed over the years.
Sid Kennedy, with a family history of military service, has especially noticed the change.
"I have nine flags that fly in the Moran Prairie Cemetery," he said. "They used to set up a grandstand and have speeches on Memorial Day."
He paused.
"No one comes out to give speeches anymore." With a shrug he added, "Memorial Day has kind of slipped by."
"People have gotten blasé about it," said Charlie Boyer.
These humble heroes believe the holiday should mean more than a three-day weekend.
"We owe our veterans," said Ray Daves. "We need to carry the flag."
In December 2000, Congress passed and the president signed into law "The National Moment of Remembrance Act." The act encourages all Americans to pause wherever they are at 3 p.m. local time on Memorial Day for a moment of silence to remember and honor those who've died in service to the nation.
But the Lilac City Chapter of Pearl Harbor Survivors doesn't require a congressional act to remind them. Their fallen comrades are ever-present in their memories.
"We all lost friends at Pearl Harbor," Daves said. "We don't need Memorial Day. We remember our friends – every day."
---