Kempthorne still working to strengthen families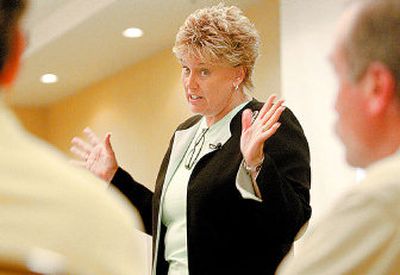 BOISE – Life has changed for Patricia Kempthorne since she moved out of Idaho's Statehouse a year ago, leaving when her husband, Dirk Kempthorne, accepted a presidential appointment in the nation's capital.
These days, the former first lady keeps an even busier schedule. She splits her life between Boise and Washington, D.C., where her husband serves as Interior secretary, and travels across the country for her own foundation work.
Sometimes, that can mean going more than a week without seeing her husband of 29 years, tapped a year ago by President Bush to replace Gale Norton.
Yet the change has brought perks, like earlier this month when she met England's Queen Elizabeth II at a White House dinner.
One thing she says hasn't changed is her commitment to strengthening families.
Recently, that meant stepping back into Idaho's political spotlight to criticize fellow Republican Gov. Butch Otter's plans to cut state programs that she and her husband created for families and children.
Earlier this month, Otter announced plans to eliminate $1.5 million in spending for early childhood education programs and to dissolve citizen councils on families, children, suicide prevention and teen pregnancy, most of which were created by the Kempthornes.
A decline in federal funding combined with Otter's intentions to streamline state government drove the agenda to cut those programs, administration officials say.
But Kempthorne, 54, said she struggles to find the logic in those choices. She called Otter's office to voice her disappointment and has criticized the cuts publicly.
"I have to still speak out for all the people who trusted and believed in all the work that's been done," Kempthorne said in an interview with the Idaho Statesman.
"I happen to believe in it. It's not something that was just for fun."
The cuts won't save any money – just reduce community input on spending, she said.
"I'm sad because I think we really tried to create some citizen involvement in government, which to me is important," Kempthorne said.
"I wouldn't have any integrity if I didn't continue that message, whether this new administration continues that or not."
Her agenda has also broadened to issues like pushing workplace flexibility, now a focus of the foundation she formed more than a year ago. Flexible workplaces make for better, more dedicated workers and happier, more solid families, she said.
The Boise-based Twiga Foundation aims to "promote family consciousness at home, in the workplace and in the community." Twiga is Swahili for giraffe, chosen by Kempthorne because the giraffe has the largest heart of any land mammal.
Earlier this month, she passed up an official trip to Australia with her husband to visit communities in rural Idaho, speaking on workplace flexibility with the Idaho Rural Partnership leadership training series.
"What we learn from rural Idaho is that your small community can find solutions given the opportunities and the resources," Kempthorne said. "If somebody doesn't keep speaking out about family, it will disintegrate more and more."
Dale Dixon, executive director of the Idaho Rural Partnership, said Kempthorne has made her message resonate by drawing from examples of Idaho companies that find flexibility working for them.
A prime example cited by Kempthorne is The Ashley Inn in Cascade, which lets one employee take reservations from home and another take hours off in the middle of the day to care for a relative.
"I think people in Idaho know her as Patricia Kempthorne, Idaho's former first lady," Dixon said.
"I think they're surprised to see her as Patricia Kempthorne, an expert in creating a workplace that attracts top employees, keeps top employees and is profitable."
While Kempthorne describes herself as a reluctant leader, she also understands the opportunity provided by her public profile.
Dirk Kempthorne, who last week marked his first anniversary as Interior secretary, said his wife is just being humble. He said she has always put the needs of others before her own, and regularly keeps late hours to work, whether the task is designing a child's costume or a business presentation.
"She makes it look easy so people think it's automatic, but it's not," Dirk Kempthorne told the Statesman. "She expends a tremendous amount of energy to make it a better world for all of us."
Sally Zive, president and CEO of the United Way of Treasure Valley, has worked with Kempthorne on a half-dozen programs and causes over the years.
Zive said Kempthorne's passion and knowledge help her be effective, but her greatest asset is being relaxed, casual and approachable.
"I don't think there's a person she met who didn't become her friend," Zive said. "I think she's very comfortable in her own skin and with the issues she's taken up."
The governorship was also good for her marriage, Patricia Kempthorne said, recalling dinners together in downtown Boise after a long day of shared work at the Capitol.
"It was great working with him," she said. "That was a gift."
But their life together in Idaho changed abruptly in May 2006, when Bush required an immediate answer to the Cabinet-level promotion, leaving Dirk Kempthorne no time to consult his wife.
"He went on to something bigger and better and wonderful and for me it just ended," Kempthorne said.
Patricia Kempthorne said her husband's job has added excitement and adventure to her life while giving her more time alone, which may allow time to write a memoir.
"With 30 years of marriage, I get to paint the wall and I don't have to ask him what color," she said. "He's not around enough for me to have to ask."
---