News > Features
Innkeeper bids to bring van Gogh painting home
Thu., Nov. 1, 2007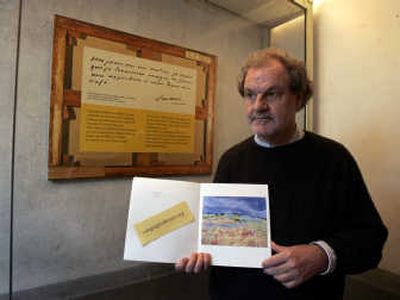 AUVERS-SUR-OISE, France – As Vincent van Gogh lay dying in a dingy room at a French inn, the painting above his cast-iron bed was "The Fields," a scene of the undulating wheat plains where the artist had contemplated life and death.
Today, Dominique-Charles Janssens, who runs the inn and has transformed it into a destination for van Gogh lovers, wants to bring the painting home – if he can raise the money for it.
The van Gogh painting is expected to sell for between $28 million and $35 million at a Sotheby's auction in New York next Wednesday, and Janssens is trying to raise the money to buy it.
He won't reveal how much he has already collected but said he has been encouraged by a $14,000 donation from the French subsidiary of American Express Co. and by a $5 check from an 80-year-old American woman.
"I think people will pay with their heart," said Janssens, who has devoted the last 20 years to honoring van Gogh's memory.
The opportunity to buy a van Gogh painting is rare, and his works are among the world's most expensive, said David Norman, chairman of impressionism and modern art at Sotheby's.
The record for a van Gogh painting was set in 1990 when the "Portrait du Dr. Gachet" sold for $82.5 million at Christie's in New York.
"The Fields," painted about two weeks before the artist's death on July 29, 1890, is one of several versions van Gogh did of the farmland surrounding Auvers-sur-Oise, about 20 miles northwest of Paris.
In May 1890, van Gogh arrived in the country village, which looks today much as it did then. Stone houses with red tiled roofs are nestled behind front gardens where orange trees grow. An elderly woman rides a bicycle down the main street; a man pushes a wheelbarrow filled with gourds.
In the 70 days van Gogh spent in the village, he captured the country church, the stone houses and his friend, art patron Dr. Paul-Ferdinand Gachet.
Some of his best works were painted in the bucolic surroundings. Van Gogh found truths about nature there, painting the cycle of life expressed through the contrast between a ripened wheat field and the crows that picked at the grain. He painted the town's fields at least three times around July 10, 1890.
But weeks later, suffering from a fit of despair, van Gogh wandered into the same fields and shot himself. After stumbling back to his attic room at the Auberge Ravoux inn, he lay in his bed surrounding by paintings, smoking his pipe and talking with his brother, Theo, until he died two days later.
Sotheby's says it believes that "The Fields" hung above his bed and that it was intended as a gift for his brother, his lifelong confidante and steadfast supporter.
Correspondence between the artist and his brother provided the inspiration for the Institut Van Gogh's effort to exhibit an original painting in the inn.
Without a home of his own, van Gogh spent much of his life in cafes, chatting with artist friends and painting the people he met there.
About a month before he died, van Gogh wrote to Theo: "One day or another, I believe I will find a way to have an exhibit of my own in a cafe."
By bidding for the painting to put in the inn, Janssens believes he is fulfilling the artist's dream.
For 59-year-old Janssen, a former marketing director from Belgium, the quest to honor van Gogh began with a fateful accident more than two decades ago.
In July 1985, he was driving home from a day in the country when he was hit by a drunk driver. During his convalescence, he learned that the crash had taken place in front of the inn where van Gogh died.
Two years later, Janssens founded the Insitut Van Gogh, purchased the inn and spent six years painstakingly restoring it. All his efforts were made with the goal of one day hanging a van Gogh where the artist died.
Janssens says everything but the money is ready.
Van Gogh's tiny room is already outfitted with a museum-quality glass display case designed by the architect and engineer who designed the one for "Mona Lisa" at the Louvre Museum in Paris, and security systems are in place, Janssens said.
His effort won't end if he loses the bid for "The Fields."
"If it doesn't work this time, then we will wait two or three years when another (painting) will be up for sale," Janssens said
"Van Gogh said, 'One day or another.' He didn't give a date, so we still have time. If you can dream it, you can do it."
Local journalism is essential.
Give directly to The Spokesman-Review's Northwest Passages community forums series -- which helps to offset the costs of several reporter and editor positions at the newspaper -- by using the easy options below. Gifts processed in this system are not tax deductible, but are predominately used to help meet the local financial requirements needed to receive national matching-grant funds.
Subscribe now to get breaking news alerts in your email inbox
Get breaking news delivered to your inbox as it happens.
---