News > Voices
Spirit Lake's 1st settler a reclusive dreamer
Thu., Nov. 1, 2007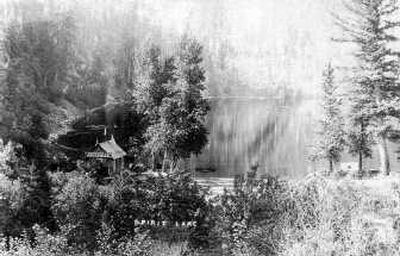 SPIRIT LAKE – Peter Rhodebeck was the first settler in the Spirit Lake area, arriving in the spring or early summer of 1881. He initially settled on Cougar Point at the head (west end) of Spirit Lake. Rhodebeck was a hunter, trapper, fisherman, miner and a character worthy of the pen of James Fenimore Cooper.
When Rhodebeck arrived at Cougar Point, the Spirit Lake area was raw wilderness. True, voyagers and fur traders (including David Thompson) had occasionally roamed the area and a U.S. Army survey team led by Gen. Davis had passed through in 1874, but there was no living being within 15 miles of Cougar Point. From all accounts, that was how Rhodebeck wanted it.
Rhodebeck's arrival is and will likely remain a tantalizing mystery. Conventional wisdom holds that he arrived via the Indian trail that branched off the Sunneacquoteen trail at Twin Lakes and passed near Spirit Lake on the way to Calispel country in what is now northeastern Washington. If so, how did he manage to reach the head of the lake? There were two options: build a boat (no easy proposition), or traverse the steep heavily timbered side hill around the lake for four miles. Further, why would he ignore the easy access, the most gracious and beautiful spot on the lake, and proceed with great difficulty to Cougar Point, just to abandon it the next spring and return to what is now called Rocky Beach?
Tradition holds that there was an Indian trail over the shoulder of Mt. Spokane (then called Mt. Carlton) leading down into the headwaters of Spirit Lake. It is entirely possible that he followed this trail to Cougar Point, certainly the most beautiful location at the head of the lake. It is not provable, but there is good likelihood that he came over Mt. Spokane, perhaps not knowing that there was a much easier access. We will never know. After a very difficult winter, surrounded by five feet of snow and many wild beasts, even this very tough recluse must have decided that the lovely spot near the Indian trail, though far too civilized, had considerable merit.
Rhodebeck was born in Ohio of respectable and well-to-do parents. At the age of 17 he joined the Union Army and fought for four years, accompanying Gen. Sherman on his march to the sea. After the war he traveled west to the Great Plains, where he killed bison for their hides. During this period, he associated with Col. W. F. (Bill) Cody and knew all the famous hunters and Indian fighters of the day. On a good day he earned $100, an unheard of salary in those days. As the bison neared extinction, he journeyed westward, eventually finding Spirit Lake.
We will never know the exact reason for his move from Cougar Point to Rocky Beach, but part of the reason must deal with the kind of person he really was: a visionary who saw the benefits of that particular piece of property. First, Rocky Beach was a beautiful place with a sweeping view up the lake to lofty Mt. Carlton. It was also one of the few level places around the lake where one could easily reach the water. It was also near the trail to Calispel country. It was at Rocky Beach that Rhodebeck squatted and then spent the rest of his life. He initially built a sturdy cabin of hewn logs and a little later built another log structure to house the first store in the area. Both the cabin and store are still standing, imbedded in the modern houses of two current residents. Rhodebeck soon purchased 35 acres of lakefront, including Rocky Beach, from the Northern Pacific Railroad. He obviously had money.
While primarily a trapper, hunter and fisherman, Rhodebeck was not your ordinary mountain man. It is written that he dressed respectably, occasionally nattily, if the situation warranted, and was well regarded by his associates. The 1900 census notes that he could both read and write, a notable achievement in those days. In addition to his store and support of both travelers and tourists, he subdivided his land in 1903 into the Rhodebeck Plat and began to sell lots along the lake; quite a surprising act for a recluse. Note that Rhodebeck was also the first postmaster for the Spirit Lake area.
Rhodebeck discovered color in the cliffs above Rocky Beach, only a few feet from his cabin door, and filed a claim for the "Pete Lode" on 19 Sept. 19, 1891. According to various stories, Rhodebeck insisted that the source of his obvious financial success was wealth taken from this mine. In truth, for a year or two he picked away at the cliff and fired a few shots. Little, if any, metal was removed. More pressing duties like running an up-and-coming resort, soon called him from work at the mine and that work never resumed. As of this writing, no trace of the Pete Lode remains.
I can remember my dad telling me about Rhodebeck with a mixture of awe and reverence. I have no idea if the story is true, but Dad was not one to tell tall tales. He told me of Rhodebeck firing off a charge near the lakeshore, which punched a hole in the sealed bottom of the lake. According to tradition, water flowed out of the lake and into this hole for many years.
Always the optimist, Rhodebeck would wax eloquent on many things, especially his plan for great improvements to his holdings, usually to take place the following spring. There was always talk of a fancy restaurant, a dance pavilion and a pristine park, where all could gather and enjoy the beautiful surroundings. None of this came to pass, as Rhodebeck, despite his many virtues, was a dreamer, who spent much of his life sitting on his porch soaking up the magnificent view of the sparkling lake and lofty Mt. Carlton.
As his health failed, Rhodebeck began to spend his winters at an old soldier's home in Boise, in Coeur d'Alene and elsewhere. He died in his cabin in early April 1914 of a cerebral hemorrhage. His passage is best remembered by the following brief statement from his obituary, published April 8, 1914: "Death came upon Peter Rhodebeck in his little cabin on the shore of beautiful Spirit Lake in the manner long foreseen by acquaintances and friends. Only these two, the dread angel and the aged pioneer, were present in that solemn moment. Perhaps that was as he wished it…"
Local journalism is essential.
Give directly to The Spokesman-Review's Northwest Passages community forums series -- which helps to offset the costs of several reporter and editor positions at the newspaper -- by using the easy options below. Gifts processed in this system are not tax deductible, but are predominately used to help meet the local financial requirements needed to receive national matching-grant funds.
Subscribe now to get breaking news alerts in your email inbox
Get breaking news delivered to your inbox as it happens.
---