News > Spokane
Ex-lawmaker guilty of bribery
Fri., Nov. 2, 2007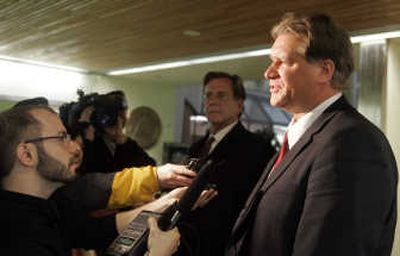 ANCHORAGE, Alaska — A federal court jury on Thursday found a former Alaska lawmaker guilty on three of four corruption charges.
The jury found Vic Kohring guilty of bribery, conspiracy to commit extortion and attempted interference with commerce by extortion. He was found not guilty on another count of interference with commerce by extortion.
Kohring was accused of demanding and accepting at least $2,600 from VECO Corp. executives in exchange for his support on legislation. VECO was a major Alaska oil field services company until it was sold in August.
Prosecutors also contend Kohring solicited a job for his nephew from VECO and that Kohring sought $17,000 to pay off a credit card debt.
Kohring denied the charges and claimed that any money that exchanged hands was a gift between friends.
U.S. District Court Judge John Sedwick set sentencing for early February.
Kohring maintained his innocence and said he wanted to ponder why the jury found him guilty.
"I don't really know," he said. "I'll have to give that some thought."
He apologized to friends and family for the toll the investigation has taken on them.
"They felt the same stress I did," Kohring said.
Kohring's attorney, John Henry Browne, said no decision had been made on whether to appeal.
As part of the corruption probe in the Alaska Legislature, FBI agents wiretapped the phones of former VECO CEO Bill Allen and Rick Smith, the company's vice president for community and government affairs. They also installed a hidden camera in a suite in Juneau's Baranof Hotel used by VECO as a meeting room.
A damning piece of evidence in the trial was a video of Allen handing over a $100 bill he said he wanted to give Kohring for his stepdaughter's Easter egg hunt, followed by Allen handing over additional cash he said could help pay for her Girl Scout uniform. On the witness stand, Allen said the second wad of cash was $600 he had put in his pocket upon hearing that Kohring would be coming in to discuss a matter of great personal importance.
Allen testified he handed Kohring $600 to $700 or more on at least five occasions.
Allen also contradicted Kohring's claim that they were close friends who bonded in part because of their relationships with women from Russia. Allen said he had never met Kohring's wife and daughter, had never been to his house, and had picked up the tab every time he took the politician out to dinner.
Kohring did not take the stand in his own defense. His lawyer said there was no need since federal prosecutors had not proven their case.
Kohring was one of three former state lawmakers indicted in the VECO probe. Former state Rep. Pete Kott was convicted of conspiracy to solicit financial benefits, extortion and bribery and will be sentenced in December. The trial for former Rep. Bruce Weyhrauch has been delayed.
During Kohring's trial, Allen also testified that his nephew, VECO employee Dave Anderson, was blackmailing him after Allen sent workers to remodel the Alaska home of U.S. Sen. Ted Stevens.
The home improvement project is at the center of a Justice Department corruption investigation into the powerful Republican senator.
Allen admitted paying employees to assist on the renovation of the senator's house in 2000. Stevens has said he paid all the bills he received.
Workers jacked up the single-story house, put in a new ground floor and installed hardwood flooring and other upgrades, all under VECO supervision. The project more than doubled the size of the house, the senator's official Alaska residence.
Regarding the blackmail, Allen did not say what Anderson threatened to do or how he resolved the dispute. Allen's attorney, Robert Bundy, has declined to elaborate. Anderson has not been charged.
Allen also testified the company paid Stevens' son, former Alaska state Senate President Ben Stevens, more than a quarter million dollars in consulting fees during his time in office, but the work only consisted of legislative work on behalf of VECO. Ben Stevens has not been charged, but his office was searched as part of the FBI's initial investigation, which has now also spread to his ties to the fishing industry, sources have told the Associated Press.
Allen and Rick Smith, a former VECO vice president, have pleaded guilty to bribery charges and are cooperating with the government's investigation of corruption in Alaska politics.
Allen and Smith have testified that they badly wanted the Alaska Legislature in 2006 to approve new oil tax legislation, known as the Petroleum Production Tax, or PPT. The measure, promoted as a way to provide a stable tax climate in Alaska, was sought by major petroleum producers before they would consider building a multibillion-dollar natural gas pipeline tapping vast reserves on the state's North Slope.
VECO would have been in line to bid on lucrative construction and maintenance contracts if that project had been built.
Allen testified he gave Kohring $1,000 in February 2006 to "soften him up a little" on the PPT bill.
Allen rejected the idea of a $17,000 loan, he said, after talking to VECO's chief financial officer.
Allen said he gave cash to Kohring because he was short on money for food and housing in Juneau. He also paid him, he testified, "to make sure he was loyal."
Local journalism is essential.
Give directly to The Spokesman-Review's Northwest Passages community forums series -- which helps to offset the costs of several reporter and editor positions at the newspaper -- by using the easy options below. Gifts processed in this system are not tax deductible, but are predominately used to help meet the local financial requirements needed to receive national matching-grant funds.
Subscribe to the Coronavirus newsletter
Get the day's latest Coronavirus news delivered to your inbox by subscribing to our newsletter.
---