Littlest Black Rock members to get own camp, clubhouse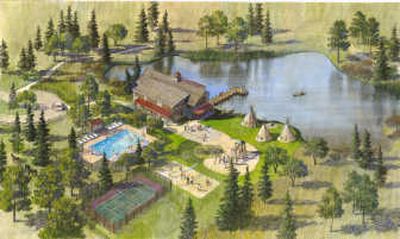 Black Rock Development is building an exclusive camp for kids of parents who belong to The Club at Black Rock.
Kootenai Camp, a fantasyland for the young, will include a manmade fishing lake, a secret agent-like zip line that traverses the lake and outings that include scavenger hunts by boat and day trips to Silverwood Theme Park.
The camp will include tennis and basketball courts as well as volleyball. Kids can play video games at a clubhouse. The 5,300-square-foot clubhouse will also have an indoor climbing wall. Children at the day camp also can use an outdoor pool with a waterslide.
Meg Allendorf, marketing and communications manager for Black Rock Development, said the camp will offer teepees for overnight sleepovers.
The summer calendar of events will include weekly themes, she said, including water-oriented activities and nature trails. Some activities will be educational in nature.
"It's not just baby-sitting," Allendorf said.
Jennifer's to expand
Jennifer's Auto Sales recently opened a new auto lot at 15020 E. Sprague Ave. The business, in its 10th year, is moving into a five-acre lot that's triple the size of the existing Greenacres location, said Jennifer Johnson, who owns the business and hopes to expand the inventory of autos from 50 to 100.
"We're just going to give our customers more space," she said.
In addition to carrying more used cars, Jennifer's will now offer RV storage.
Johnson is donating a historic one-room schoolhouse that sits on the property to Spokane Valley Heritage Museum.
State Suite now accessible to public
The Davenport Hotel has transformed a room that once accommodated Charles Lindbergh into a meeting area.
The original State Suite, which has never been available to the general public, is one of six meeting rooms created in former office space on the mezzanine, a news release said.
Lindbergh stayed in the suite when he visited Spokane in 1927 to promote aviation.
Administrative offices were moved across the street to The Davenport Hotel Tower. The hotel and tower are owned by Walt and Karen Worthy.
Meeting spaces at the hotel accommodate eight to 40 people.
Horizon moves some operations
Spokane-based Horizon Credit Union is moving some of its administrative operations to the third floor of the Mansfield Crossing building, near Mirabeau Point Park.
Brian Grytdal, vice president of marketing, said the credit union has outgrown its current administrative offices, inside a branch at 14523 E. Trent Ave.
The east Trent branch will remain open, but some of the administrative staff will move into 15,000-square feet of space inside the building at Mirabeau, he said.
Construction is expected to be complete in mid-November and Grytdal said Horizon hopes to be settled in by December.
The 60-year-old credit union may put a kiosk with an ATM in the parking lot.
Horizon, which began as Kaiser Employees Credit Union, has total assets of $330 million and serves 30,000 members, according to its Web site.
The credit union is close to opening a 6,000-square-foot branch in Moses Lake. "It will be the largest Horizon branch that we've built so far in our history," Grytdal said.
New and improved Library Lounge
The Library Lounge has opened in the newly remodeled Quality Inn, at 110 E. Fourth Ave.
The lounge reopened three weeks ago after getting a floor-to-ceiling remodel that included building a new bar, said Dale Van Zandt, who is leasing the space with his business partner, Susan VanderGaag.
"It's a totally refreshed atmosphere," he said, adding that The Library name is a return to the '70s when the hotel was built.
About 50 percent of the patrons so far are hotel patrons, Van Zandt said.
On Friday and Saturday nights, the lounge has live music.
---