News > Spokane
Bowler hopes to roll again, soon
Sat., Nov. 10, 2007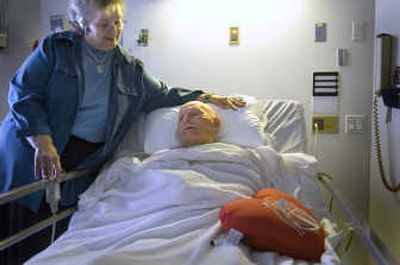 Richard T. Hubbard's 100-year-old heart was beating just fine Friday, two days after he underwent a double valve replacement at Deaconess Medical Center.
The retired Spokane bricklayer was tired but alert after doctors replaced his calcified aortic and mitral valves with flexible new substitutes from a pig.
While other centenarians might have balked at the risky surgery or wondered about the effort of recovery, Hubbard said he had just one reason for pursing the procedure:
"Oh, I'm going to try bowling again," he said.
In fact, it was his failing bowling scores that first alerted Hubbard last year that he might need surgery – at the age of 99.
"Well, I was just getting more and more tired," he said. "It was getting hard to lift the ball."
That was enough for Dr. Leland Siwek, a Spokane cardiovascular surgeon, who said health impact, not age, is the chief reason for performing risky operations on anyone, not just the elderly.
"We generally don't recommend surgery to make them live longer," Siwek said. "You kind of get pushed to help a vigorous, intact person who had to cut back and cut back and cut back."
Hubbard, who was Siwek's first 100-year-old surgery patient, had to convince the doctor to perform the operation to replace his two stiffening, leaking valves with new models.
"He was pretty much willing to take any risk if it would make him better," Siwek said. "It was really the patient feeling that he was up to the challenge."
It's a scenario that might be more common in coming years as America's population of people older than 65 increases, with people 85 and older leading the way. There are about 70,000 people age 100 or older in the U.S. now, according to census figures, and more of them are going to need surgery.
"We do people in their 80s all the time," Siwek said. "We do people in their 90s, and it's more rare. People at 100? It's pretty rare."
The issue will raise medical and ethical questions, the doctor acknowledged.
"I think there are lots of issues involved, not least of which is cost," he said.
Hubbard's surgery, minus hospital stay and other expenses, probably topped $50,000. That will be paid primarily by Medicare and Hubbard's private Premera insurance, although he told his 67-year-old daughter, Jackie Volz, that wasn't a worry.
"I'm going to die broke anyway," Hubbard said from his hospital bed.
But one medical ethicist, Dr. Jim Shaw of Sacred Heart Medical Center, says surgery such as Hubbard's raises few moral dilemmas at all.
"Age by itself isn't an absolute criterion," he said. "Some people at 80 or 90 or 100 are just as healthy as those 20 years younger."
That's the conclusion of recent studies of surgery among centenarians as well. A 2003 study of 100-year-old cardiac patients at the University of Pennsylvania found that with careful selection, most have a risk of mortality approaching that of much younger patients. And research published last summer by the University of Pittsburgh found that although hip replacement surgery is risky for centenarians, age alone should not rule out the procedure.
Hubbard's prognosis is good, Siwek said. He should soon be home, visiting with Volz and his 63-year-old son, Ric Hubbard of Cheney, along with his six grandchildren and eight great-grandchildren.
Hubbard expects to be back to bowling – his high game is 277 – soon, at least in time for his 101st birthday on Feb. 25, 2008.
When his heart recovers a little more, he plans to get back to the routine he's recommended to anyone who asks his secret for a long life.
"I usually tell them to drink a Scotch whisky and to eat one steak a week," Hubbard said.
Local journalism is essential.
Give directly to The Spokesman-Review's Northwest Passages community forums series -- which helps to offset the costs of several reporter and editor positions at the newspaper -- by using the easy options below. Gifts processed in this system are not tax deductible, but are predominately used to help meet the local financial requirements needed to receive national matching-grant funds.
Subscribe to the Coronavirus newsletter
Get the day's latest Coronavirus news delivered to your inbox by subscribing to our newsletter.
---