News > Voices
Garbage goat has been eating trash for 34 years
Thu., Nov. 15, 2007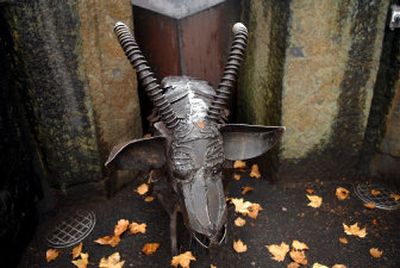 It is surely Spokane's best known goat, having stood in place for 34 years – happily, one presumes, eating garbage daily at the push of a button.
The garbage-eating goat, an artistic rendition made of copper tubing and brass (with a vacuum mechanism inside), still delights children as they feed small items of trash into the goat's mouth. And, presto, the trash disappears.
"When I meet children now, and they learn I was the one who made the goat, well, I suddenly get to be 10-feet tall in their eyes. It's very nice," said Sister Paula Turnbull, arguably the matriarch of the Spokane sculpture world. She has many pieces, art for churches and for society, located prominently throughout Spokane and the Northwest and is currently working on four new commissions.
The garbage goat, situated just east of the Carrousel in Riverfront Park (close to where Washington Street meets Spokane Falls Boulevard), was put in place as part of the art for the Worlds' Fair in 1974.
Expo '74 left the city a wonderful legacy of a green space – Riverfront Park. Today the sculpture is part of the Spokane Sculpture Walk (a brochure is available at City Hall or at various brochure racks in the city).
The whimsical goat, which was funded by the Spokane Women's Council of Realtors, was a children's favorite during the fair. "Any child who grew up in Spokane since 1974 probably knows the goat," Turnbull said.
Occasionally, the goat "chokes" on a meal or its internal suction device needs a bit of repair, but it remains as interactive as ever, said Karen Mobley, arts director for the City of Spokane.
"I'll often get calls from visitors who remember seeing the goat when they came to the city as small children and now want to show it to their own children," Mobley said.
"Sometimes they just say they're looking for 'a goat' and we know exactly what goat they mean."
Although it's probably her best-known sculpture, the garbage goat did get Turnbull into some trouble. It was written about in a dairy goat publication many years ago, and she got some heated communications from dairy goat owners who were rather put out at the notion of a dairy goat eating garbage, as their goats turn their noses up at trash.
"But my goat isn't a dairy goat, it's a billy goat!" she said.
Local journalism is essential.
Give directly to The Spokesman-Review's Northwest Passages community forums series -- which helps to offset the costs of several reporter and editor positions at the newspaper -- by using the easy options below. Gifts processed in this system are not tax deductible, but are predominately used to help meet the local financial requirements needed to receive national matching-grant funds.
Subscribe now to get breaking news alerts in your email inbox
Get breaking news delivered to your inbox as it happens.
---