News > Idaho
Soldier gets warm homecoming
Mon., Nov. 26, 2007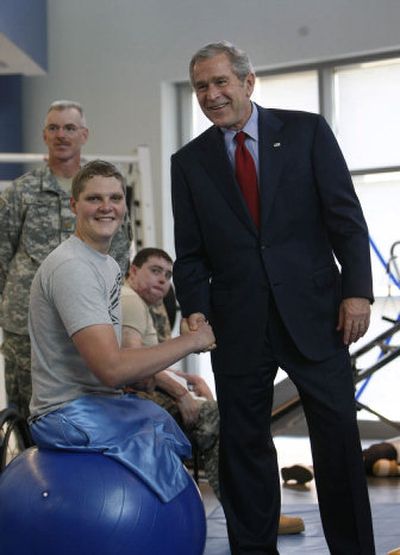 SANDPOINT – Christin Anderson, a longtime resident of this North Idaho town, has never met U.S. Army Sgt. Brandon Adam.
But that didn't stop her from standing alongside U.S. Highway 95 Sunday in below-freezing temperatures, waving an American flag while her husband, Andrew, held up a sign that read "Thanks Sarge and Welcome Home."
The Andersons were among hundreds of Sandpoint-area residents who lined up along city streets with red, white and blue balloons to celebrate the homecoming of 22-year-old Adam, a Sandpoint High School graduate and Purple Heart recipient who lost both his legs in May while on a second tour in Iraq.
"It's so moving to know that he is one of the many willing to do so much for us," Anderson said.
Adam's Thanksgiving trip home to see his parents, Doug and Karen Adam, of Post Falls, is the first since the accident.
"It's pretty overwhelming and humbling," Adam said of the community's response.
Adam was a combat engineer stationed with the 2nd Infantry in Fort Carson, Colo. He was in the middle of his second tour and had recently signed up for a third when the accident occurred. He enlisted after being moved by the Sept. 11, 2001, attacks and reported for duty right out of high school.
Sandpoint resident Marsha Ogilvie and Adam's sister, Trish Small, were the driving force behind his homecoming celebration. Ogilvie said she saw a program on television about a group of World War II veterans that started meeting injured soldiers coming home from Iraq at the airport.
Adam didn't want a big entourage at the airport, his sister said, so she helped Ogilvie organize Sunday's community event, which included a procession across the Long Bridge led by various local fire and police agencies, ending at the Assembly of God Church on North Lincoln Road. Once at the church, the Albeni Falls Pipes and Drums, a Scottish bagpipe and drum band, played while a slide show of Adam during his recovery played on an overhead screen. Small sang a song she wrote for her brother, and afterward, residents lined up to shake Adam's hand.
"People in small communities tend to pull together," said Ed Gould, of the Albeni Falls pipers. Gould and his wife, Jane, didn't know Adam personally but were glad for the opportunity to thank him for his sacrifice.
"It's just overwhelming how much people care," said Karen Adam. She said her son was at first reluctant to agree to any communitywide celebration in his honor.
"He really doesn't think he deserves this recognition," because there are so many soldiers who are not coming home at all, she said.
After the roadside bomb explosion in Baghdad that claimed both of his legs below the knee, Adam was evacuated first to Germany, then to the Brooke Army Medical Center at Fort Sam Houston, San Antonio, where he has been recovering since.
In early November, Adam had the opportunity to meet President Bush, who toured the Center for the Intrepid, a new $50 million physical rehabilitation center at the hospital.
"I was in therapy and then they said we couldn't leave," Adam said. Then the press arrived, as did the secret service. Adam described Bush as a "regular guy" who made small talk with the soldier and seemed "compassionate" about the other injured men.
As for the soldiers in his own unit, Adam said he talks to them every day.
"It's the most important thing," as well as walking and running again.
While in a wheelchair Sunday, Adams hopes to be up and about again soon. His prosthetic legs are being fit in increments, and Adam said he's nearly back to his six-foot stature. He's working with legs that make him 5-foot-6 right now.
Adam wants to join Olympic wheelchair events, has a ski trip planned and recently went surfing in Pismo Beach, Calif. He also wants to go to college to study business or film editing.
Adam said his disability is not going to hold him back.
"It did for a minute, then I thought about it and got over it," Adam said. "You can't let anything dictate your life."
Local journalism is essential.
Give directly to The Spokesman-Review's Northwest Passages community forums series -- which helps to offset the costs of several reporter and editor positions at the newspaper -- by using the easy options below. Gifts processed in this system are not tax deductible, but are predominately used to help meet the local financial requirements needed to receive national matching-grant funds.
Subscribe to the Coronavirus newsletter
Get the day's latest Coronavirus news delivered to your inbox by subscribing to our newsletter.
---