News > Home
The Mullin family
Tue., Oct. 2, 2007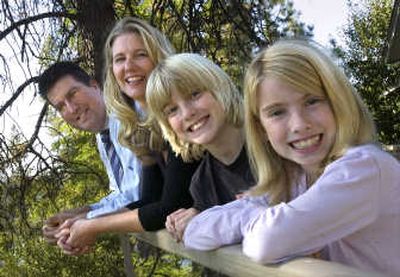 Last June, Michael and Rebecca Mullin left Las Vegas to gamble on a new way of life.
Four months later, they consider themselves big winners.
"We felt the need to make a change for our family," Michael said. "And it's been so great."
There were times the Mullins weren't so sure things would turn out so well. Last spring, Michael quit his job at a mortgage firm, loaded most of the family's belongings into a fifth-wheel trailer and set off with his wife and two children to find a new home.
"I just wasn't having any fun," Michael said. "I knew we had to get out of there."
The couple had searched the Internet for potential candidates, keeping three factors in mind. They wanted to live within 20 minutes of a lake. They wanted plentiful backpacking and hiking opportunities. They wanted good schools for their kids.
They narrowed the search to six places: Ashland, Eugene, Portland, Bend, Boise and Spokane. After eliminating the first five (too much rain, too little scenery), they had one place left to explore.
"We had no plan B, by the way," Rebecca said.
Rebecca was talking on her cell phone to her mom as the family drove along Interstate 90 into Spokane.
"I told her, 'This feels good,' " she said. "This is what I was talking about."
The couple looked at several places before settling into a rental house in Suncrest , right on the lake.
"This is about as good as it gets," Michael said.
Why Spokane?
In Las Vegas, recreational spots were hours away, making it tough for a family that loves boating, fishing and hiking, Michael said.
"This really is us," he said of the Suncrest area. "Every other resident has a boat and a trailer in their driveway.
"There are other people who live like we do," Rebecca said.
Real estate
The Mullins still own a home in Las Vegas, where houses are taking their time to sell, they said.
For now, the family is renting a 4,000-square-foot, 1970s home with a daylight basement and a dock out back for the boat. They plan to buy but aren't sure they can do better.
"We kind of set ourselves up," Michael said.
Settling in
Michael owned a mortgage firm in Sacramento before moving to Las Vegas three years ago to help a friend start a new one. He recently opened his own company, First Priority Financial, in downtown Spokane. Rebecca, an accountant, is working with him.
The couple – married 17 years – never expected to work together.
"We have different strengths and different weaknesses," Rebecca said. "Now we've gotten to the point where we really enjoy it. I never would have thought that."
Their children – Kyle, 12, and Carly, 9 – are settling into Lakeside schools and making new friends.
"My son said he's never felt more at peace than he has here," Rebecca said. "That makes us feel so wonderful."
Rebecca and Michael joined the Lakeside Chamber of Commerce. Rebecca started a crafting group. Michael is training as a volunteer for the local search-and-rescue team.
They feel certain their gamble paid off.
"This is what we thought, what we wanted for our family," Rebecca said. "This is fantastic."
Local journalism is essential.
Give directly to The Spokesman-Review's Northwest Passages community forums series -- which helps to offset the costs of several reporter and editor positions at the newspaper -- by using the easy options below. Gifts processed in this system are not tax deductible, but are predominately used to help meet the local financial requirements needed to receive national matching-grant funds.
Subscribe now to get breaking news alerts in your email inbox
Get breaking news delivered to your inbox as it happens.
---