News > Spokane
Animals strain homeless shelters
Fri., Oct. 5, 2007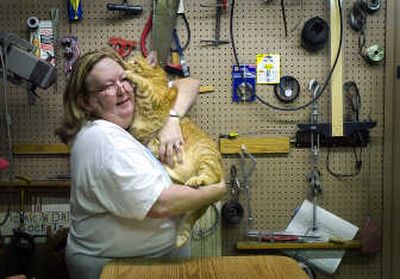 As service animals are prescribed more and more for patients with behavioral health problems, homeless shelters are scrambling to accommodate not just society's most destitute, but their dogs, cats, ferrets, mice, even fish.
Although the beneficial effect an animal can have on someone suffering from anxiety or depression is indisputable, according to the medical director of a clinic that sees more homeless than any other in Spokane, some shelter directors believe service animals are being overprescribed.
"There is a difference between service animals and compassion animals," said Rich Schauf, of the Union Gospel Mission Crisis Shelter for Woman and Children. "But the courts make no differentiation."
The issue confounding him and other shelter directors is whether the protections for people who require service animals such as Seeing Eye dogs should be extended to the therapeutic animals of people with mental disabilities.
Not a day goes by that Schauf does not have at least one animal at the shelter on East Sprague Avenue in Spokane. This week he is boarding two cats and a Chihuahua, each with a health care provider's certification, he said.
Three months ago, a woman and her son came to the crisis shelter with a dog, a cat and a ferret, with letters written by three separate doctors saying the animals were necessary for the woman's mental stability, Schauf said.
When the family left after about three weeks because the boy's behavior strained relations at the shelter, the room could not be given to another family without a thorough cleaning.
"Another woman and child had to sleep on the street that night so we could clean," Schauf said.
At least, he said, the first family took their animals with them. One woman who came to the shelter with a companion fish – and a doctor's prescription for it – left the fish behind when she checked out.
So many homeless people with animals have come to the Union Gospel Mission's shelter for men on East Trent Avenue that the shelter has taken extraordinary steps to care for the animals.
Once a week, veterinarian Cathy Tucker volunteers to conduct a free clinic in the maintenance facility at the mission, treating the animals of 15 homeless or low-income people on a first-come, first-served basis.
At a recent clinic, Ruth Lahoe Tellimentez showed up with her Chihuahua-mix dog, Bambi, and three puppies. Lahoe Tellimentez said she is a formerly homeless cancer survivor who was prescribed a companion animal to help her cope with depression.
Tucker examined Bambi and gave the puppies their first shots, part of a service she has provided at the mission since 1998. Tucker, a Christian, sees the clinic as a way of ministering to the homeless.
"We see more people with service animals than we used to," Tucker said, far more than she ever saw in her private practice.
Few would dispute the appropriateness of accommodating a service animal as defined in the federal Americans with Disabilities Act as "any animal individually trained to do work or perform tasks for the benefit of a person with a disability." Such animals might include dogs that see for the blind, hear for the deaf and alert people with epilepsy to an imminent seizure.
Under state law, a service animal is one that assists or accommodates "a person's sensory, mental or physical disability."
Service animals sometimes wear special collars or harnesses, but are not required to, according to Nan Kelly, an independent living adviser for the Coalition of Responsible Disabled in Spokane.
"The ADA says a business has the right to ask two questions," Kelly said, " 'Are you a person with a disability, and is this a service animal?' "
The Federal Fair Housing Act requires reasonable accommodation for people with disabilities, including those who rely on "assistive, support or therapeutic animals."
If a shelter receives federal funds, Section 504 of the Federal Rehabilitation Act also applies, said Marley Eichstaedt, executive director of the Northwest Fair Housing Alliance.
"A therapy animal prescribed by a provider is a service animal," Eichstaedt said, "and its service is therapeutic under Fair Housing."
Marc Brenman, executive director of the Washington Human Rights Commission, the agency charged with enforcing the state's anti-discrimination law, concurs.
"If a person has a diagnosed mental disability and a mental health professional says having a therapeutic animal will help that person deal with the condition, then the animal is a service animal," Brenman said.
Nevertheless, accommodating people with service animals can be trying for homeless shelters where strangers live together under circumstances that are difficult even without the presence of animals.
"There are people with allergies, and there are prescriptions for animals. We have to balance that as best we can," said Matt Hutchinson, program manager with transitional housing for St. Vincent de Paul in Coeur d'Alene, who runs a 16-unit apartment building for homeless families transitioning into permanent homes.
Under Fair Housing law, a landlord does not have to accommodate someone's fear of animals or minor allergy because those are not disabilities. If someone's allergy is so severe it causes respiratory distress, accommodations must be made for both the person with the allergy and the person with the service animal.
Two months ago, Hutchinson accommodated a service dog whose owner had a prescription for it. The next family that moved into the room had a newborn baby who was bitten by fleas left by the dog.
Feces, odor, noise, fleas, fights – Hutchinson and other shelter directors said they have seen an array of problems related to service animals in the last year or two as more people become aware of the laws regarding service animals and more physicians write prescriptions for them.
At the 108-bed House of Charity in Spokane, director Ed McCarron said he has seen service dogs become involved in fistfights between their owners.
"We've had people bitten here," said McCarron. He has seen a menagerie of animals, including mice whose owner had a doctor's prescription.
"We currently have 15 animals registered – 14 dogs and one rabbit," McCarron said. McCarron said he has asked the shelter's on-site medical staff to no longer prescribe animals, or to at least exercise discretion when treating people with behavioral health problems, the leading cause of homelessness.
However, Dr. David Bare, medical director of the Community Health Association of Spokane's five clinics, which treat 4,500 homeless people a year, disputes allegations that therapeutic animals are overprescribed.
"The clinical appropriateness is not debatable," Bare said, adding that animals have a calming effect on people with anxiety, depression and bipolar disorder, for example.
"People are becoming more aware of the fact they have the right to service animals, even in a shelter," Bare said. "Shelters must now provide hygienic ways of accommodating these animals. That is the challenge."
Local journalism is essential.
Give directly to The Spokesman-Review's Northwest Passages community forums series -- which helps to offset the costs of several reporter and editor positions at the newspaper -- by using the easy options below. Gifts processed in this system are not tax deductible, but are predominately used to help meet the local financial requirements needed to receive national matching-grant funds.
Subscribe to the Coronavirus newsletter
Get the day's latest Coronavirus news delivered to your inbox by subscribing to our newsletter.
---