News > Spokane
White-water park worries some fish fans
Sat., Oct. 6, 2007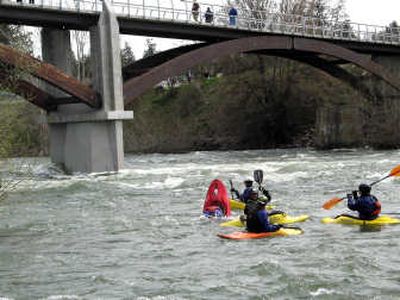 A white-water park planned for downtown Spokane is prompting an undercurrent of anxiety over possible impacts to the river's remaining population of native fish.
Although the park's designer insists fish will factor foremost in shaping and building the white-water play area, environmental advocates say the site is too close to some of the last, best remaining spawning grounds for redband trout.
"We still have native fish holding on, but they're under threat. They're dying a death of a thousand cuts on that river," said Sam Mace, a board member of Spokane Trout Unlimited.
The proposed white-water park will span the width of the river and involves cementing portions of the riverbed. Mace and others worry the work could restrict the passage of trout or whitefish.
"We like the concept of a white-water park, but it is being put in place downstream from one of the best remaining native redband spawning areas," she said.
The firm designing the park, Recreation Engineering and Planning, of Boulder, Colo., was chosen in part for its experience in building white-water parks without harming fish, said Steve Faust, executive director of Friends of the Falls. A final design is not finished, and white-water advocates will continue to work with environmentalists to ensure the park benefits, not harms, the river, he said.
"We certainly do not want to adversely affect the fishery," Faust said. "We realize that's a great resource, a great asset we have."
Shane Sigle, the project's design engineer for Recreation Engineering and Planning, said obstacles used in the park's design will be placed and sized to ensure currents don't overpower the abilities of fish species. The firm has measured "burst speeds" of various species, Sigle said.
Trout and whitefish are relatively strong swimmers, especially compared with some warmer water species that swim in the 40-some other white-water parks built by the firm, Sigle said. "Almost all the white-water parks we've built have fish issues or have been designed to create fish passage."
The Spokane white-water park would feature deep, self-scouring plunge pools, which would create cool-water habitat for adult trout during the hot months of summer, according to a preliminary report on the park.
Construction could begin in July, but permits must be obtained from federal, state and local government agencies, including the Washington Department of Fish and Wildlife. Karin Divens, area habitat biologist for the agency, said construction must take place in summer, when effects to fish are minimized.
Divens said the agency already has concerns over the use of cement in the riverbed and the channel-wide design of the park. Along with fish passage issues, Divens said, the agency wants to make sure the white-water park does not hamper the natural churning and movement of riverbed gravels.
Clean gravel is critical for spawning beds – the movement of these gravels already has been largely cut off because of dams upriver, she said.
"We can be supportive of the project, but we would just prefer it's not channel-wide," Divens said.
Fish advocates, including Mace, say they have been reluctant to criticize the proposed project because white-water enthusiasts have traditionally been allies – the same clean, cold water that's good for trout is also fun for paddling.
"People don't want to get crossways," Mace said. "But there hasn't been any attention paid to this."
Several anglers contacted for this story had concerns but would not express them on the record, including a Spokane woman who has been active in previous river causes.
"You don't want to criticize (the park) because you have the same people on your side for many other things," she said, declining to go on the record with her comment.
Not all anglers are worried about the park.
"I think it's going to benefit the river," said Roger Bertsch, conservation chairman for Spokane Flyfishers. "It might create better habitat for spawning. By putting structures in the water, you're breaking up the water flow, creating pockets and eddies – places to rest for the fish."
White-water enthusiasts might also help to clean up the shoreline around the park, Bertsch said. "Overall, it'd be very good for the river."
Faust, with Friends of the Falls, said he feels frustrated by the criticism over fish issues. The park is not yet designed, he said, adding that anglers and others will have additional chances to provide input on the park.
"About all I can really tell them is we feel we can address their concerns," Faust said.
Local journalism is essential.
Give directly to The Spokesman-Review's Northwest Passages community forums series -- which helps to offset the costs of several reporter and editor positions at the newspaper -- by using the easy options below. Gifts processed in this system are not tax deductible, but are predominately used to help meet the local financial requirements needed to receive national matching-grant funds.
Subscribe now to get breaking news alerts in your email inbox
Get breaking news delivered to your inbox as it happens.
---