News > Spokane
Costs leap up, wages creep up
Wed., Oct. 10, 2007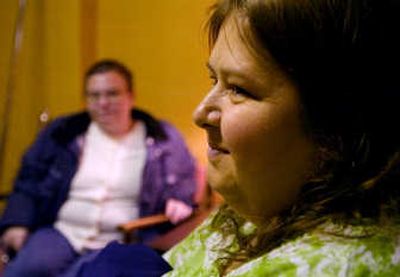 In the Northwest, a familiar trend has emerged in the last five years: Wages have failed to keep pace with increases in cost-of-living expenses.
With health care costs rapidly rising, low-wage workers continue to lose ground even though wages grew 7 percent from 2002 to 2006, according to a new report from the Northwest Federation of Community Organizations, a nonprofit based in Seattle.
"The findings are pretty grim," said Gerald Smith, one of the report's authors. "The cost of living is increasing more than twice as fast as actual wages."
As few as one in five jobs in the Northwest now pays a living wage for a working family, and there are as many as 10 people for every such job, the report found.
Though wages have grown in Washington and Idaho, they have been outpaced by the increased costs of health care. In Washington, for example, health care costs have grown five to 10 times faster than wages.
"Those pay increases are not keeping up with the increase in cost of living," said Peter Kardas, director of Labor Education and Research Center at Evergreen State College in Olympia. "This has really been going on for a long time – some people argue back to the '70s and '80s – but it is becoming very dramatic."
A single adult in Washington must earn $11.51 an hour to afford basic necessities like housing, food, transportation and utilities, according to the report. In Idaho, the living wage for a single person is $10.93.
"Having to pay bills and rent can be overwhelming some months," said Melissia Dickson, a 41-year-old Spokane woman who earns $10 an hour conducting market research by phone. "I'm struggling, but I'm still out there trying."
Dickson, who has no health insurance, said she owes about $1,500 in medical bills. Her paycheck for part-time work – which varies depending on how much work her company assigns her each month – leaves little money after paying for rent, a bus pass and food.
At the Women's and Children's Free Restaurant in St. Paul's United Methodist Church, it is a familiar story.
Marlene Alford, the restaurant's executive director, said her team of volunteers serves about 50 new families each month. Alford estimates that the restaurant in north Spokane gave away more than $250,000 in groceries last year.
"We give out the things they can't afford to buy," Alford said. "When a mom can walk out of here with milk, fruit and fresh vegetables, that's huge."
The report found that families are struggling as well. In Washington, two working parents with two children must earn $31.68 an hour cumulatively to pay for basic expenses.
In Idaho, the same family would need to earn $30.05, according to the report. Two-parent families in which only one person works can get by on less money because they don't have to pay for day care, among other things.
"What this report tells us is that for people making a living wage now, even with an annual cost of living pay raise, next year's salary will not be enough to make ends meet," Roxy Carr, board co-chair of Idaho Community Action Network, said in a statement. "Until a solution is found to the health care crisis, families will be in constant risk of financial ruin in the case of a medical emergency."
Since 2002, health care costs in Washington have grown more 60 percent, and similar increases were evident in Oregon, Montana and Idaho.
Washington leaders said they will push legislators to expand a recent pilot program. That program provided premium medical assistance for low-wage workers at small businesses that do not cover their employees' health care costs.
"That will be one of the cornerstones of our legislative agenda in (2008)," said Joshua Welter, organizing director with Washington Community Action Network.
The report estimated housing costs by using data from the region's rental markets – not from housing reports. Most low-wage workers must rent rather than buy, Smith said.
"It makes the calculation a bit of a conservative estimate," he said.
Information from the Associated Press is included in this report.
Staff writer Benjamin Shors can be reached at (509) 459-5484 or by e-mail at benjamins@spokesman.com.
Local journalism is essential.
Give directly to The Spokesman-Review's Northwest Passages community forums series -- which helps to offset the costs of several reporter and editor positions at the newspaper -- by using the easy options below. Gifts processed in this system are not tax deductible, but are predominately used to help meet the local financial requirements needed to receive national matching-grant funds.
Subscribe now to get breaking news alerts in your email inbox
Get breaking news delivered to your inbox as it happens.
---