News > Business
Taco Bell a hard sell in Mexico
Wed., Oct. 10, 2007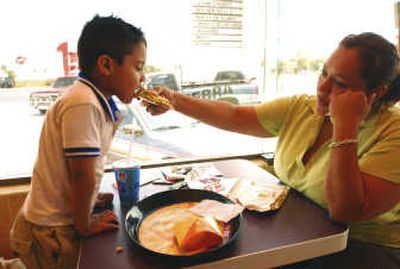 MEXICO CITY – It sounds like a fast-food grudge match: Taco Bell is taking on the homeland of its namesake by reopening for the first time in 15 years in Mexico.
Defenders of Mexican culture see the chain's re-entry as a crowning insult to a society already overrun by U.S. chains from Starbucks and Subway to Kentucky Fried Chicken.
"It's like bringing ice to the Arctic," complained pop culture historian Carlos Monsivais.
The company's branding strategy – "Taco Bell is something else" – is an attempt to distance itself from any comparison to Mexico's beloved taquerias, which sell traditional corn tortillas stuffed with an endless variety of fillings, from spicy beef to corn fungus and cow eyes.
Taco Bell, a unit of Louisville, Ky.,-based Yum Brands Inc., made its name promoting its menu to Americans as something straight out of Mexico. But it's a very different dynamic south of the border.
Here, the company is projecting a more "American" fast-food image by adding french fries – some topped with cheese, cream, ground meat and tomatoes – to the menu at its first store, which opened in late September in the northern city of Monterrey.
Other than the fries and sales of soft-serve ice cream, "our menu comes almost directly from the U.S. menu," said Yum Mexico Managing Director Steven Pepper.
Some of the names have been changed to protect the sacred: the hard-shelled items sold as "tacos" in the U.S. have been renamed "tacostadas." This made-up word is a play on "tostada," which for Mexicans is a hard, fried disk of cornmeal that is always served flat, with toppings.
But while Mexicans eagerly buy many American brands, the taco holds a place of honor in the national cuisine. Mexicans eat them everywhere, any time of day, buying them from basket-toting street vendors in the morning or slathering them in salsa at brightly lit taquerias to wrap up a night on the town.
Taco Bell has taken pains to say that it's not trying to masquerade as a Mexican tradition.
"One look alone is enough to tell that Taco Bell is not a 'taqueria,' " the company said in a half-page newspaper ad. "It is a new fast-food alternative that does not pretend to be Mexican food."
It's still a mixed message for Mexicans like Marco Fragoso, a 39-year-old office worker sitting down for lunch at a traditional taqueria in Mexico City, because the U.S. chain uses traditional Mexican names for its burritos, gorditas and chalupas.
"They're not tacos," Fragoso said. "They're folded tostadas. They're very ugly."
Taco Bell failed with an earlier, highly publicized launch in Mexico City in 1992, when it opened a few outlets next to KFC restaurants. Now both KFC and Pizza Hut are owned by Yum Brands.
But Mexicans were less familiar with foreign chains back then and the economy was on the verge of a crisis. The North American Free Trade Agreement had yet to be signed. The restaurants didn't last two years.
With U.S. sales sluggish, Yum Brands has been expanding abroad. Its goal is to have 800 stores in its international division by the end of this year.
Yum Brands reported Monday third-quarter profits rose 21 percent in its international division and 28 percent in China, while U.S. profits rose a scant 1 percent. Same-store sales at company-owned Taco Bells fell 6 percent for the three months ended Sept. 8.
Local journalism is essential.
Give directly to The Spokesman-Review's Northwest Passages community forums series -- which helps to offset the costs of several reporter and editor positions at the newspaper -- by using the easy options below. Gifts processed in this system are not tax deductible, but are predominately used to help meet the local financial requirements needed to receive national matching-grant funds.
Subscribe now to get breaking news alerts in your email inbox
Get breaking news delivered to your inbox as it happens.
---