News > Home
Chicken nachos steal the show
Tue., Oct. 16, 2007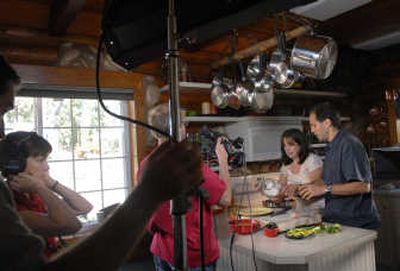 On a whim, Eliza Shotts sent her chicken mole nacho recipe into a contest sponsored by "Emeril Live," the popular Food Network show featuring chef Emeril Lagasse. And bam! She won.
On a blazingly hot day in mid-July, Eliza stood in the kitchen of her log home in Chattaroy, waiting for the arrival of a New York film crew.
"I didn't really believe it until they called yesterday to say they were here," said Eliza, amazingly unflustered by their pending arrival. "Why would they pick today? Today's my birthday.
"I kept thinking someone was playing a big joke on me."
But a few minutes later, the two-man crew – producer Alan Madison and cameraman Marc Kroll – drove through the gate and down the long driveway leading to Shotts' home.
"It's not exactly New York City," said Alan, marveling at the view that includes Mount Spokane. "There's more garbage on my street than in all of Spokane.
"So let's see where you cook."
And with that, Alan and Marc followed Eliza into the kitchen to see how she prepared the prize-winning recipe. A Spokane company, Peak Video, came along to record sound.
Eliza learned in an email from Alan last April that she was one of four winners of the chicken contest sponsored by "Emeril Live." Eliza's husband, Jerry, and her brother encouraged her to submit the creation after she won a local TV contest with the recipe.
Eliza, a nutritionist, prepared four versions for the local contest, and the couple chose a favorite. Jerry, a firefighter, and Eliza love to cook. "We don't go out at all because I get so disappointed," Jerry said.
Jerry and Eliza will fly courtesy of the Food Network to New York City for the Oct. 22 taping of "Emeril Live," when the two will sit in the audience and watch the debut film clip of Eliza preparing the dish. The show will be aired in 2008.
On that hot July day, the crew arrived to find Eliza had already prepared one dish of nachos, ingredients for a second on hand.
"Wow. You're totally ready," Alan said, adding that he's arrived at the homes of far less-organized cooks.
The Shotts' home and acreage, with its tidy kitchen, outdoor fire pit, panoramic views and farm equipment, proved a playground for the crew.
"This is a day at the beach for us," Alan said.
They shot footage on the deck, the colorful nachos on yellow Fiestaware. The plate rested on a patio table, the greens and blues of summer in the background.
"Cue the moose," said Marc, joking that the scene was almost too perfect.
They filmed at the gate beneath a wooden sign Jerry carved that read "Fort Chattaroy." Eliza rang an iron triangle and welcomed Emeril Lagasse to her home.
"Hi, Emeril. I'm Eliza Shotts. Welcome to Chattaroy, Washington," she said to the camera she pretended was the famous chef. "I'm going to show you how to make chicken mole nachos."
The seemingly unflappable Eliza nailed the shot after only a couple of takes.
"She's a pro," Alan said.
Jerry, standing in the background, said his wife was hard to rattle.
"She's probably thinking this is all kind of goofy," he said with a laugh.
The crew moved back to the kitchen, filming as Eliza prepared her salsa. Occasionally, Alan helped by feeding her lines.
"You're talking into the camera, giving Emeril tips," he reminded her.
Eliza caught on quickly. "OK, Emeril. The first thing I like to do is make my salsa," said Eliza, addressing the camera as she chopped peppers – a mix of Jalapeno, Anaheim and yellow wax.
"I love fresh food," she said as she built her dish, layering the chips, chicken, sour cream, olives, salsa, avocado and mole.
"It looks gorgeous," Alan said.
For the final scene, the crew moved Jerry and Eliza outside to eat. The couple's daughter and 13-year-old grandson, visiting for a family reunion, joined them.
And Eliza, by this time a veteran, looked into the camera before she took a bite.
"Emeril, you give them a try."
Local journalism is essential.
Give directly to The Spokesman-Review's Northwest Passages community forums series -- which helps to offset the costs of several reporter and editor positions at the newspaper -- by using the easy options below. Gifts processed in this system are not tax deductible, but are predominately used to help meet the local financial requirements needed to receive national matching-grant funds.
Subscribe now to get breaking news alerts in your email inbox
Get breaking news delivered to your inbox as it happens.
---