Vandervert building $6 million Wandermere office complex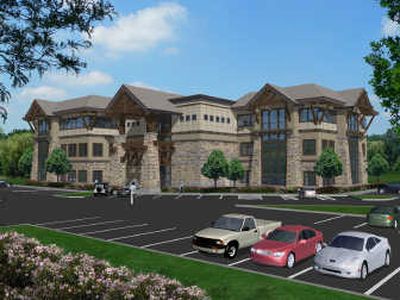 Local developer Dick Vandervert is building a $6 million office complex that will boast views of a man-made lake and become home to his construction company.
Preliminary work has begun on the three-story Wandermere Professional Building, which is being built on the northeast corner of Addison Street and Farwell Road. It will have 44,500 square feet of space and house about a dozen businesses, including medical and dental professionals, said Dave Lindquist, principal of Spokane-based Lindquist Architects.
In addition to views of the nearby lake, which has several large waterfalls, Lindquist said, the complex will have a spacious lobby with slate and timber finishes, a grand stairway and an indoor water feature.
The exterior will have a stone and stucco-like finish and is somewhat of an eclectic craftsman design, Lindquist said, adding that the style will complement the other commercial buildings in the Wandermere area.
The complex should be complete by April, said Jason Strain, development coordinator for Vandervert Construction Inc.
Strain said the construction firm will move its headquarters into about 10,000 square feet in the new professional building.
Bank of Whitman to build at Wandermere
Bank of Whitman is building a 10,000-square-foot branch next door to the Wandermere Professional Building project.
Bill Knox, CFO for the bank, said the two-story brick building will cost more than $1 million, including the land. The branch, being built by Vandervert Construction, will feature the bank's colonial style along with two drive-thru lanes and an ATM drive-thru. It will replace the Holland Avenue branch, which lacks space for drive-thru banking, he said.
Bank of Whitman is headquartered in Colfax, and has 20 branches in Eastern Washington, including three in Spokane.
Iron Bridge gets new office building tenant
Washington Dental Service is leasing about 12,000 square feet of space in the Iron Bridge office complex.
"We're expanding our presence in Spokane," said Sean Pickard, manager of government and public relations for the Seattle-based company.
The dental insurer currently has a three-person office in Spokane, and another small office in Colville, he said. Pickard expects the company to move into the new location in December. The office will expand to 20 to 30 employees in 2008, including a mix of people who transfer from other offices and are hired locally.
Kent Hull, managing partner of Iron Bridge LLC, said a half-dozen other businesses are considering locating in the 60,000-square-foot building.
"The activity has picked up considerably the last few months," Hull said.
The company is currently building a four-level, 570-car parking garage. Hull said the plan is to construct up to four buildings with 325,000 more square feet of space.
Hamming it up in Spokane Valley
A local couple is opening a franchise that features spiral hams and glazed turkey breasts just in time for the holidays.
The HoneyBaked Ham Company & Café will open Nov. 8, in retail space west of Spokane Valley Mall, near Joe's Sports, Outdoor & More.
Jeff and Shawna Miller, of South Spokane, own the franchise, which will sell the company's specialty meats and fixings. The business will also have a restaurant that serves sandwiches made of their own meats along with soups, ribs and other dishes.
Norcross, Ga.-based HoneyBaked Ham Co. has more than 400 locations across the United States that are a mix of franchises and company-owned stores.
"They're big down South and in Seattle, California and Portland. It's a different level of ham," Jeff Miller said.
The Millers also own Auntie Anne's Pretzels in Spokane Valley Mall.
Numerica Credit Union opening new branches
Numerica, which has risen to the fifth-largest Washington chartered credit union based on assets, is opening a 4,000-square-foot branch in Hayden on Nov. 3. The branch, at 8370 N. Cornerstone Drive,replaces the Kathleen Avenue location that Numerica acquired when it merged with Coeur d'Alene Teachers Credit Union in 2003, said spokeswoman Kelli Hawkins.
Numerica is in the midst of opening a location in Pasco, inside a Wal-Mart superstore.
The Airway Heights branch, planned at Hayford Road and U.S. Highway 2, should open early next year, Hawkins said, and will bring the total number of branches to 16.
Skyhawks sells its first franchise
Skyhawks sold its first franchise in northern Indiana, the Spokane-based company announced.
The company, which offers sports programs for kids, has served more than 1 million children since it started in 1979, a company news release said.
Home furnishings store to host fundraiser
Artios Home, at 1303 S. Grand Blvd., is hosting a grand opening and fundraiser for breast cancer research on Nov. 3.
The store, which sells furniture, home accessories, gifts, gourmet kitchen wares and more, will open at 10 a.m. From 4-8 p.m. Artios Home will provide free specialty drinks, food and live music.
---