News > Voices
Student parkers frustrate homeowners
Sat., Oct. 20, 2007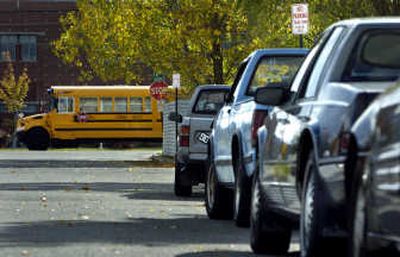 Neighbors a short walk from University High School are fed up with students using their street as a parking lot, and the Spokane Valley City Council agreed Tuesday to consider lengthening the school-hours no-parking zone on Collins Road.
"It's frustrating because we were here before the high school went in," said Randy Kenworthy, who submitted a petition from homeowners favoring the change.
The problem, road officials say, isn't that there is not enough parking at the school, but that the parking lot's design does a poor job of getting students out after class.
"It takes about 20 minutes for them to exit that parking lot," said Public Works Director Neil Kersten.
Many students avoid the crush by making the short jaunt across 32nd Avenue to their cars on Collins Road.
Late Wednesday morning there were 16 vehicles parked along the short stretch of the road between 31st Avenue and Lenora Drive.
"It's kind of a smoking crowd, so there's a lot of loitering, a lot of litter," Kenworthy said.
The school's resource deputy already enforces parking restrictions on the block of Collins Road closest to the school. Neighbors would like to see it extended to 30th Avenue.
The result might be that students simply park farther into the neighborhood, although Spokane Valley Police Chief Rick Van Leuven told the council that eventually parking restrictions could reach far enough to make it more convenient for students to park in the school lot.
A presentation on the proposal met a varied response from the council at its regular meeting.
"All you're going to do in doing this is push it out," said Councilman Steve Taylor, adding that the school deputy should watch for inappropriate behavior in the area.
Councilman Mike DeVleming seemed to sympathize with the neighborhood, pointing out that it predates the school traffic. Councilman Gary Schimmels said he thought the Police Department should have the final say, as it receives the bulk of complaints.
Council members asked about a possible exit for the parking lot on Pines Road and adjusting the stoplight where the road intersects 32nd Avenue.
Kersten said that the city has adjusted the light and that he thought a Pines Road exit was prohibited based on conditions placed on approval of the school's construction.
After the presentation, the council agreed to consider a motion on the new parking zone at its meeting 6 p.m., Nov. 7, at City Hall.
Local journalism is essential.
Give directly to The Spokesman-Review's Northwest Passages community forums series -- which helps to offset the costs of several reporter and editor positions at the newspaper -- by using the easy options below. Gifts processed in this system are not tax deductible, but are predominately used to help meet the local financial requirements needed to receive national matching-grant funds.
Subscribe now to get breaking news alerts in your email inbox
Get breaking news delivered to your inbox as it happens.
---