News > Spokane
In the spotlight: Bands take the stage for RAWK
Sun., Oct. 21, 2007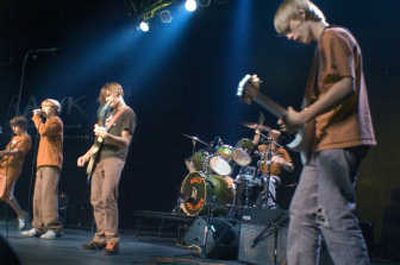 Guilty Conscience is a teen punk band. Barely.
This is not a remark on the quality of the band – described by one adult as "very deep" – but on the ages of its five members: 13, 13, 13, 13, and 14.
"Sometimes, transportation can be a real pain," said Ryan Finley, the band's guitarist. "The band wouldn't exist without Zack's dad. He drives us everywhere."
On a rainy Saturday, Pat Schneider drove the five boys to the Service Station, a coffee shop and music venue in north Spokane with a 2,000-square-foot stage and room for 800 people. Guilty Conscience was one of 17 bands signed up for RAWK's Fall Band Showcase, which highlights high school rock bands from Spokane, as well as a few other towns in the Northwest.
Inside, organizer Dale Strom sat in the staging room with other members of RAWK, a faith-based nonprofit founded by Spokane attorney Herb Landis, an avid music fan. Strom said the group encourages teenagers to channel their energy, creativity and frustrations into music and other positive outlets.
On a scoring sheet, Strom had graded the first eight bands of the night, noting their sound, presentation and musical "diversity."
"I really liked this group Showgun," he said, tapping his pen on the sheet.
Other judges nodded.
"None of us play music," said Dave Crume, a 27-year-old manager of a paint store in Silverdale, who travels across the state each year to volunteer for RAWK. "But we know what's good, and we know what's bad."
Saturday's show was the first step in picking the lineup for next January's RAWK Final Four, a battle between 20 of the city's best teen bands.
"I've been impressed so far with the poise a lot of these young people have shown," said Strom, a city planner who volunteers his time at RAWK. "We're trying to separate the ones that are ready from the ones who need another year or two."
The process, Strom said, could take several weeks. In addition to Saturday's show, the judges will listen to several other bands that were unable to attend, as well as returning bands from last year's show.
The boys of Guilty Conscience – Finley, Zack Schneider, Tyler Monasmith, Nick Broderius, and Chris Whiteside – were anxious to see how they stacked up against the older teen bands. Huddled around a table in the coffee shop, they chattered about their favorite musicians, from old-school Elvis to Green Day, Blink 182 and local bands like Waggy Plank and Shooting Blanks.
"I've been taught that a good musician appreciates all kinds of music," Finley said.
"Except for elevator music and some country," Zack Schneider said, causing the boys to crack up in laughter.
Four of the boys began playing together in third grade. This summer, they played more than 10 shows in small towns in Eastern Washington.
In between, they raised $2,500 for equipment by mowing lawns, raking leaves and "pretty much anything old people can't do."
They also design and market their own T-shirts, which they sell to fans at Lakeside and Chewelah schools. Occasionally, they earn a little money from a gig; that included $1 for every ticket holder who came to Saturday's show specifically to see them.
Several of Guilty Conscience's biggest fans managed to get rides to the Service Station, and they pushed toward the stage when the boys walked into the lights at 6:15 p.m.
"A lot of people here don't know us," Monasmith said. "We're Guilty Conscience."
Onstage, the band launched into a punk song called "Bad Decision":
No one wants to spend the day
With that weirdo marching band geek
Till one day he finally snapped
And turned to crazy emo freak
A mosh pit full of bouncing teens broke out as parents snapped photos with handheld digital cameras. The lyrics, which tell of the suicide of a young boy, seemed to be lost on the energized crowd.
But not on Pat Schneider – roadie, manager, dad.
"Some of the lyrics are very deep for a 13-year-old," he said confided earlier. "You get tears in your eyes."
Local journalism is essential.
Give directly to The Spokesman-Review's Northwest Passages community forums series -- which helps to offset the costs of several reporter and editor positions at the newspaper -- by using the easy options below. Gifts processed in this system are not tax deductible, but are predominately used to help meet the local financial requirements needed to receive national matching-grant funds.
Subscribe now to get breaking news alerts in your email inbox
Get breaking news delivered to your inbox as it happens.
---