News > Spokane
Valley street plans to change
Mon., Oct. 22, 2007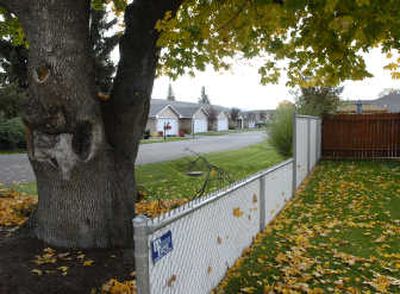 Spokane Valley can be a dead-end place, and a lot of people like it that way.
The disjointed streets and the bulbs of private cul-de-sacs that speckle the Valley floor are often held in high regard by the families who live along them. But in the coming months the city will replace the rules on roads it inherited from the county with standards that could make residential developments more interconnected.
"The county approach really favors the use of driveways and private streets," Spokane Valley senior engineer John Hohman told the City Council Tuesday night.
New public streets can't join up to existing private streets, and even the public roads in many new Spokane Valley subdivisions don't connect to neighboring land that will develop in the future. The result, engineers say, is more time in the car for the people who settle there, poor pedestrian access and increased congestion on arterial streets.
On Tuesday city transportation experts and consultants proposed changes to the way residential streets are designed that could significantly alter the look of new Spokane Valley neighborhoods.
Soon the public will also have a chance to weigh in on the future of sidewalks, slimmer streets and connecting new residential streets in the Valley, as the council overhauls its street-design standards.
While it can be difficult for a city to manage traffic in a street grid filled with private subdivisions and dead ends, there's a lot of curb appeal for blocks where there's no through traffic.
"The only people we get down here is people looking at houses," said Stacy Folkins, whose cul de sac in Spokane County's Morningside subdivision is more than a mile from the closest major arterial.
Others in her neighborhood alluded to the kid-friendly nature of cul-de-sac living and Folkins noted her household always knows who's coming and going.
In southeast Spokane Valley, Chuck Jenks bought his home at the end of a three-tenth-mile private road in a 55-and-over community. Its design, with a single exit, has encouraged the neighbors to get to know each other better, he said.
"First of all, it's gated. You don't have any traffic in here except people who know people," he said.
Although three other private roads dead-end nearby, and could theoretically have provided a second exit for the neighborhood, Jenks said the dead end is well worth the absence of traffic.
Under the county rules, an unlimited number of houses can be built on a private road and up to three can be served by a 12-foot-wide "driveway" that is narrower than the minimum 20-foot road width recommended by the International Fire Code. The proposed new rules would limit driveways to one house each and forbid private roads serving more than eight lots or in places where they could connect to another public street.
"There's some tight corners out there," said Spokane Valley Fire Inspector Rick Freier.
One of the trucks the department uses for fire – and, more frequently, medical emergencies – is 10 ½ feet wide, he said.
The city will run any changes to the way streets are designed past the fire department. Right now, Freier said, firefighters sometimes face problems with hard-to-see addresses for houses on small lots tucked onto acreage behind existing homes. On narrow streets, illegal parking is a concern.
Engineers have proposed that new, public residential streets be 24 feet wide with a sidewalk on one side. Right now, the standard in the Valley is 30 feet for public residential streets, with sidewalks on both sides.
The slender design would be less expensive for developers, produce less storm water runoff and slow down traffic, they told the council. Residents in Greenacres have advocated for skinny streets since the city began forming its comprehensive plan in 2005. Offering city planners' reports on similar street design in other cities, the Greenacres residents argued that narrower streets would help preserve trees while making development quieter and more in line with the houses that were already there.
Whether proposals to change residential streets in Spokane Valley gain any traction this time around will be up to the City Council as it holds hearings and seeks a recommendation from the Planning Commission in the coming months. A decision is likely in the spring.
Local journalism is essential.
Give directly to The Spokesman-Review's Northwest Passages community forums series -- which helps to offset the costs of several reporter and editor positions at the newspaper -- by using the easy options below. Gifts processed in this system are not tax deductible, but are predominately used to help meet the local financial requirements needed to receive national matching-grant funds.
Subscribe now to get breaking news alerts in your email inbox
Get breaking news delivered to your inbox as it happens.
---