Sports > Gonzaga basketball
Pioneer for the Zag way
Tue., Oct. 23, 2007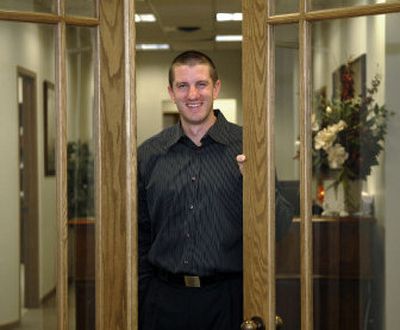 After years of reflection and careful consideration, Matt Santangelo can now offer a perfectly logical explanation for Gonzaga's shock-the-college-basketball-world runs in the 1999 and 2000 NCAA tournaments.
"We weren't smart enough to know we shouldn't be doing this," Santangelo said. "Ultimately we didn't get in the way of ourselves. We had a great team and we were competitive from the get-go."
Of course, Santangelo was and is a smart guy. He was recruited by Stanford and Northwestern and eventually started a GU-record 129 games while twice earning WCC All-Academic honors. The more he delved into GU's memorable dashes to the Elite Eight and Sweet Sixteen, the more he was able to explain the inexplicable – how an unheralded "bunch of knuckleheads" knocked off Minnesota, Stanford, Florida, Louisville and St. John's, and established Gonzaga's program on the national landscape.
"One thing I took away from Gonzaga is that success is just a byproduct of doing things the right way," Santangelo said. "That's why we were successful and I think that's why they continue to be successful. The kids are taught how to do things correctly early on and all the other stuff, the recognition, the notoriety, the wins, is just a byproduct."
Santangelo has returned to Spokane to begin his post-basketball career. He wrapped up the last of his seven seasons in Europe nearly a year ago, fittingly on the same Italian team as fellow Zag Richie Frahm. Santangelo and wife, Cathy, also a Gonzaga grad, have two sons, Calvin, 2 1/2, and Luca, four months.
Santangelo made a comfortable living but, like many American players overseas, there were numerous paycheck disputes. A team in Poland still owes him money that he knows he'll never see.
"I'm completely grateful for the opportunity and what it exposed me to, but after you've been doing it long enough it kind of loses that romantic part," he said. "It was a job and it was time to move on."
But where? He'd spent most of his time state-side in his hometown of Portland, but decided Spokane was his best option. He was a client of the Martin Investment Group that later merged with John and Matt Rudolf's Summit Capital. On the advice of Gonzaga coach Mark Few, Santangelo attended Few's Coaches vs. Cancer event, where he had a "great weekend" visiting with Dave Martin. They stayed in touch and after his final season in Europe, Santangelo landed a job with Summit Capital.
"I lucked out," Santangelo said. "I'm eight months in and it's a great start for a 30-year-old college grad. That's what I am."
Santangelo played for the only three head coaches Gonzaga has had since 1985 – Dan Fitzgerald, Dan Monson and current coach Mark Few. Santangelo redshirted on a Fitzgerald-led team that went to the NIT. He was named WCC co-freshman of the year in 1997 and the 1998 squad under Monson advanced to the NIT again, finishing 1-1. Santangelo and the Bulldogs came within 40 minutes of the Final Four in 1999 and followed that up with a Sweet Sixteen run in Few's first season.
The names are renowned in GU lore: Santangelo, Frahm, Hall, Calvary, Nilson, Eaton, Dench, Gourde, Spink, Floyd, Leasure.
Santangelo had options during a decorated prep career in Portland. Oregon offered him a scholarship when he was a high school sophomore. The offer was still there when he was a senior, but a Ducks' assistant coach flatly told Santangelo "it wasn't the best situation." Stanford reportedly offered to Santangelo and Arthur Lee, but Santangelo said "my understanding was whoever took it first got it." Lee committed first.
Santangelo's competitiveness was well documented during his GU years, and it resurfaced at that moment. He leaned close to a reporter's tape recorder and said, "Of course, we beat Stanford in the tournament."
"He was probably our first big-name recruit," said Few, an assistant at the time and Santangelo's primary recruiter. "He was a national caliber player that you could take into games and know you were going to be all right at point guard. The bigger the game, the bigger Matt played."
Santangelo had 47 points and 21 assists in Gonzaga's three NCAA wins in 1999. The Bulldogs fell 67-62 to eventual champion Connecticut, the Huskies' closest game in the tourney.
He followed that with 51 points and 16 assists as GU went 2-1 in the tournament the following season.
"We really understood our roles and guys were coachable," Santangelo said. "The biggest thing I remember is guys wanted to win; they just wanted to win. It didn't matter who did what. It was a team that got along and enjoyed each other and understood what it meant to sacrifice to the team."
He sensed the impact those back-to-back tournament teams had when American players stationed in Europe would bring up GU's exploits. He's gained a deeper appreciation since moving back to Spokane.
"It hasn't really sunken in until now. Just the way Spokane supports the Zags and how complimentary everyone is to all the Zags that still live here. There's quite a fraternity," he said. "Something like this maybe only happens in a place like Spokane – where it can become so big, so fast and have such an impact on the community and where the community backs it so strongly. It really was a timing thing. We just happened to be at the beginning of the boom."
Local journalism is essential.
Give directly to The Spokesman-Review's Northwest Passages community forums series -- which helps to offset the costs of several reporter and editor positions at the newspaper -- by using the easy options below. Gifts processed in this system are not tax deductible, but are predominately used to help meet the local financial requirements needed to receive national matching-grant funds.
Follow along with the Zags
Subscribe to our Gonzaga Basketball newsletter to stay up with the latest news.
---
Subscribe and log in to the Spokesman-Review to read and comment on this story