News > Home
The Fleig family
Tue., Oct. 23, 2007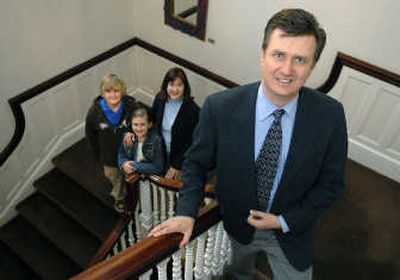 Mike Fleig's career has taken him and his family coast to coast with a stop in the Rocky Mountains.
"I'm back in the Northwest," Fleig says of the move that brought them to Spokane. "I'm home now."
The new general manager of the Spokane Club was born in Missoula and raised in Portland. He spent summers with his grandparents in the Bitterroot Mountains, traveling through Spokane each way.
"This puts me in a really nice location with a really great club," says Fleig, who began work in late June.
He says he started as a dishwasher at a club in Lake Oswego outside Portland, where he was encouraged to pursue club management by Alan Arsenault, who went on to become general manager of the Spokane Club. When Arsenault retired earlier this year, he encouraged Fleig to pursue the Spokane job.
Working for athletic clubs is Fleig's passion, he says. "There is a community within clubs, among the employees and the membership … It's like a home away from home."
A year earlier, he and his family had moved from a suburb outside Sacramento to the mountain resort community of Crested Butte, Colo. The Spokane opportunity came up unexpectedly, but the fit was too perfect, he says. "This is where I wanted my career to go. This is definitely a destination point."
Why Spokane?
Both Fleig and his wife, Shemi, still have family in Portland. They love skiing and hiking, snowy winters and dry summers.
"I love this town, the feel of this town," Fleig says. "I love the growth and the excitement, the keen focus on historic buildings."
Shemi Fleig says she likes Spokane's size. Crested Butte was far from everything. She shopped online for clothes and planned weekend trips to Colorado Springs for major purchases.
"Shopping is here. The arts are here," she says. "I like that this is a community, and it's a real comfortable size."
Real estate
The couple researched homes online and with a Realtor before Shemi Fleig came here on a two-day trip to make a final choice. The winner was a 3,000-square-foot home on Five Mile Prairie.
The family had a short list of wants. They wanted the home to be a good investment. They wanted a good school district. They wanted to live in a neighborhood with children.
And Mike Fleig didn't want a fixer-upper. "I wanted to move into one that was done," he says.
His wife says she likes the home's vaulted ceilings and open feel. "I'm claustrophobic," she says. "The house is gorgeous, and it has lots of room."
Settling in
Shemi Fleig says she spent the first month making connections, finding doctors and dentists, even an orthodontist for 11-year-old daughter, Danielle, who recently acquired braces. She also spent a recent afternoon staining the fence. And she's still got a few boxes to unpack.
Back in Colorado, Shemi Fleig traded stocks online, and she recently learned of an investment group she might join.
"I've been so busy," she says.
Danielle plays flute in her elementary school's band. Son Shane, 15, would like to join a new Boy Scout troop.
And Mike Fleig is spending a lot of time at work.
"I work, and then I work some more," he says.
But unlike past jobs that included managing a golf course, he is spending most weekends at home. In fact, the family spent a recent Sunday afternoon at Green Bluff.
"When there was a golf course, he always had to be there," Shemi Fleig says. "This is different. It's more conducive to family life."
Local journalism is essential.
Give directly to The Spokesman-Review's Northwest Passages community forums series -- which helps to offset the costs of several reporter and editor positions at the newspaper -- by using the easy options below. Gifts processed in this system are not tax deductible, but are predominately used to help meet the local financial requirements needed to receive national matching-grant funds.
Subscribe now to get breaking news alerts in your email inbox
Get breaking news delivered to your inbox as it happens.
---