News > Spokane
Homeless end weeklong camp-in
Wed., Oct. 24, 2007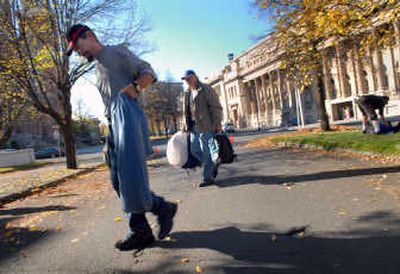 A homeless camp disbanded Tuesday, ending a weeklong protest in the grassy median on Riverside Avenue.
About 20 people – with help from city crews – packed up their belongings and moved into temporary housing after activists reached an agreement with the city and Catholic Charities early Tuesday.
"We've raised public awareness," said Dave Bilsland, a 50-year-old activist for the homeless.
Asked whether the temporary agreement satisfied his concerns about the city's low-income housing situation, Bilsland said: "This dog's not done hunting."
The House of Charity, a downtown shelter that has been operating near its capacity, agreed to let single men sleep in a temporary overflow area. Catholic Charities offered to pay for motel rooms for couples Tuesday night and connect them with social workers.
"We want to get these people to a warm, safe place," said Rob McCann, the executive director of Catholic Charities. "It's not going to be a long-term solution in the hotels. We can't do it for more than a night or two."
The protest, which began Oct. 16, occupied the property in front of the Spokane Club. With city trucks waiting, campers took down a banner that read, "Camp Serene Freedom II," as well as an American flag.
"It's been quiet and safe," said James Smith, a 56-year-old Vietnam veteran who proudly displayed his identification card from the Department of Veteran Affairs. "Everybody watches out for everybody. You don't have to worry about women being raped or getting hit over the head."
A 2004 protest in the same location became tense after city sprinklers drenched the campers.
City spokeswoman Marlene Feist said municipal trucks were sent to help move the campers.
"They have decided that they are going to move, and we are going to assist them with that," Feist said. "I think they want to see us continue to work on issues surrounding the homeless."
Bilsland said the prominent location brought Spokane's homeless into the view of its more financially established citizens.
But, he said, the agreement did not signal a solution to the city's broader problems with low-income housing and shelter for the homeless. "Tomorrow's another day," he said. "We're working one day at a time."
Local journalism is essential.
Give directly to The Spokesman-Review's Northwest Passages community forums series -- which helps to offset the costs of several reporter and editor positions at the newspaper -- by using the easy options below. Gifts processed in this system are not tax deductible, but are predominately used to help meet the local financial requirements needed to receive national matching-grant funds.
Subscribe now to get breaking news alerts in your email inbox
Get breaking news delivered to your inbox as it happens.
---