News > Nation/World
Pregnant woman's killer deserves death, jury says
Sat., Oct. 27, 2007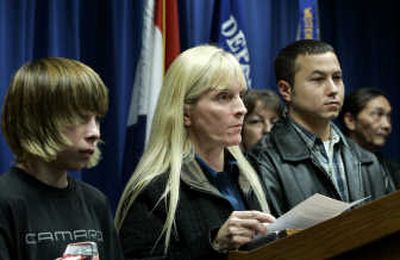 KANSAS CITY, Mo. – A federal jury decided Friday that a woman convicted of killing an expectant mother and cutting the baby from her womb should receive the death penalty.
Jurors deliberated more than five hours before recommending the sentence for Lisa Montgomery. Judge Gary Fenner will sentence Montgomery, but he had told jurors he was obligated to abide by their recommendation. A sentencing date has not been set.
Montgomery, 39, was convicted Monday of kidnapping and killing Bobbie Jo Stinnett on Dec. 16, 2004, in the victim's home in the northwest Missouri town of Skidmore. She was arrested the next day in Melvern, Kan., where she was showing off the infant as her own.
Montgomery wiped her eyes with a tissue as she left the courtroom. Her attorney, Fred Duchardt, had his hand on her shoulder as the sentence was announced.
U.S. Attorney John Wood said at a news conference that he was confident justice had been served.
"I know that nothing we do can erase the pain that the family members feel," Wood said during a news conference after the verdict. "I only hope that they find some measure of justice in this outcome."
Duchardt told reporters he was saddened by the result.
"Obviously the jury had a hard time getting past the gravity of the offense," he said. "Lisa is a fragile, wonderful person. She is heartsick over what happened to Bobbie Jo and her mother and her family."
Lisa Montgomery's husband, Kevin, and his parents were not in the courtroom when the verdict was read but came in as the jurors left.
Stinnett's mother, Becky Harper, thanked the law enforcement officers who rescued her granddaughter, Victoria Jo.
"The case has finally come to a close, but we will never stop missing Bobbie Jo," Harper said, crying and surrounded by family members. "She was a sweet and loving wife, daughter and sister and would have been a wonderful mother. Our priority now is Victoria Jo. We want her life to be as normal as possible."
Prosecutors argued that Stinnett's killing and mutilation is the kind of crime for which capital punishment is intended.
Showing jurors photos of the bloody crime scene, the prosecution told jurors Thursday that Montgomery deserves to die because of the heinousness of her crime, and because computer evidence – including Internet searches on performing Caesareans – shows the crime was premeditated.
Duchardt, who claimed sexual abuse during Montgomery's childhood led to mental illness, asked the jury to spare his client's life. He said emotional abuse from her mother and sexual abuse from her stepfather "killed Lisa's soul."
Prosecutors claimed Montgomery was faking mental illness to aid her defense. They also noted that few of the many people who have been sexually abused go on to kill.
Local journalism is essential.
Give directly to The Spokesman-Review's Northwest Passages community forums series -- which helps to offset the costs of several reporter and editor positions at the newspaper -- by using the easy options below. Gifts processed in this system are not tax deductible, but are predominately used to help meet the local financial requirements needed to receive national matching-grant funds.
Subscribe now to get breaking news alerts in your email inbox
Get breaking news delivered to your inbox as it happens.
---