News > Home
Jon Louis and Katharine Surette
Tue., Oct. 30, 2007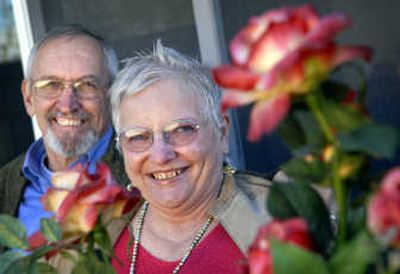 The Spokane that Jon Louis left 20 years ago is not the same city he came back to earlier this year.
When he left in the mid-1980s, people asked him if he experienced culture shock moving from Spokane to the East Coast, he says.
"I said I would have felt culture shock if there'd been any culture in Spokane. Now, there's more culture in Spokane than I ran into on the East Coast."
The transformation is a pleasant surprise for Jon. Spokane has matured, but it hasn't lost the small-town feel he admired 20 years ago. The changes haven't "taken away from the beauty of the city," he says.
"It's wonderful coming back to Spokane."
Why Spokane?
The semi-retired business-skills trainer and his wife, Katharine, moved from York, Pa., to Spokane last June to be closer to his grown children and growing grandchildren. One of Jon's daughters and a 5-year-old granddaughter live in Spokane Valley, and three more children are scattered across the Northwest – Seattle, Portland and Kennewick.
Katharine says she misses her two children, who remain in the East, but the couple felt eager for change and a place to settle into retirement.
"We needed a five-year plan for our future," she says, adding that having a blended family often means physical distance from some members. "It's an interesting city – not too big, not too small, a lot of attractive features in that way.
"And the traffic is a lot better."
Finding a home
The couple spent a month visiting family and friends as they journeyed across the country, stopping in Massachusetts, Maine, Virginia, Alabama, Missouri and Oklahoma. Along the way, they researched apartments online, choosing a new two bedroom in Spokane Valley.
"When we got here, it was ready for us," Katharine says. "It's small, but we'll stay here until we decide exactly where we want to live."
The couple found a church in downtown Spokane and like what they've seen in Liberty Lake.
"We're looking at houses everywhere," she says. "We don't want to get too far from that grandchild."
Shifting gears
Shortly before leaving York, Katharine, who is blind, started a jewelry-making business she calls Blind Mice Designs.
The retired volunteer coordinator recently launched a Web site and displayed her artwork at a crafts show. She also takes her work into people's homes for mini-shows she calls "A Mouse in the House."
"I have some color memory," says Katharine, who lost her sight more than 30 years ago to a congenital illness. "I use that memory plus the feel for shape, size and texture. It's a gift from God because I certainly didn't think I had any talent at all in this."
Katharine says her blindness affords her boldness with color.
"I take a lot of risks in color that a sighted person wouldn't, mixing teal and berry, aqua and powder blue."
Jon travels a few days each month doing training seminars in the Northwest for an international company that offers professional seminars. In an "earlier life," he says, he managed a life insurance agency in Spokane before moving east to do the same.
"That was a former me," he says.
Settling in
Since arriving in the area, Katharine has connected with the state Department of Services for the Blind and the Lilac Foundation for the Blind. The couple toured Lake Coeur d'Alene with family. They went to the Chad Mitchell Trio concert.
"We want to get out and do whatever we can do," Katharine says.
The adventurous duo once rode a tandem bicycle across Oklahoma to raise money for multiple sclerosis research, Jon says.
He and Katharine, married nearly 20 years, depend on each other, he says.
"Kathy taught me how to see. Kathy is only blind if I withhold my eyes. I translate what I see so she can understand what is going on around her."
Local journalism is essential.
Give directly to The Spokesman-Review's Northwest Passages community forums series -- which helps to offset the costs of several reporter and editor positions at the newspaper -- by using the easy options below. Gifts processed in this system are not tax deductible, but are predominately used to help meet the local financial requirements needed to receive national matching-grant funds.
Subscribe to the Coronavirus newsletter
Get the day's latest Coronavirus news delivered to your inbox by subscribing to our newsletter.
---