A&E > Food
Nuts about Green Bluff
Wed., Oct. 31, 2007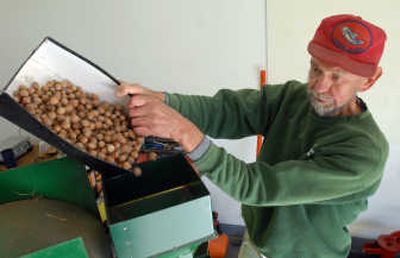 When families pack into the car and head up to Green Bluff this time of year, they're usually on the prowl for apples, pumpkins or gourds.
But there's another kind of fruit growing on Green Bluff's trees, only this one doesn't get the star billing of the others: Nuts.
Amongst the apples and squash, you can find walnuts, hazelnuts and even (eventually) pecans dropping from the trees this time of year. You won't find a "nut festival" in their honor on the 'bluff, but they are there.
Paul Eichin planted his 65 hazelnut trees at Green Bluff about a decade ago. And they've just started bearing fruit in the last couple of years.
"Everybody knows me as the nut man," Eichin says with a laugh. "I live in the nut house."
Eichin, a former engineer, became interested in growing hazelnuts while working in Oregon for the Bonneville Power Administration. While there, he met another hazelnut farmer.
"It's been a learning process for me," says Eichin. "The trees take quite a while to develop."
For the first few years, the trees must be babied, he says.
"When they're small, they're subject to weather," Eichin says. "You have to protect them from animals and protect them from bacterial blight … Then when they get bigger, they get less susceptible."
Eichin planted his babies when they were just small sticks, really, about three-feet-tall. Now, they are 15- to 20-feet high and bore about 200 pounds of hazelnuts last year, he says.
He sells the nuts from his home and also at several other farms around Green Bluff, including Hansen's.
Later this winter, he plans to start working with caramel-maker Ellie Grubich of Ellie's Edibles to make hazelnut candies.
He prefers to snack on them once they've been freshly roasted (about 15 to 30 minutes for a sheet pan full of nuts in a 270-degree oven).
"You can smell the aroma coming out of the oven," he says. "Then you know you've got to turn them over."
Not only do nut trees take a long time to mature, harvesting their fruit is labor-intensive as well.
In most cases, you've got to wait for them to fall from the trees. Then you must gather them from the ground – separating out all of the rocks and twigs – and let them dry out.
They can then be shelled, roasted and used in recipes or just eaten straight out of the bag.
Eichin recommends storing nuts in the refrigerator or freezer so they last longer.
Francis Hunt, who owns the Eleven Acres farm (which is actually 24 acres) at Green Bluff, planted a couple of pecan trees a few years ago.
A gopher chewed one down, Hunt says, but the other keeps on growing – though he hasn't seen any pecans yet.
"Another couple of years," Hunt says. "It's more for fun … I do like my pecans."
Eleven Acres also grows hickory nuts, butter nuts and black walnuts (which he sells on occasion).
It's hard to miss the towering walnut trees at Knapp's on Green Bluff. The nine trees have been there since around 1930, owner Larry Knapp says. There are also a few small hazelnut trees on the property, he says.
Some years, they see up to 1,000 pounds of walnuts. Other years, they get a few hundred pounds.
"Personally, we just munch on them," Knapp says. "We do use them in cookies."
Glittering Spiced Walnuts
From "Thanksgiving 101" by Rick Rodgers. This appetizer can be prepared up to two weeks ahead.
1 whole star anise
3/4 teaspoon ground cinnamon
3/4 teaspoon coriander seed
3/4 teaspoon whole Sichuan peppercorns
3/4 teaspoon fennel seeds
6 whole cloves
1/8 teaspoon cayenne pepper or more to taste
Vegetable oil, for deep frying
1 pound walnut halves
1/2 cup sugar
Salt, for sprinkling
To make the spice mixture, finely grind the spices in an electric spice or coffee grinder. Set aside.
Place a rimmed baking sheet next to the stove. Line a second baking sheet with paper towels. In a deep Dutch oven, add enough oil over high heat to come halfway up the sides, and heat to 365 degrees.
Meanwhile, bring a medium saucepan of water to a boil over high heat. Add the walnuts and cook for 1 minute. The water does not have to return to a boil. (This heats the walnuts to remove excess bitterness.) Drain in a large colander. Do not rinse. Immediately, toss the walnuts in the colander with the sugar until the hot water clinging to the walnuts melts the sugar to form a thin glaze.
In two batches, carefully add the nuts to the oil and deep fry them until they are golden brown, about 3 minutes. Using a large wire mesh skimmer, transfer the walnuts to the unlined baking sheet and cool completely. When cooled, transfer the walnuts to the paper towels to drain excess oil.
Place walnuts in a bowl. While tossing the nuts, sift the spice mixture through a fine-meshed wire sieve over them. Discard the hulls in the sieve. Season with salt.
Store in an airtight container at room temperature for up to two weeks.
Note: If making more than one batch, be sure to have extra oil. You'll need to replace it after frying a pound or two.
Yield: About 4 cups, 8 to 12 appetizer servings
Approximate nutrition per serving: Unable to calculate.
German Chocolate Pecan Pie
From Every Day with Rachael Ray, November 2007
1 1/4 cups flour
1 teaspoon salt, divided
1 stick (4 ounces) plus 5 tablespoons unsalted butter, 1 stick chilled and cut into small pieces
1/4 cup ice water
2 large eggs
1/2 cup dark brown sugar
1/2 cup light corn syrup
2 1/2 cups (about 10 ounces) pecan halves, coarsely chopped
3/4 cup sweetened flaked coconut
3/4 cup semisweet chocolate chips
In food processor, pulse the flour with 1/2 teaspoon salt. Add the chilled butter pieces and pulse until coarse crumbs form, about 5 seconds. Drizzle in the ice water and pulse just until the dough comes together. Wrap in plastic wrap; flatten to form a disk. Refrigerate until firm, about 15 minutes.
On a lightly floured work surface, roll out the dough into a 12-inch round; transfer to a pie pan. Cut the excess dough to leave the 1/2-inch overhang. Using your fingers, roll the dough edge under and crimp. Prick the bottom of the pie shell with a fork; refrigerate for 15 minutes. Preheat oven to 400 degrees.
Line the shell with foil and pie weights or dried beans; bake for 15 minutes. Remove the foil and beans, reduce the heat to 375 degrees and bake for another 12 minutes.
Meanwhile, in a medium bowl, whisk the eggs. In a heavy, medium saucepan, whisk together the remaining 5 tablespoons butter and 1/2 teaspoon salt with the brown sugar and corn syrup over medium heat until melted and smooth. Whisk the sugar mixture into the beaten eggs. Stir in the nuts and coconut.
Spread the chocolate chips in the pie shell. Pour in the filling and bake until set, about 25 minutes. Let the pie cool completely before slicing.
Yield: 8 to 10 servings
Approximate nutrition per serving: 578 calories, 41 grams fat (16 grams saturated, 62 percent fat calories), 6 grams protein, 50 grams carbohydrate, 82 milligrams cholesterol, 3 grams dietary fiber, 291 milligrams sodium.
Hazelnut Mole
From Bon Appetit, December 2005
The magazine suggests serving this sauce over turkey, but it would work well in enchiladas or other Mexican dishes.
6 tablespoons vegetable oil
6 large garlic cloves, peeled
8 ounces hazelnuts with skin (about 2 cups)
1 1/2 large ripe plantains, peeled, cut into 1/2-inch-thick rounds (see note)
1 1/2 pounds Red Delicious apples, peeled, quartered, cored
1 medium-size white onion, thickly sliced
13 dried guajillo chilies (see note), about 2.5 ounces, stemmed, cut open, seeds and veins removed
3 dried ancho chilies (see note), about 1.5 ounces, stemmed, cut open, seeds and veins removed
3/4 cup prunes (about 4 ounces)
7 whole cloves
6 whole allspice
1/2 teaspoon coriander seeds
1/2 teaspoon anise seed
1/2 teaspoon cumin seeds
1 cinnamon stick, broken in half
2 (5- to 6-inch-diameter) corn tortillas
9 cups (or more) low-salt chicken broth
2 tablespoons apple cider vinegar
Heat oil in large deep nonstick skillet over medium heat. Add garlic to skillet; sauté 2 minutes. Using slotted spoon, transfer garlic to large bowl.
Add hazelnuts to skillet; sauté until golden, about 3 minutes. Using slotted spoon, transfer to bowl with garlic. Add plantains and sauté until light golden, about 3 minutes. Using slotted spoon, transfer to same bowl.
Add apples; sauté until beginning to soften, about 5 minutes. Using slotted spoon, transfer to same bowl. Sauté onion until golden, about 3 minutes; transfer to same bowl (no oil will remain in skillet).
Working in batches, sauté a few chilies at a time in same dry skillet, 10 seconds per side; transfer to same bowl. Sauté prunes 2 minutes; transfer to same bowl. Add all spices to skillet and stir 30 seconds. Transfer to same bowl.
Using tongs, turn tortillas over gas flame or in dry skillet over medium-high heat until black spots appear on both sides, about 1 minute. Crumble tortillas into same bowl. Add 9 cups broth to bowl; press down all ingredients to submerge. Let soak 20 minutes.
Working in batches, puree contents of bowl in blender, adding more broth by 1/4 cupfuls if needed, until almost smooth. Transfer to heavy large pot and bring to boil, stirring occasionally. Reduce heat to medium-low; simmer mole 1 hour 45 minutes, stirring often and adding more broth by 1/4 cupfuls as needed to prevent scorching. (Mole will be very thick and will measure about 8 cups.) Stir in vinegar. Season mole generously with salt.
(Can be made 4 days ahead. Cover and chill.)
Note: Chilies and plantains are available at specialty foods stores and Latin markets.
Yield: About 8 cups
Approximate nutrition per 4-ounce serving: 145 calories, 10 grams fat (less than 1 grams saturated, 60 percent fat calories), 3 grams protein, 12 grams carbohydrate, 1 milligram cholesterol, 3 grams dietary fiber, 40 milligrams sodium.
Local journalism is essential.
Give directly to The Spokesman-Review's Northwest Passages community forums series -- which helps to offset the costs of several reporter and editor positions at the newspaper -- by using the easy options below. Gifts processed in this system are not tax deductible, but are predominately used to help meet the local financial requirements needed to receive national matching-grant funds.
Subscribe to the Spokane7 email newsletter
Get the day's top entertainment headlines delivered to your inbox every morning.
---